5 dip recipes from Chicago chefs to make for the Super Bowl
From a crab rangoon dip to a beer cheese dip, Chicago chefs share five easy dip recipes to make at home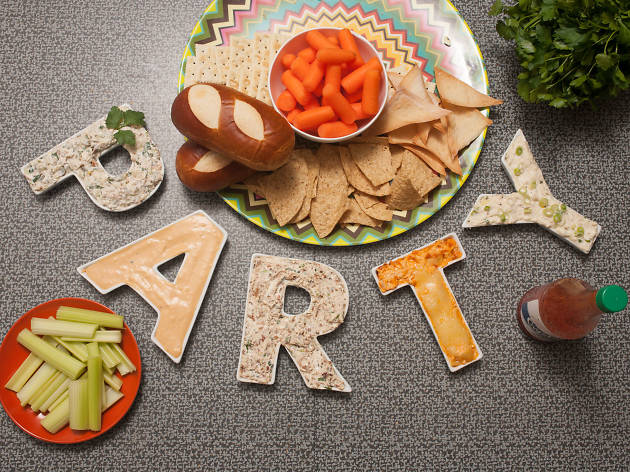 Is a Super Bowl party even a Super Bowl party without snacks? Don't test that theory—we asked Chicago chefs to share their favorite easy dip recipes with us and picked out five of them to make at home. So whether you're looking for a beer cheese, a crab dip or other snack to serve with some of your favorite local beers, we've got you covered with a crab rangoon recipe from Rodelio Aglibot (e+o), a horseradish and bacon dip from Heather Terhune (formerly of Sable Kitchen & Bar), hot wing dip from JP Doiron (formerly of CH Distillery), beer cheese dip from Amanda Downing (Rockit Bar & Grill) and a smoked fish dip from Alfredo Noguiera (Analogue).
RECOMMENDED: Seahawks-Broncos Super Bowl guide
Crab Rangoon Dip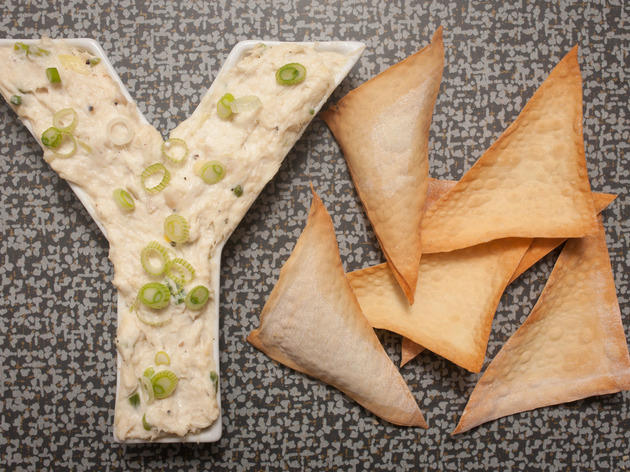 Photo: Martha Williams
Crab Rangoon dip from Rodelio Aglibot from e+o
Ingredients:
1 lb. cream cheese
7 oz. crabmeat
1 tsp. ginger, chopped
1 tsp. garlic, chopped
1 oz. green onion, finely chopped
¾ oz. jalapeno, seeded and finely chopped
2 oz. water chestnuts, chopped
2 tsp. soy sauce
1 tsp. sesame oil
4 tbsp. cornstarch
½ tsp. black pepper
½ tsp. salt
Minced scallions to garnish
Wonton chips to serve
Directions:
Place softened cream cheese into a mixer and whip for approximately three minutes. Make sure to scrape the sides of the mixing bowl after two minutes.
Place crabmeat into cheesecloth and squeeze out excess water. (1 can of crab after squeezing should weigh approximately 14 oz.).
Place crabmeat into a small mixing bowl and feel with your fingers to remove shells.
Add vegetables and spices; mix well to incorporate.
Add the mixture to the cream cheese; whip for 30 seconds to incorporate.
Spoon mixture into baking dish, place in hot oven for 10–12 minutes at 350.
Garnish with minced scallions and serve immediately with wonton chips. You can buy them, or pick up a package of wonton shells and bake in the oven.
Horseradish & Applewood Smoked Bacon Dip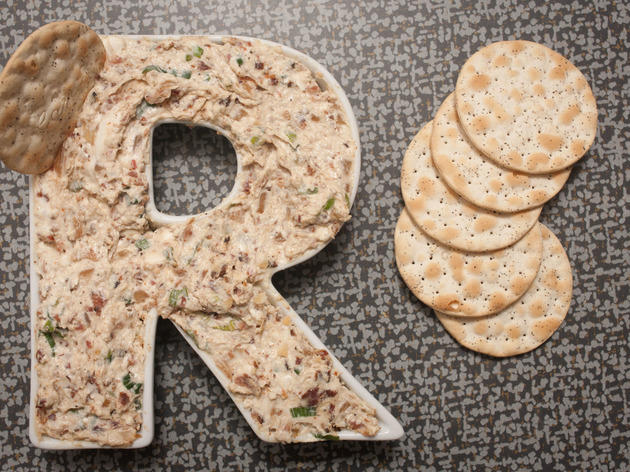 Photo: Martha Williams
Horseradish & Applewood Smoked Bacon Dip from Heather Terhune, former chef at Sable Kitchen & Bar

Ingredients:
8 slices of good applewood smoked bacon (such as Nueske's)
½ c. fine diced white onion
8 oz. cream cheese, softened
¼ c. sour cream
¼ c. mayonnaise
⅓ c. prepared horseradish
¼ tsp. ground white pepper
¼ tsp. garlic powder
¾ tsp. kosher salt
⅓ c. chopped green onion
Directions:
Fry the bacon until crispy and remove from the pan.
Add the diced onion and sauté until golden brown in the bacon fat.
Allow the onions to cool. Finely chop up the bacon.
In a mixing bowl, beat softened cream cheese, sour cream, mayonnaise, horseradish, garlic powder, white pepper and salt with a wooden spoon.
Mix in the bacon, green onion and caramelized onion.
Allow mixture to sit in the refrigerator for at least 2 hours before serving. Overnight is even better.
Serve with potato chips, crackers or fresh raw vegetables. Terhune recommends Carr's crackers and baby carrots, celery or radishes.
Hot Wing Dip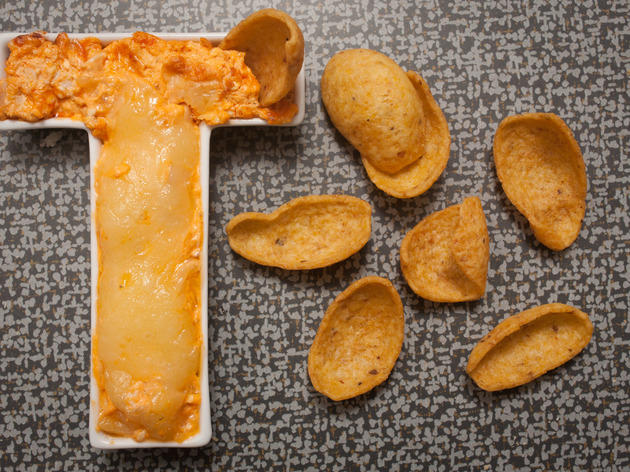 Photo: Martha Williams
Hot Wing Dip from JP Doiron, former chef at CH Distillery
Ingredients:
16 oz. softened cream cheese
1 c. ranch dressing
¾ c. hot sauce (preferably Crystal or Texas Pete's)
12 oz. grilled or seared chicken thighs, shredded or small dice
Shredded cheddar cheese, to taste (usually around 6-8oz)
Directions:
With a standing mixer, whip cream cheese, ranch and hot sauce. Mix until smooth then fold in chicken.
Grease a pie pan then spread the mixture in the pan. Bake at 350°F for 15 minutes.
Remove from the oven, add cheddar cheese and bake an additional 10–15 minutes.
Remove from the oven and let stand for 5 minutes. Serve warm with tortilla chips or Fritos scoops.
Smoked Fish Dip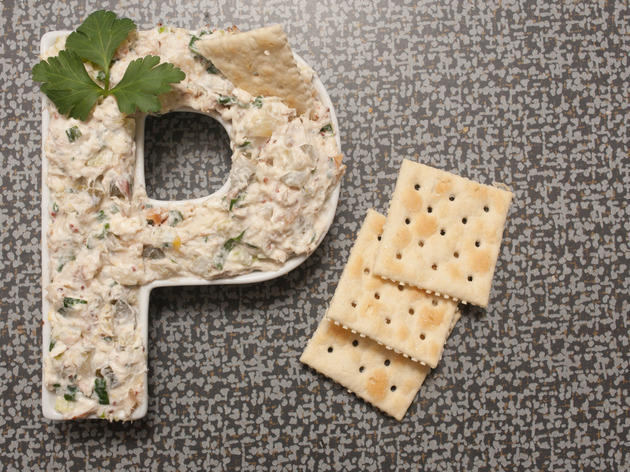 Photo: Martha Williams
Smoked Fish Dip from Alfredo Nogueira at Analogue
Ingredients:
1 lb. smoked fish (available at Whole Foods or Calumet fisheries)
½ c. sour cream
½ c. cream cheese (softened)
¼ c. of mayo
3 stalks celery, minced
4 green onions, minced
Handful of fresh parsley, finely chopped
2 tbsp. grainy mustard (Nogueira uses creole mustard)
½ c. minced dill pickles
Zest and juice of one lemon
Salt and pepper to taste
Directions:
Pick through the fish making sure there are no bones, while being careful to keep the fish pieces nice and flaky.
In a bowl, mix the sour cream, cream cheese and mayo together until well incorporated.
Add the celery, green onions, parsley, mustard, pickles, lemon juice and zest until well combined.
Gently fold in the fish so that you don't break down the flakes too much.
Season with salt and pepper.
Serve with hot sauce, saltines and fresh veggies.
Beer Cheese Dip
Photo: Martha Williams
Beer Cheese Dip from Rockit Bar and Grill executive chef Amanda Downing
Ingredients:
2 c. Merkt's sharp cheddar
½ c. cream cheese, softened
½ c. yellow onions, diced
8 oz. wheat beer (Downing uses Goose Island 312)
2 tbsp. butter
2 tbsp. all purpose flour
½ tbsp. Dijon mustard
¼ tsp. kosher salt
¼ tsp. fresh ground black pepper
Pretzel bread, for serving
Directions:
In a medium sauce pan over medium-high heat, melt butter and add onions.
Cook onions until tender, add the flour and cook for 2–3 minutes.
Add beer and reduce by one third, remove from heat.
In a food processor, add the cream cheese and cheddar, begin to pulse to combine, slowly add the beer and onions mixture.
Season mixture by adding the mustard, salt and pepper. Blend until smooth.
Serve with warm pretzel bread.