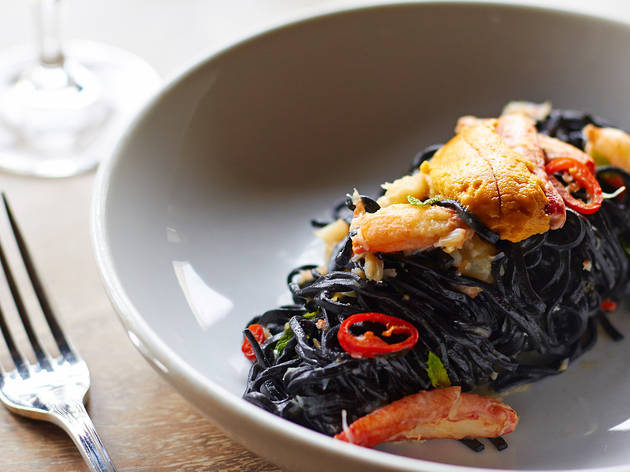 1/28
Jason Little
Tagliolini nero at BalenaWhile we're slowly working our way through the cocktail menu on each visit to Balena, we just can't seem to move beyond our favorite dish. The tagliolini nero's tangles of squid-ink pasta, chunks of crab meat, finely sliced chilies and bright orange sea urchin is sweet, savory and oh-so-satisfying. $19.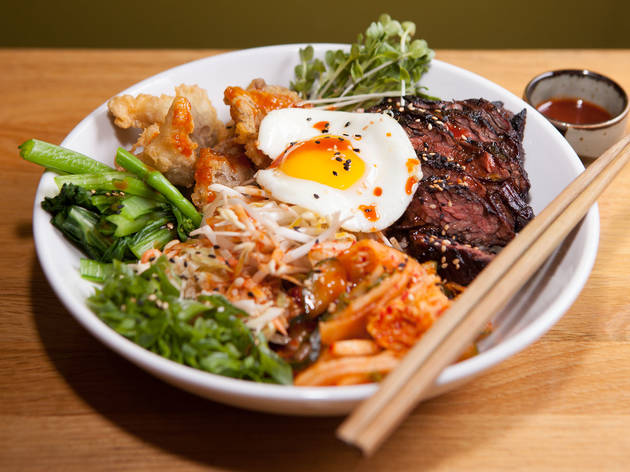 2/28
Photograph: Martha Williams
Grilled hanger steak bi bim bop at the Bento BoxWhy pay twice what you would in Koreatown for bibimbap? Because you can actually taste the difference. Rick Spiros uses the highest quality, freshest ingredients, turning a simple bowl of rice into a feast of brash flavors. You're worth it. $19. Occasionally available.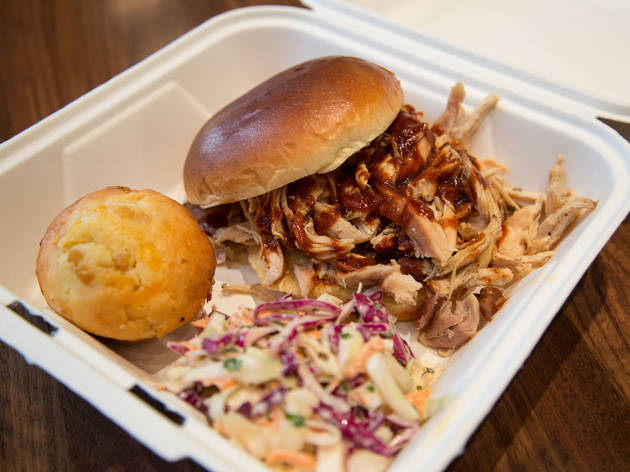 3/28
Photograph: Jaclyn Elizabeth Rivas
Pulled pork at Blackwood BBQNot many places do South Carolina barbecue right, but this Loop newcomer does. The tender pulled pork is topped with tangy mustard sauce, and it's a welcome reminder of time spent down South. Sandwich $6.49, platter $7.49.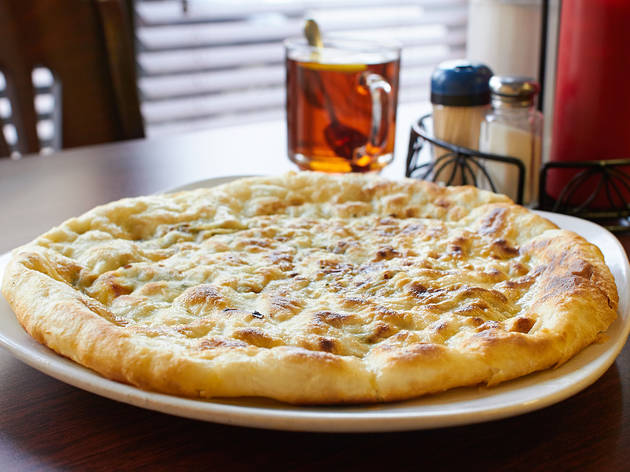 4/28
Photograph: Jason Little
Hachapuri at Chill CafeThe newest fried bread to earn our affection: Central Asian hachapuri, a leavened flatbread, here freshly baked and filled with a thin layer of sour cream and parsley. $3.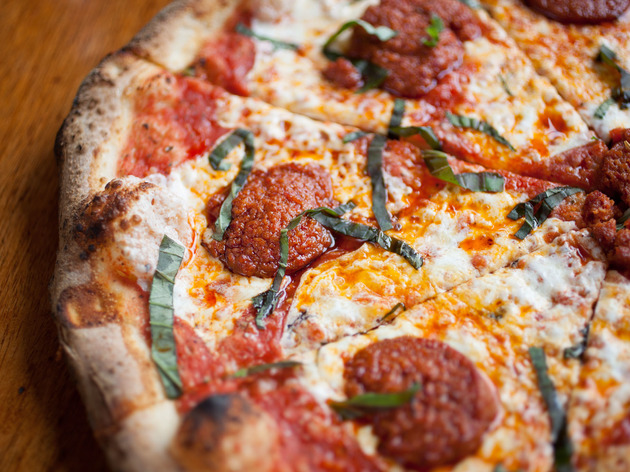 5/28
Photograph: Martha Williams
Nduja pizza at CoalfireCoalfire sources meats for its blistered pies from local butchers, and the nduja, a spreadable pork sausage, comes from Publican Quality Meats. You haven't had a sausage pizza until you've had this earthy and savory one. $18.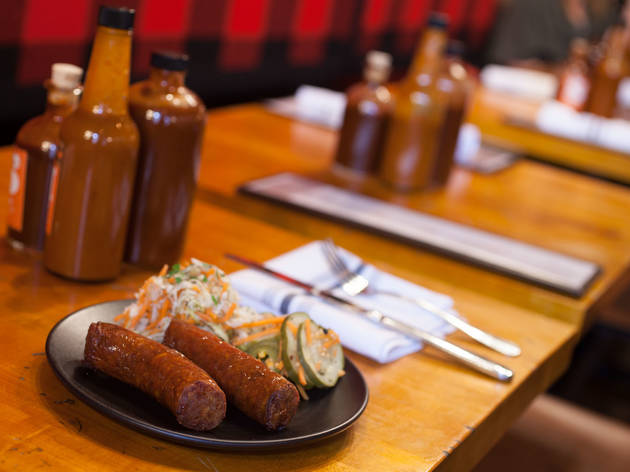 6/28
Photograph: Martha Williams
Hot link at County BarbequeJuicy, smoky, snappy, crackly-we could go on and on with adjectives praising Erick Williams's pork hot links. $4.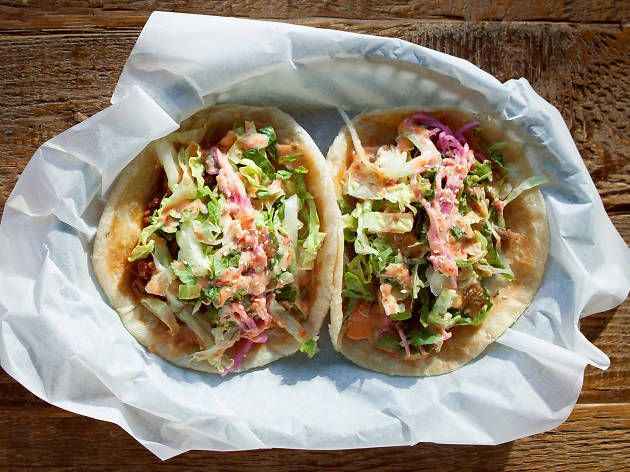 7/28
Photograph: Martha Williams
Paratha tacos at En HakkoreKorean tacos seemed played out until this Bucktown sleeper hit came around, piling bulgogi or spicy pork onto puffy, flaky parathas that have masa tortillas watching their backs. $7.50.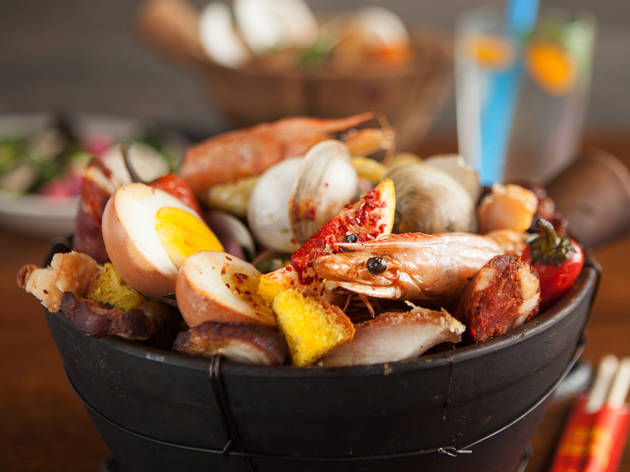 8/28
Photograph: Martha Williams
Arroz gordo at Fat RiceTo think that a year ago we had never heard of Macanese food, let alone arroz gordo, the carefully arranged pile of sausage, chicken thighs, prawns and pickles that in the intervening months has become the inspired, over-the-top, celebratory centerpiece of so many meals at Abraham Conlon and Adrienne Lo's runaway-hit restaurant. $42.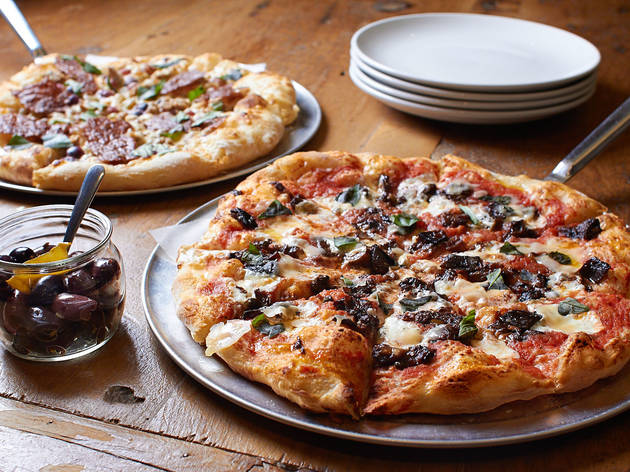 9/28
Photograph: Jason Little
Pizza at Floriole Cafe & BakeryBaker Rachel Post makes the airiest, lightest, crispiest pizza crust in town. The creative array of farmers' market toppings, like eggplant caponata or sausage and grapes, only elevate this pizza higher. Prices vary.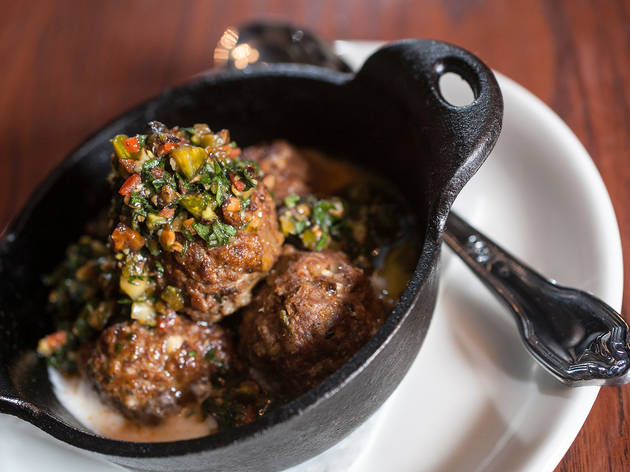 10/28
Photograph: Galdones Photography
Lamb meatballs with pistachio chimichurri at Found Kitchen + Social HouseNicole Pederson's menu at Amy Morton's restaurant manages to capture exactly how we want to eat. Case in point: juicy lamb meatballs set over pistachio chimichurri swirled with yogurt. $13.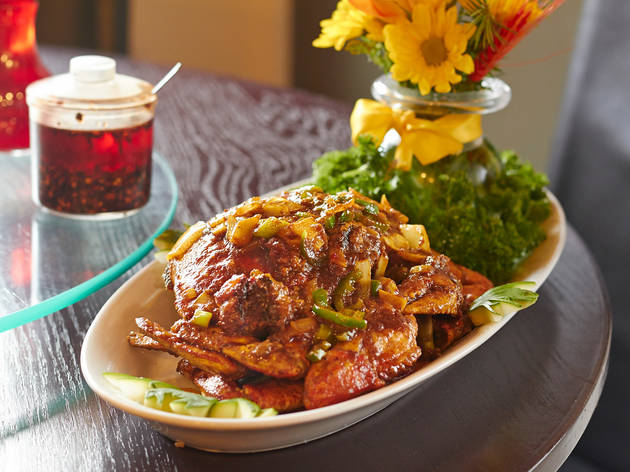 11/28
Photograph: Jason Little
Chili Fusion Crab at Go 4 FoodThere aren't many things we want to do for two full hours, but pulling apart the enormous chili crabs at Go 4 Food is definitely one of them. The Dungeness crabs are fried in a wok with a sauce made from onions, curry powder, ketchup, butter, soy sauce and other ingredients. The result is slightly spicy and oh, so messy. But while they may be huge, don't even consider sharing one-this is one dish you want all for yourself. Market price.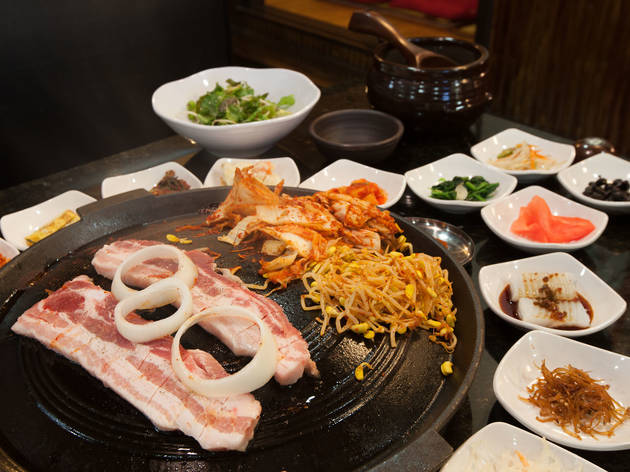 12/28
Photograph: Martha Williams
Saeng samgyeopsal at GogiWe usually like to leave the cooking to the pros when we dine out-unless that cooking involves thick-cut saeng samgyeopsal, pork belly that crisps up on the grill. It's spicy and sweet when eaten with grilled bean sprouts and kimchi. $18.
13/28
Photograph: Eric Kleinberg
Kabocha squash gnocchi at GT Fish & OysterTender squash gnocchi, creamy burrata, sweet crab, chanterelle mushrooms-this is winter comfort food at its finest. $13.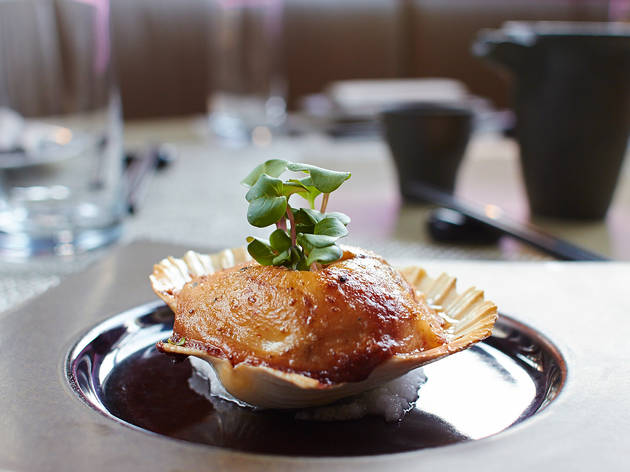 14/28
Photograph: Jason Little
Scallop and crab motoyaki at KabochaFile under guilty pleasures: Shin Thompson fills a shell with scallops and crab, blankets the seafood in ponzu aioli, and torches the rich mixture till it's caramelized. $10.
15/28
Eggplant Two Ways at Lula CaféYou need to love eggplant to love this dish, but it's one of our very favorite foods. Char-roasted chunks of eggplant sit on a bed of mashed eggplant, while lamb pancetta adds some texture and gaminess. Seasonal.
16/28
Photograph: Martha Williams
Aguacate at Masa AzulThere are many things we love about Masa Azul-the consistently great tequila cocktails, the ceviche, the doughnuts for dessert-but we keep going back for the fried avocado tacos. Chunks of buttery avocado are tempura-fried and served with pickled watermelon radish, cilantro and Serrano peppers in housemade corn tortillas for a light, creamy taco. Three for $9.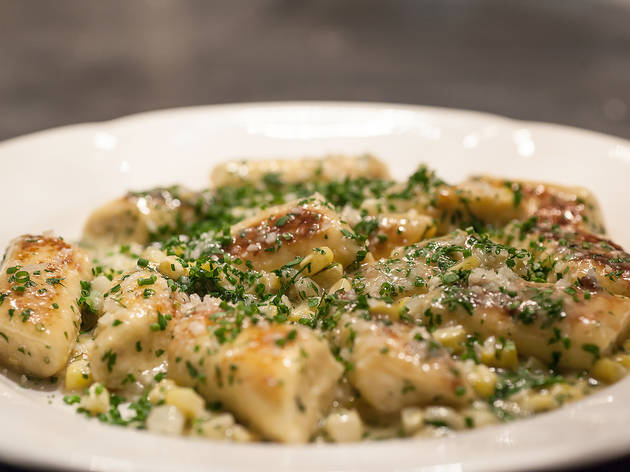 17/28
Photograph: Kari Skaflen
Gnocchi at Maude's Liquor BarMaude's does many things right-steak tartare, for one-but the dish we love best is one of the simplest. The ricotta gnocchi is so airy and light you could easily put away two orders. $14.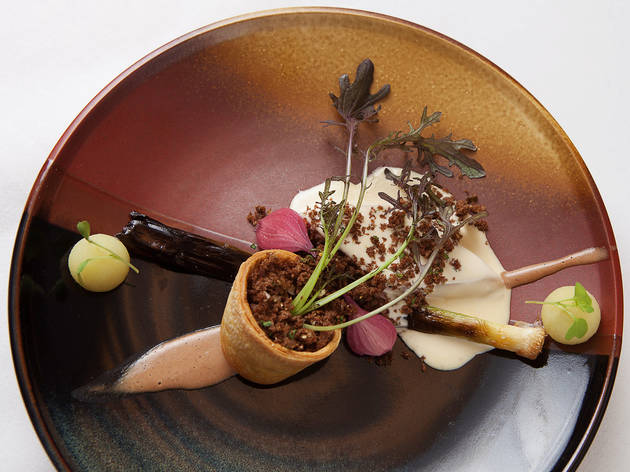 18/28
Photograph: Martha Williams
Pheasant at Next: Bocuse d'OrWhile it can be hard to narrow down a dinner at Next to a single best bite, at Bocuse d'Or it was easily the hay-smoked pheasant breast, served with grilled leeks and a creamy sauce. The ingredients tumbled out of an edible flower pot, and the tender, smoky pheasant made us wonder why we don't eat this bird more frequently. Part of a $195 tasting menu.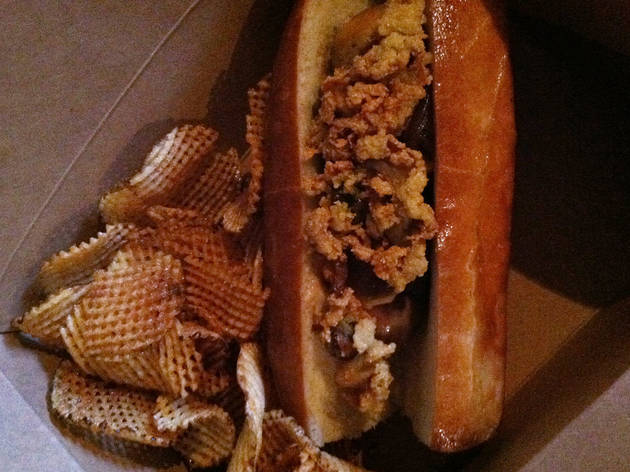 19/28
Photograph: Amy Cavanaugh
Cheddar bratwurst with fried clams at OSB at Longman & EagleLongman & Eagle converted its back space into OSB earlier this year, and now sous chef Matt 'Skittles' Sliwinski handles a Saturday sausage shop, while sous chef Vincent Knittel hosts a doughnut shop on Sundays. We liked the cheddar brat, a well-made sausage that oozes and is topped with fried clams. It's a combination of ingredients seen in Portuguese cuisine and so smart when translated to a sausage. $12.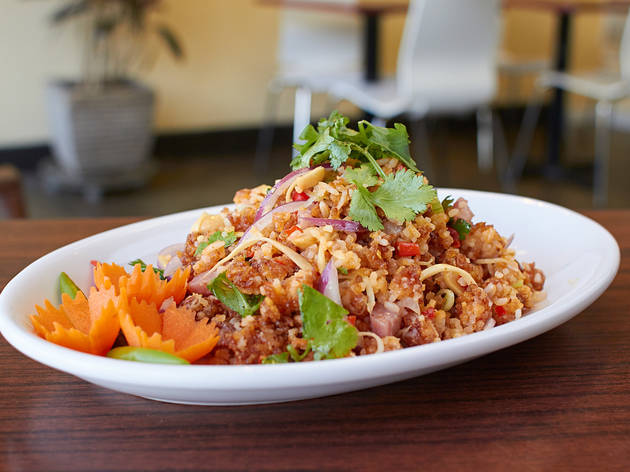 20/28
Photograph: Jason Little
Naem khao tod at Rainbow CuisineGreasy, crunchy and funky, this giant pile of crisped rice interlaced with fermented pork sausage is the fried rice stoners dream about. $7.95.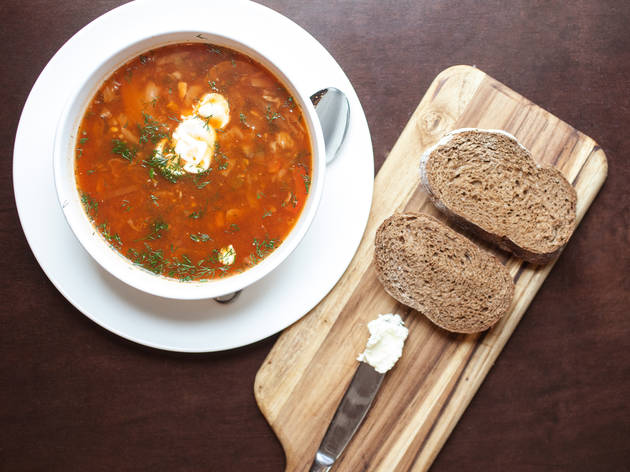 21/28
Photograph: Martha Williams
Hot borscht at Red SquareSure, you may have had borscht as good as this one, in which cubes of sweet roasted beets are suspended in a flavorful beef broth. But have you had it while wearing a bathrobe? Didn't think so. Bowl $8, cup $5.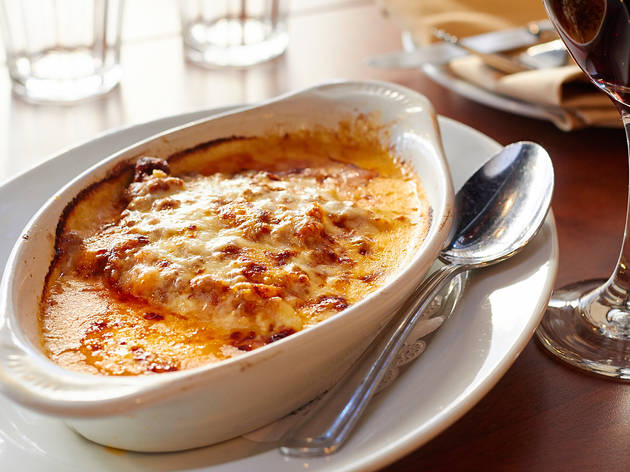 22/28
Jason Little
Lasagna bolognese at Riccardo EnotecaSeemingly infinite layers of pasta, bechamel and ragu bind together into the black hole of cheese, meat and carbs this Riccardo Trattoria spin-off innocently calls lasagna. $18.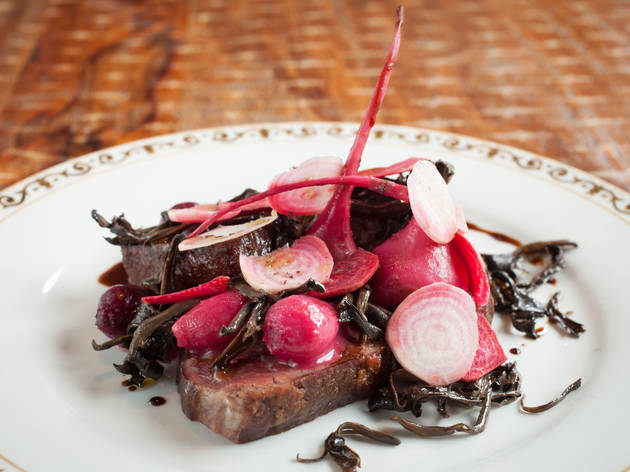 23/28
Photograph: Martha Williams
Hanger steak at RootstockIt's a given you're going to have great wine here. But the food menu, too, consistently surpasses expectations, with reasonably priced, thoughtfully sourced dishes created by a steady stream of Lula alums (previously Duncan Biddulph; now Mike Simmons). We love it all but could never say no to the always perfectly cooked, perfectly seasoned hanger steak. No longer available.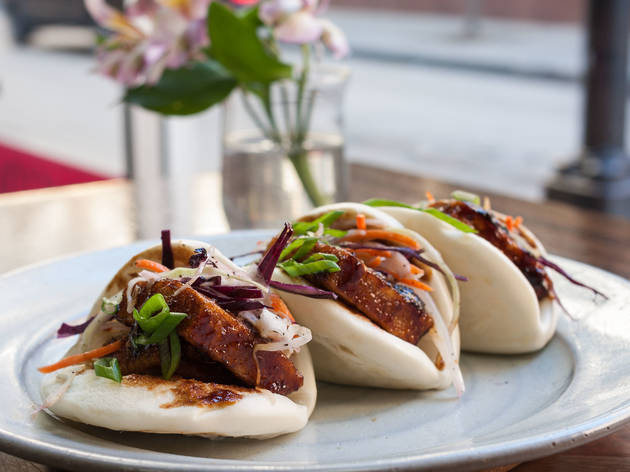 24/28
Photograph: Crystal Garcia
Tofu Baco at Saucy PorkaWhen food-truck vets Amy Le (Duck 'n Roll) and Rafael Lopez (Wagyu Wagon), teamed up to create a restaurant, they merged their childhood cuisines to create dishes like 'bacos,' pillowy, steamed Chinese buns that are stuffed and served like tacos. Our favorite is the fried tofu, slathered with sweet soy ginger sauce and topped with pickled slaw. $2.75.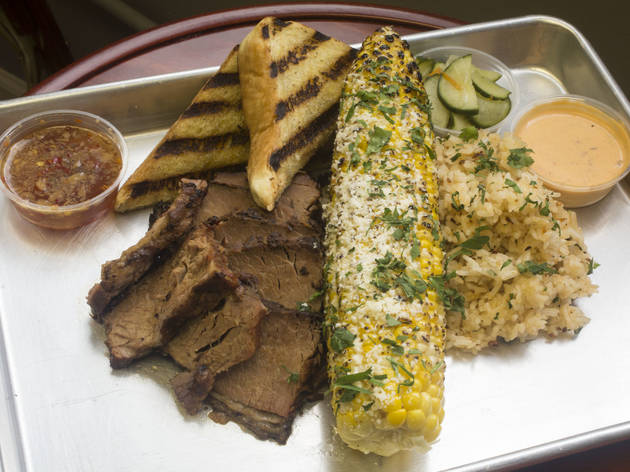 25/28
Photograph: Jaclyn Elizabeth Rivas
Brisket and garlic rice at Smalls Smoke Shack & MoreA handful of new barbecue joints opened in Chicago this year, but none delighted us more than Smalls, a mostly take-out spot serving barbecue classics with Asian spins. The fried chicken is nearly perfect, but our favorite dish is the beef brisket, served with a spicy fish sauce-based dip. The meat fell apart into tender shards as soon as we touched it, and the garlicky rice it's served atop complements it perfectly. $12.50.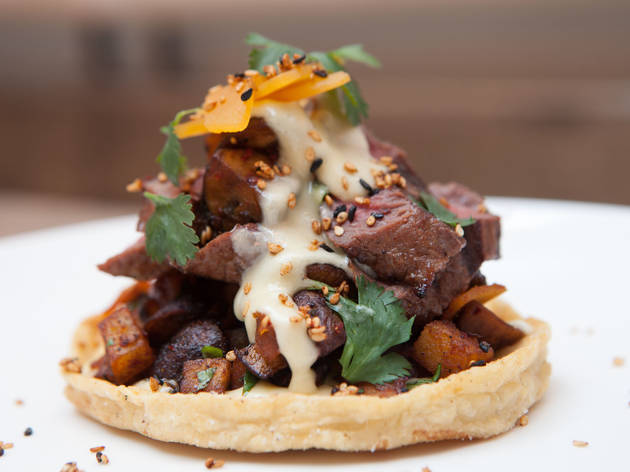 26/28
Photograph: Martha Williams
Carne asada sope at Takito KitchenTo call Takito merely a taqueria vastly understates chef David Dworshak's talents, which are evident in everything from the exemplary salsas to the sopes (available on the brunch menu): fried masa cakes piled with meats (such as flavorful carne asada) complemented by unusual seasonal toppings like green-onion kimchi. Seasonal.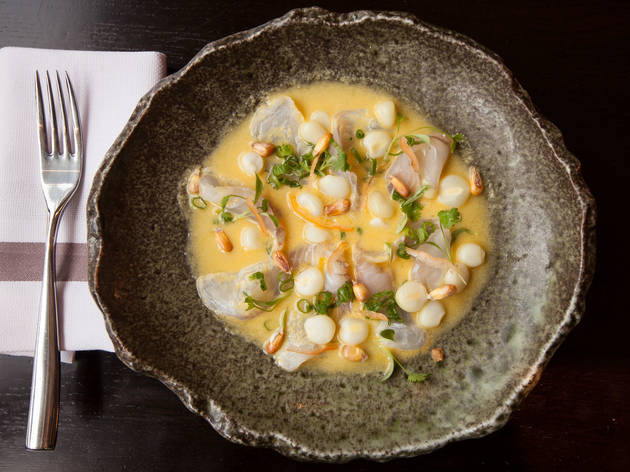 27/28
Photograph: Martha Williams
Criollo tiradito at TantaTanta has three categories of ceviche, so we'll make it easy: You want the criollo tiradito, in which mahi marinates in a tangy broth of aji amarillo, ginger and lime. It's colorful, bright and soul-lifting. $14.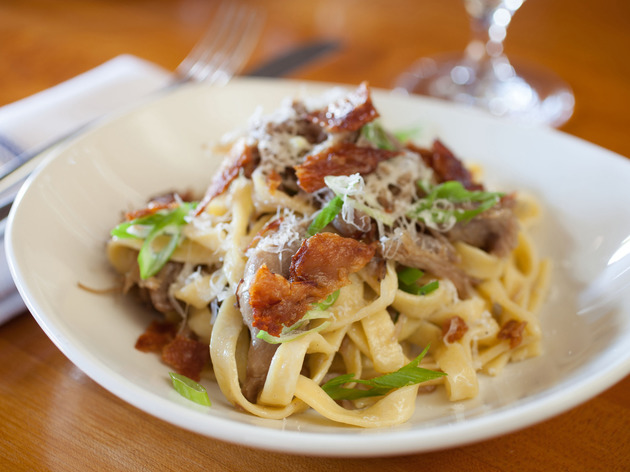 28/28
Photograph: Martha Williams
Duck confit pasta at TwoHere's one way to make duck confit even better: Toss it with duck egg fettuccine and duck skin cracklins, then shower it all with scallions and Parmesan. It's incredibly rich, but we had no trouble finishing a giant portion ourselves. $14.