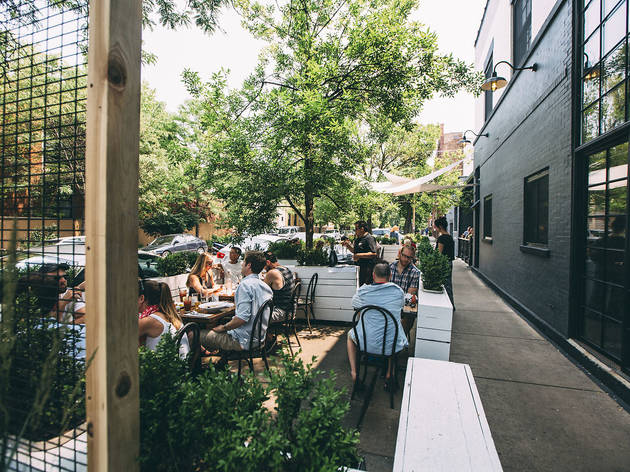 1/3
Photograph: Clayton Hauck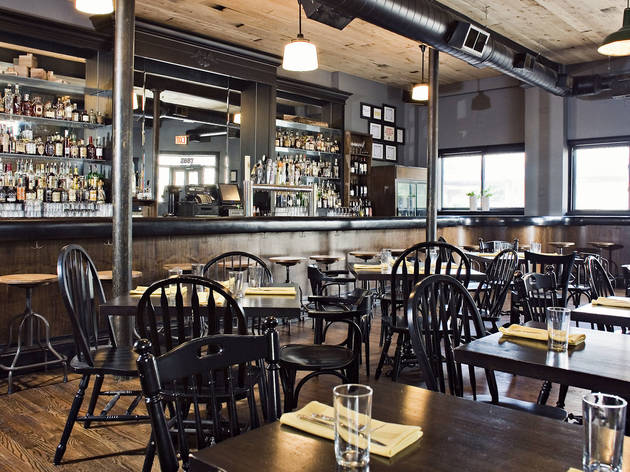 2/3
Photograph: Clayton Hauck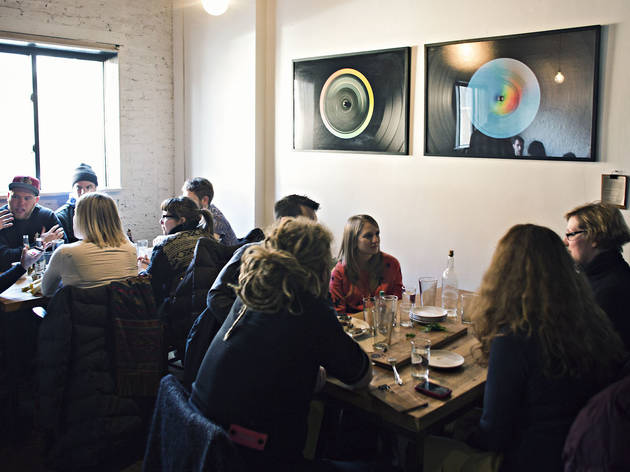 3/3
Photograph: Clayton Hauck
Time Out says
At Longman & Eagle, there are old fashioneds, stirred slowly and carefully behind a dark, gorgeous bar. There are dozens of whiskeys for three bucks; the house favorite, Cabin Still, is mellow and gentle. And there are flannel shirts, and mustaches, and Grandma sweaters. A lot of them. But if you've gotten it into your head that eating at a restaurant owned in part by the Empty Bottle guys means that you'll be systematically ignored by a waitstaff of smelly, aloof, strategically scruffed dudes and the waifish, Lycra-clad women who dig them, then you have seriously underestimated the genre.
Truth is, the folks working here are some of the friendliest and most professional hipsters you'll ever meet, and their graciousness isn't lost on the neighborhood. Why else would I have been seated next to couples with babies and families with tweens? Yet, however welcoming and well-informed my server was, T.G.I. Friday's this is not, and it was hard not to notice that those groups were ordering their fair share of burgers. And, not to start things off on the wrong foot, but the Kobe burger, like most Kobe burgers I've had, is nothing to get excited about. The meat's mushy, the bun's too big for the patty, and mine reeked of smoke from the bacon, despite the fact that the strips were scarcely cooked. (If those tweens were ordering it simply for the awesome beef fat–fried fries, though, bless their hearts.)
To do this restaurant right, you've got to allow yourself organ meats. Get the beef-tongue hash, a dish that turns a quizzically textured cut into something alternately fatty and crisp, then sets a perfectly fried duck egg on top of it. Then, for a break, order a vegetable. I recommend the cauliflower, slow-roasted until it's easily cut with a fork, nestled with delicate lentils and plump golden raisins. Lentils, you may ask? Not pork belly? You'll thank me when you still have room for the ultra-rich banana-chocolate bread pudding.
Still, to love this place as much as I do, and to go back as often as I plan to, is to nevertheless hope that the very talented chef, Jared Wentworth, tones it down a little. Serving a brandade so deeply and wonderfully expressive of salt cod with equally salty potato chips (however delicious they are) is too much. Might I be so bold as to suggest stealing the toasted brioche that is unnecessarily beneath the perfectly fried clam bellies and using that instead?
You've also got to hope the kitchen's paying attention, because there's nothing quite so satisfying as spreading pure, fatty bone marrow on grilled toast, then sprinkling it with flakes of sea salt and spright onion jam—and nothing quite as disturbing as the sight of stiff, pink, undercooked marrow. Ditto for devouring bite after bite of juicy chicken, then discovering the other piece was depressingly dry. At practically any other restaurant, those dishes would have had me headed for the door. But soon after they arrived came the textbook crème brûlée and the teeniest jar of sour-plum jam. Then there was the unfailingly reasonable check, endearing, nostalgic, peanut-butter Mary Jane candies presented along with it. And then there I was, seamlessly moving from table to bar, not wanting to leave at all.
By Julia Kramer. Photographs by Jeremy Bolen.
Details
Address:
2657 N Kedzie Ave
Chicago
60647

Cross street:
at Schubert Ave
Transport:
El stop:Blue to Logan Square. Bus:56,76.
Price:
Average main course: $15
Contact:
Opening hours:
Brunch, lunch, dinner
Do you own this business?
Average User Rating
4.4 / 5
Rating Breakdown
5 star:

6

4 star:

6

3 star:

1

2 star:

0

1 star:

0
The brunch lives up to the hype at Longman and Eagle. Go early because it gets really crowded and the wait could be a while. If you go on a Sunday before the end of October, you can walk to the nearby farmer's market while you wait for your table. Once you do get a table, service is fast and the food looks incredible. The pork belly Benedict was to die for. I prefer my eggs scrambled instead of poached and they happily obliged. The hollandaise is not too heavy and the pork belly was not fatty. The sunnyside duck hash was also very good with pieces of duck confit and perfectly cooked egg. The portions are a little on the small side but the quality of the food and flavors make up for it.
I mean, there's all the Longman & Eagle hype exists for a reason. As much as the crowd and wait can be irritating, the whole experience is fantastic. Particularly during the summer, when they have the sidewalk patio and the side bar completely open. A weird personal favorite of mine is the maple-glazed Spam they have on the brunch menu-- sounds gross, I know, but it's super tasty.
Longman & Eagle is fantastic! This spot is not just a Michelin-starred restaurant for Contemporary American cuisine but also a hotel & bar. L&E's hotel is a hidden gem located just above the restaurant with wonderful accommodations and a modern rustic vibe. Another must see at this location is OSB. It's the bar at the back of the restaurant that provides the perfect cozy spot to grab drinks with friends.
Longman and Eagle is great, but OSB, the tiny bar right around the corner (which is also part of L&E) is even better. Skip the noise and the food smells for this cozy patio nook, you won't be disappointed.
I visited Chicago for a few days over winter vacation and this spot definitely stood out. The servers were charming, friendly and helpful. They weren't serving donuts the day I went, but I would definitely return because they look amazing. The French toast was good, the PBR breakfast was great, but I just have to say a few words about the side of toast I ordered. The things I would do to that toast. Their toast ignited a sexual awakening inside my soul that was not expecting and will never forget. Toasted to perfection—not flimsy, but not too crunchy either—lathered in butter and tasty jam, this toast was my first, but will definitely not be my last. Forget me not, toast, for I will never forget you.
Longman & Eagle in Logan Square is an absolute must. Go in the early evening and stay for hours if you want—the drinks are certainly worth it. If you can, try to snag a table outside. Then you REALLY won't want to leave. Though, I equally love sitting at the bar. The bourbon list is seemingly endless, and the bartenders are chatty without being too chatty. Everything here is just right. Just keep in mind—it's easy to rack up quite a bill when you're having such a nice time.
A comfortable neighborhood spot that also happens to have a Michelin star. L&E has a stellar selection of whiskey, their forte, and a great variety of beers in all price ranges. Their brunch has the best chicken and waffles in the city, the pork belly and sweet potato hash is an amazing touch and the chicken has a great balance of sweet and salty. The menu is is seasonal, but they have certain dishes that are staples all year long, including the messy but delicious wild boar sloppy joe. Make sure to eat it with the pickled jalapeño!