How to get the lavender wall look at Nellcote
Verdura's Sara Gasbarra dishes on the inspiration behind the lavender wall.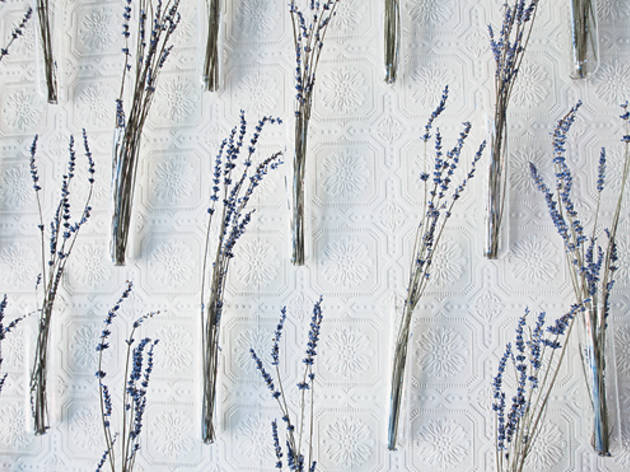 Hermès orange walls and opulent crystal chandeliers aren't the only eye-catching design elements at the West Loop's new Nellcôte (833 W Randolph St, 312-432-0500). At the entrance to the grand restaurant is a wall showcasing around 500 test tubes, each filled with a delicate handful of dried lavender. The idea—a collaborative effort between Element Collective (the team behind Nellcôte and Old Town Social) and Sara Gasbarra, who designs on-site gardens for chefs and restaurants with her one-year-old company Verdura—came from the team's restaurant research trip through the South of France, where lavender fields are aplenty. (Nellcôte takes inspiration from the mansion on the French Rivera where the Rolling Stones recorded Exile on Main Street.) After toying with a variety of designs, Gasbarra found a grower in Oregon who sent about 10,000 dried Gros Bleu lavender stems across the country. The restaurant crew had already put up a textured wall covering that was immediately conducive to installing a grid of test tubes with small hooks. Gasbarra plans to swap in a fresh batch of lavender at least once a year. Want to try out a mini version at home? Stock up on cheap test tubes at American Science & Surplus (5316 N Milwaukee Ave, 773-763-0313), where packages of eight start at $3.50. Grow your own lavender in your garden, cut it just before it blooms and hang it upside down to dry; or be on the lookout for the flower at farmer's markets in the coming months.