The great indoors
Jim Mallardo gives skateboarders shelter from the storm.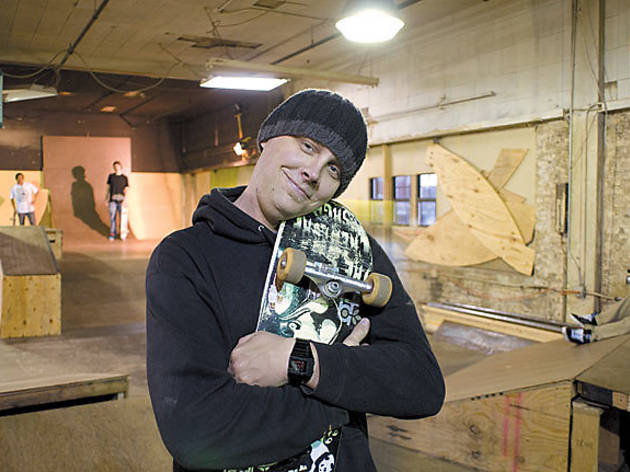 Skateboarders had good reason to ollie for joy last Wednesday: After four years of planning and construction, Chicago's first covered skate park opened under the Kennedy Expressway in Logan Square. However, many in the skate community feel it still doesn't address this extreme-weather-prone metropolis' most dire recreational need: a public indoor skate facility.
Mayor Daley says a 24-hour indoor park is in the works, but Jim Mallardo isn't holding his breath. Recognizing the city's propensity to move at a bureaucratic snail's pace, the longtime skater opened Armed Star (630-901-4373), the by-appointment-only skate sanctuary he built inside a Logan Square warehouse where he and his wife, Amanda, also run their graphic-design business.
As it turns out, Mallardo is as skilled with a toolbox and circular saw as he is with Photoshop. He logged an exhausting month of 16-hour days building the facility. The result is more skate clubhouse than park: uncrowded ramps with measured transitions, beer-dispensing vending machines and even a free pool table. There are just two catches: You must be at least 18 years old (21 to imbibe) and you have to phone Mallardo before you come. (A $5 donation is suggested at the door.)
Armed Star is only the latest of the 36-year-old's skate-related projects. "Skateboarding's been my life's work," he says. In 1988, backed by his mother, Mallardo opened Illinois's second skate park, 4 Wheels Out, in Marengo, 60 miles northwest of Chicago. He closed 4 Wheels in '91, started some suburban skate shops, launched the short-lived company Coloring Book Skateboards and began consulting on other skate-park design and construction projects, including a defunct one at the Buehler YMCA in Palatine, which he built and managed. Mallardo also headed up suburban Elk Grove Village's Audubon Skate Park for seven years until he left the job last spring.
After his wife also parted ways with the Elk Grove Park District, the couple decided "to do everything on our terms." Mallardo wanted to bring to a skate park the same boho attitude shown by the city's fringe music and art venues, such as the now-defunct People Projects. His plan included having space where the bands whose T-shirts he designs could perform. But due to a city crackdown on just the kind of unlicensed venues he strives to become, Mallardo has concocted an absurd-sounding plan: Since certain private events don't require a city license, every show, he says, will be a birthday party. "We'll have cake and candles and even a banner that reads HAPPY BIRTHDAY," he says proudly.
On April 19, Mallardo is hosting a coming-out party for Armed Star, featuring skateboard competitions, including S-K-A-T-E (a skateboarding variation on the basketball game H-O-R-S-E) and a high-ollie contest. Even without a grand opening, he says, word is spreading quickly. Last Monday night, Joel Aviles, an 18-year-old Pilsenite visiting for the fourth time, was among a half-dozen others cruising around the space, fine-tuning tricks. "This is the kind of place Chicago skaters have been waiting for for years," Aviles said. Then he got on his board and dropped down a ramp, back into the heart of the park.