Accidental Death of an Anarchist at Oracle Theatre | Theater review
Oracle's production of Dario Fo's anarchist agitprop is dead on arrival.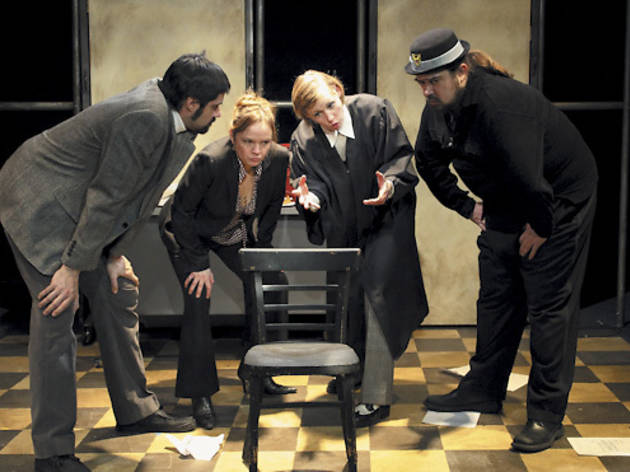 Clowning and depictions of mentally insane characters are two high-risk theatrical devices better left in the right hands. Nobel Prize winner Dario Fo's sweeping 1970 indictment of political, social and police corruption, an agitprop response to the real-life suspected murder of Giuseppe Pinelli while in custody, has both elements…but these are not the right hands.
Held in an interrogation room on impersonation charges, an antihero dubbed the Maniac (Holly Cerney) overhears rumblings of an investigation centering on the titular anarchist's death. On a mission to humiliate those responsible, she impersonates officers and judges up the chain of command, revealing inconsistencies and hypocrisies along the way. Or she's supposed to, anyway; it's hard to tell in Ben Fuchsen's spastic, grim production, which embraces its own anarchy of sorts, reducing Fo's satire to fodder for miserable, pratfall-filled collegiate-type sketch comedy.
Under Fuchsen's anything-goes direction, Cerney chews her lines with a gravelly, grating voice and wanders the set in seemingly random blocking, staring away from her scene partners to no effect. Cheap references to the 99 percent do little to add relevance to the mess. By the time Rory Jobst's Officer takes the audience prisoner with a mid-intermission Fiona Apple cover, even the cast seems to know the jig is up.