Blood on the Cat's Neck at Trap Door Theatre: Theater review
Trap Door marks two decades of bringing European avant-garde to Chicago with a remount of the provocative work that put it on the map.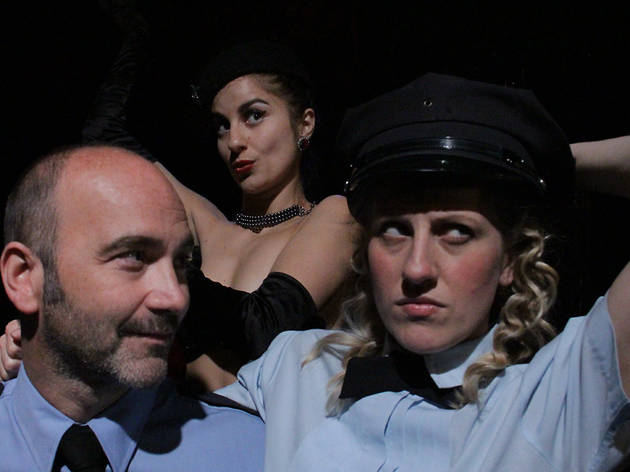 At a benefit to recognize Trap Door Theatre's 20th anniversary, company founder Beata Pilch took the stage to pay homage to ensemble members who've helped sustain her mission of fostering the sort of avant-garde, provocative European work seldom seen anywhere but overseas. Nearly two decades after Andrew Cooper Wasser's original and long-running Chicago production of Blood on the Cat's Neck, which brought the company to the attention of the city's art scene, the sentiment that her company shoulders a massive body of work in its hole-in-the-wall Bucktown space is still true. Even in one of the most prominent theater communities in the country, Trap Door remains one of the few accessible, ambassadorial institutions for truly experimental work. With that in mind, Pilch's restaging is part revival and part victory lap.
Alien scout-in-skivvies Phoebe Zeitgeist (Simina Contras) visits Earth to learn and report the ins and outs of human democracy. Eavesdropping on soldiers, lovers, butchers and models, Zeitgeist analyzes conflicts and boils down their essences to an idiom. German filmmaker and playwright Rainer Werner Fassbinder stops short of any particulars, and I wonder how relevant many of the cannibalistic sentiments expressed in Cat's Neck felt amid the U.S. economic heyday of 1996. Today, watching a laywoman (Marzena Bukowska) budget out her expenses with a moment of disdain for the loose definition of "luxuries," and a model (Antonio Brunetti) espouse beauty as the only true commodity, Pilch's restaging feels more like a contemporary American recession performance-art piece than a generic criticism of human nature.
By the time we get to the discotheque finale, Fassbinder's tropes run a little low on steam, even at the production's brisk 75-minute running time. Up until that point, though, it's a sexy mix of politics and brutality—in other words, Trap Door in a nutshell.