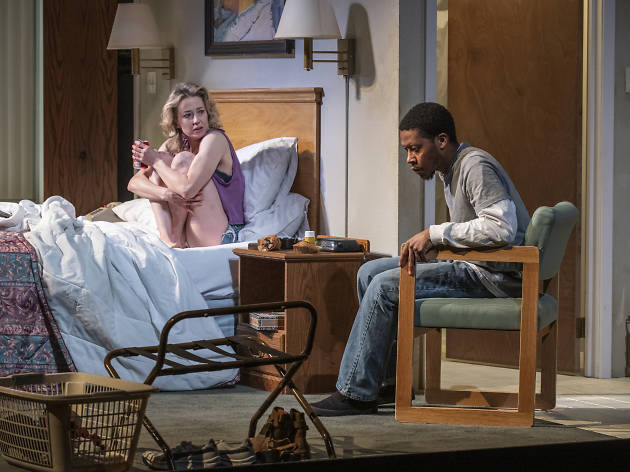 Time Out says
Theater review by Alex Huntsberger
The digital age has rendered many old plot devices obsolete: The misunderstandings and obstacles around which narratives have so often been built can now be resolved through mere access to smart phones and the internet. But Tracy Letts' pitch-black 1996 comedy-thriller Bug is an exception. Written in the shadow of the Oklahoma City bombing, Bug burrows deep into the human urges that lie behind conspiracy theories, from untreated mental illness to the simple need to explain the unexplainable. Given the ease with which such theories spread online these days—with algorithms serving as an accelerant—Bug has, if anything, become more timely in the decades since it was written. As I left the performance on February 3, the night of the Iowa caucuses, fresh webs of suspicion were already waiting to greet me.
In his terrifying, hilarious and emotionally devastating revival for Steppenwolf, director David Cromer locates the aching heart that beats beneath Bug's shocking exterior. Carrie Coon (The Leftovers) stars as Agnes, a tough Oklahoma woman who spends her days waitressing, drinking and smoking cocaine in a seedy motel room. Aside from bracing for her abusive ex-husband's early parole, Agnes doesn't spend much time thinking about the future; she's too busy trying to forget her past. Then she meets Peter (Namir Smallwood), a drifter with a quiet, searching intensity, and these two lost souls fall for each other hard. Peter has odd ideas about the world—he junks Agnes's smoke alarm, telling her that it's filled with radioactive dreck—but you don't have to squint too hard to picture a happy ending. And then the bugs show up.
Peter wakes in the dead of night complaining of a bite, and soon he's claiming that the room is swarming with insects. Agnes is resistant at first, but her feelings for Peter slowly draw her into his worldview. (Bug may be a horrifying ride, but it's also a helluva love story.) Over the protests of Agnes's best friend (Jennifer Engstrom) and dirtbag ex (Steve Key), Agnes and Peter fall deeper into his world of bloodsucking parasites, government experiments and evil replicants. As the pair's connection grows stronger, so does their ability to connect the tragic events in their own lives with every tragedy in American history. By the time a very strange doctor (Randall Arney) arrives, the play itself seems to have fallen under Peter's spell, a change reflected in Takeshi Kata's excellent set.
Coon and Smallwood's performances are perfectly calibrated for Cromer's deliberate pacing and eye for quietude. They're flinty and lived-in, with a dry sense of wit—the play is very funny—and a tight lid on their feelings. An expert at navigating between strength and vulnerability, Coon never oversells Agnes's loneliness or longing; those emotions just seem to ooze out of her pores. And Smallwood's reasonable tone is as unsettling as wild-eyed raving. (That the actor is black gives added dimension to Peter's paranoia.) The slow burn of the script and performances build to a kind of ambush. By the time you realize how bad things have gotten, it's far too late—a sensation that audiences today might find scarily familiar.
Steppenwolf Theatre Company. By Tracy Letts. Directed by David Cromer. With Carrie Coon, Namir Smallwood, Randall Arney, Jennifer Engstrom, Steve Key. Running time: 2hrs. One intermission.
Details
Users say