Director Susan Stroman on the new musical Big Fish
Based on the novel that also inspired the Tim Burton film, Big Fish gets a pre-Broadway tryout in Chicago.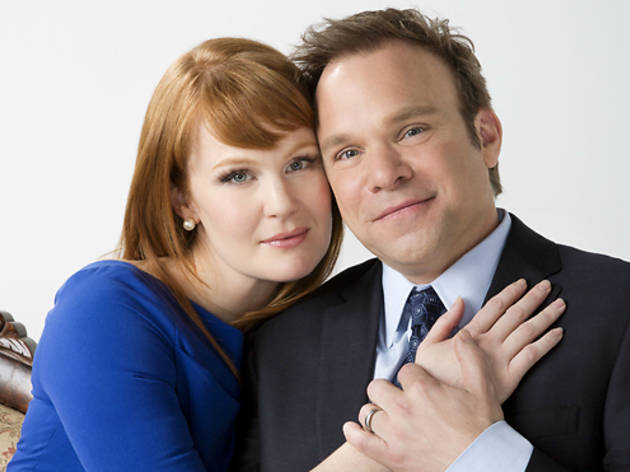 1/9
Photograph: Paul Kolnik
Norbert Leo Butz and Kate Baldwin of Big Fish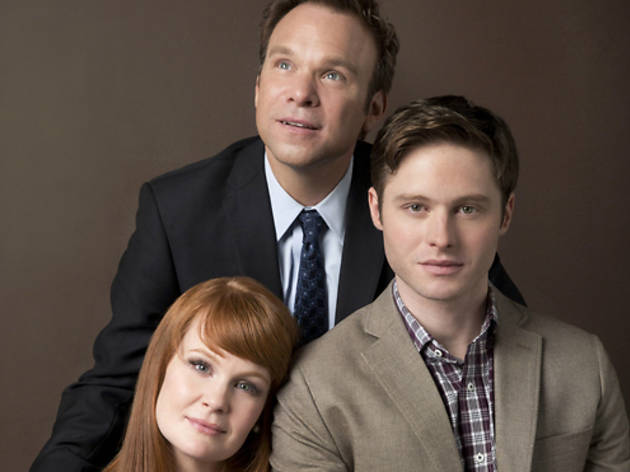 2/9
Photograph: Paul Kolnik
Kate Baldwin, Norbert Leo Butz and Bobby Steggert of Big Fish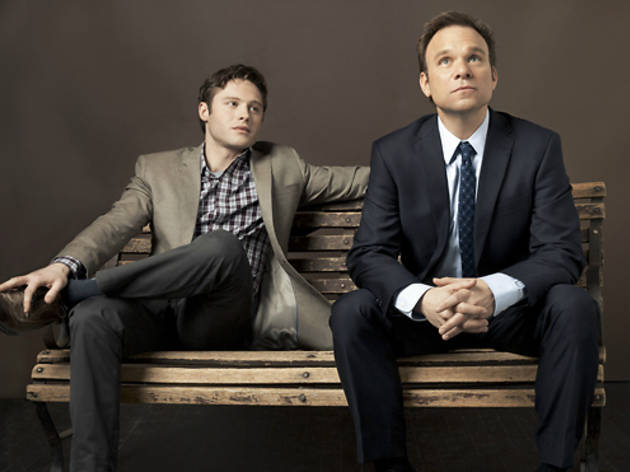 3/9
Photograph: Paul Kolnik
Bobby Steggert and Norbert Leo Butz of Big Fish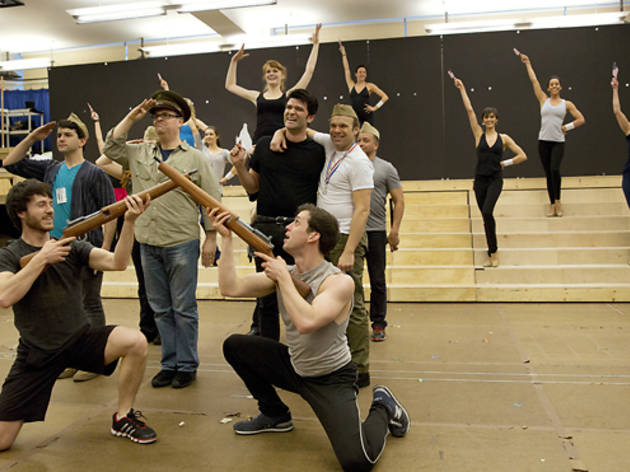 4/9
Photograph: Paul Kolnik
Big Fish in rehearsal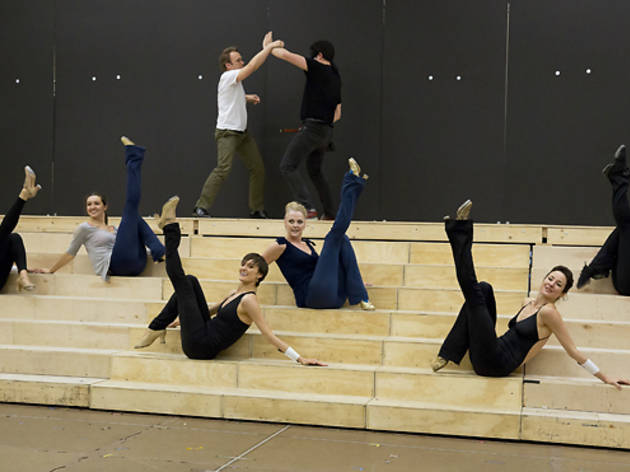 5/9
Photograph: Paul Kolnik
Big Fish in rehearsal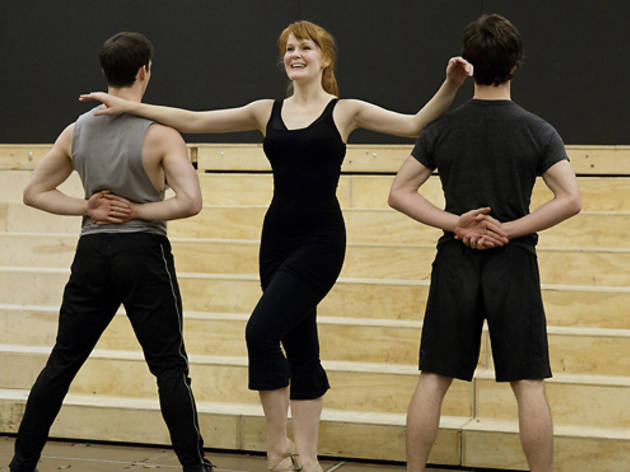 6/9
Photograph: Paul Kolnik
Kate Baldwin and company in rehearsal for Big Fish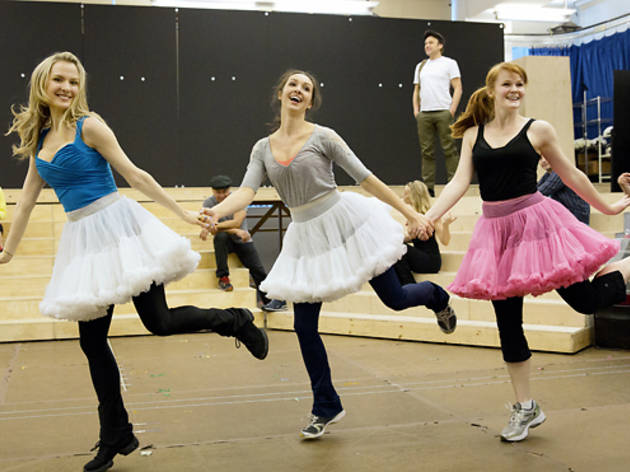 7/9
Photograph: Paul Kolnik
Kate Baldwin and company in rehearsal for Big Fish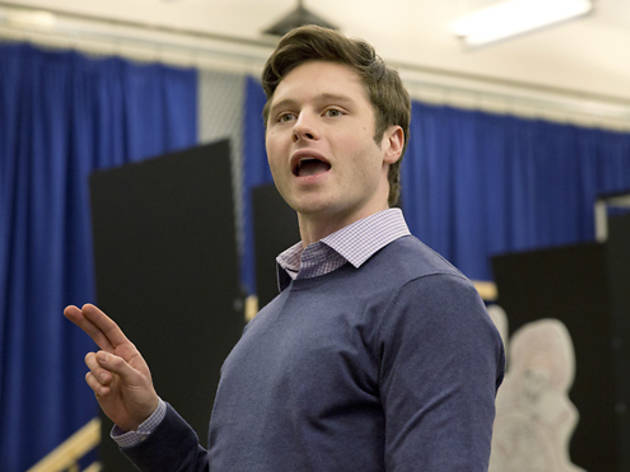 8/9
Photograph: Paul Kolnik
Bobby Steggert in rehearsal for Big Fish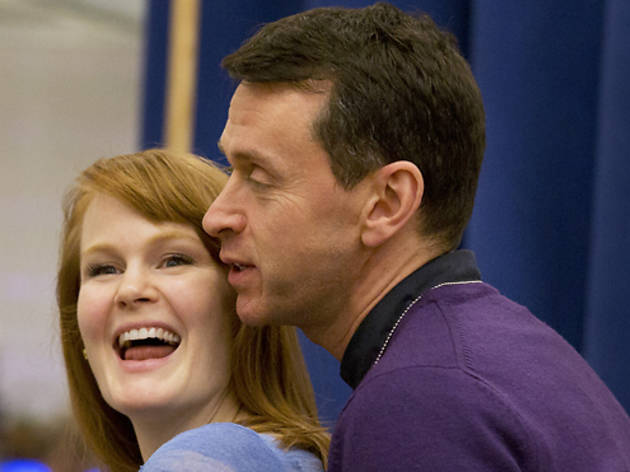 9/9
Photograph: Paul Kolnik
Kate Baldwin and composer Andrew Lippa in rehearsal for Big Fish
"I remember seeing the movie and crying at the end of it," Susan Stroman says of Tim Burton's 2003 film Big Fish. "And I don't cry that much at movies. I'm a theater gal."
Stroman, the five-time Tony Award–winning director and choreographer known for work like The Producers and The Scottsboro Boys, is addressing a crowd of reporters and group-sales reps at a February preview event for the new musical adaptation of Big Fish. With a book by John August (who also adapted the screenplay from Daniel Wallace's 1998 novel) and music and lyrics by Andrew Lippa (The Wild Party, The Addams Family), the show has a five-week tryout at Chicago's Oriental Theatre this spring in advance of a planned October opening on Broadway.
Like the movie and the novel, Big Fish the musical concerns Edward Bloom, a Southern traveling salesman and teller of tall tales who's now on his deathbed. Edward's adult son, Will, long skeptical of his father's stories, tries to reconcile their strained relationship. "The thing of course that I most connected with is it's about storytelling," Stroman, 58, says at the preview at Michigan Avenue's Pritzker Military Library. "And for those of us who create for the theater, we are storytellers. And in the end, this story is about how storytellers never die."
"This is about someone who tells 'big fish' stories, and you're not sure if they're true or if he's exaggerating," Stroman says later, on the phone from New York, where the show is rehearsing. "Everything about the piece is life-affirming. It's about how important it is to pass on these stories from generation to generation."
Like the film, the musical moves back and forth in time between the ailing, older Edward and his stories of his experiences as a young man. But unlike in Burton's version, which split the role between Albert Finney and Ewan McGregor, Edward is played throughout by 46-year-old Tony winner Norbert Leo Butz.
"That's something you really can't do in movies unless you have lots of prosthetic makeup and tricks," Stroman says. "But in the theater, it's very natural to take on that theatrical invention. It's a theatrical device that an audience really invests in; it's all done physically. Norbert can be quite heroic and barrel-chested when he's young, and when he's an older man his whole body takes on that persona. It's a wonderful acting treat."
Tony-nominated actor and Northwestern alum Kate Baldwin, 37, who plays Edward's wife, Sandra, effuses about Lippa's score. At the February preview, she and Butz performed a gentle ballad, "Time Stops," depicting Edward and Sandra's love-at-first-sight meeting.
"I've always thought that Andrew was incredibly smart and had a wonderful pop influence—like, he has a really good sense of what a hook in a song can do and what a groove in a song can do to please your ear and keep you interested in the song," Baldwin says. "And on top of that, he tells a really good story lyrically."
"The music is very romantic because Edward Bloom is a romantic," Stroman says. "And Andrew, I think, is writing about what he knows because he sees a lot of himself in these characters. It's remarkable work coming out of him—beautiful songs."
Big Fish begins previews Tuesday 2 at the Oriental Theatre.