Festen at Steep Theatre Company | Theater review
Seething performances anchor a grimly hilarious adaptation of the 1997 Dogme 95 film.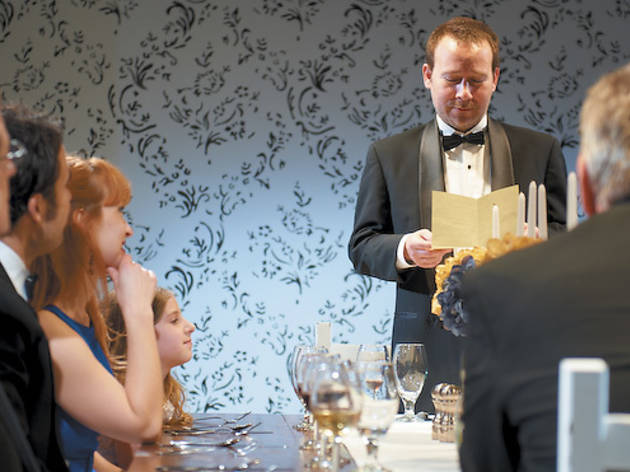 Thomas Vinterberg's 1997 film (a.k.a. The Celebration), notable for its adherence to purist Dogme 95 filmmaking principles, has the precision clockwork nastiness of a Roald Dahl scenario. Summoned to a Danish resort to celebrate the 60th birthday of patriarch Helge, an oddball assortment of friends and family is instead treated to some dark revelations from Helge's son Christian. As the evening unravels amid a string of explosive speeches and fisticuffs, Festen pitches incessantly between dark comedy and tragic potboiler.
The tight restrictions on the film's setting and structure suit it well for stage adaptation (perhaps ironically, given that Dogme 95 was intended to strip cinema of artifice). Berry's production for Steep makes the most of the intimate Edgewater space, throwing the audience into the midst of uncomfortable confrontations. Seething performances by Norm Woodel as Helge and Kevin Stark as Christian prevent the soap-operatic plot from ever seeming less than compellingly real. A fine ensemble backs them up, particularly Michael Salinas as Christian's unpredictable, violent brother, Michael. An early experimental sequence that layers diverse scenes atop one another doesn't quite come off, but once resort staffers have set an elaborate table in the center of the room, the drama elicits the gasps it's looking for. Throughout, eerie, cinematic sound work by Christopher Kriz punctuates the grimly hilarious piece nicely.