Hamletmachine at Trap Door Theatre - Theater review
Director Max Truax and composer Jonathan Guillen turn Heiner Muller's postmodern Shakespeare riff into a compelling, jagged-edged chamber opera.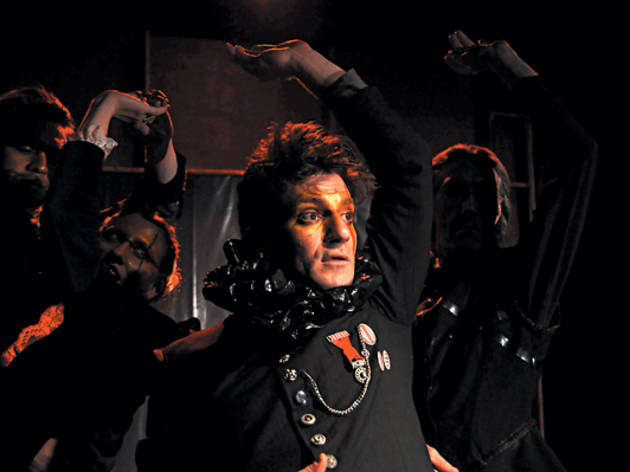 German postmodernist Müller's 1977 text is an eight-page puzzle box that blends Shakespeare's royal intrigue with the rhetoric of 20th-century revolution. Quoting both Brecht and pidgin Bard, Müller's stage directions famously call for images of Ophelia performing a striptease, a Madonna with breast cancer, the real-time installation of a working refrigerator and television sets, and Hamlet splitting the heads of Marx, Lenin and Mao with an ax. One of its best-known productions, by the conceptualist director Robert Wilson in 1986, was described in reviews as an invention as much of Wilson's as Müller's, resulting in what The New York Times called "a kind of cubism."
Truax's fascinating new production for Trap Door feels much less cluttered than both Müller's text and reports of other stagings, but it seems to get directly to Hamletmachine's spirit. Working with composer Jonathan Guillen, the young director—whose strong recent credits include Brecht's In the Jungle of Cities for Ka-Tet and Strindberg's Ghost Sonata at Oracle—has turned Hamletmachine into thoroughly compelling, jagged-edged chamber opera. The director eschews most of the architectural trappings of Müller's script, instead exploding the author's words into a libretto for three Hamlets, two Ophelias and one Gertrude, with Guillen's smartly contrapuntal score filling in the flourishes. As a current riff on a well-known text, this Hamletmachine rivals Black Swan for edgy psychodrama; unlike Aronofsky, though, Truax offers substance to match his style.