Joanna Jones as Kendra in Gotta Dance
A 'Sing-Off' standout gets ready for her Broadway debut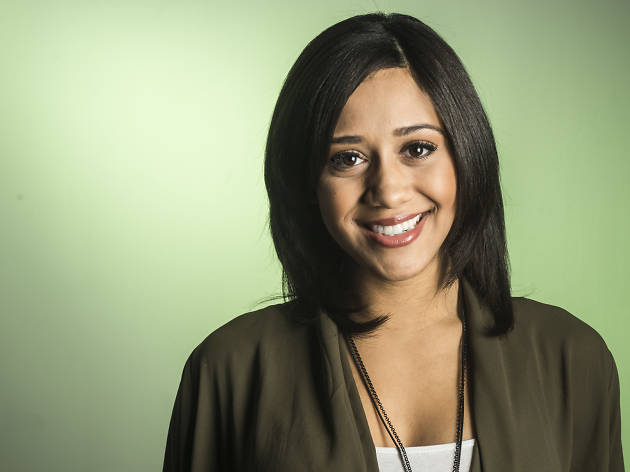 If Gotta Dance opens in New York in the spring* as planned, it will mark Joanna Jones's Broadway debut and the fulfillment of a lifelong goal. "I've been singing my whole life," says Jones. "Even when I was a little girl, I vividly remember being like, 'I'm gonna be a singer. This is what I'm doing.'"
The California native sang in school plays as a girl, and after attending what she calls "a very rigorous drama program" in high school, she majored in musical theater at UCLA. While there, Jones appeared on NBC's a cappella competition program, The Sing-Off, with a group called the Backbeats, which took third place in the show's second season; the following year, she was cast in the Michael Jackson tribute show, Thriller Live, on London's West End. She has also performed in L.A. with buzzy cabaret group For the Record.
In Gotta Dance, Jones plays Kendra, a coach for the dance team who becomes annoyed when her grandmother, played by Tony winner Lillias White, shows up to audition. "Grandmother comes into the scene, and Kendra is just, like, very snippy and impatient with her," she says.
Jones may have had an enviable ride so far in her career, but that doesn't mean she's never had doubts. "In this business, it's so easy to be in and out of work a lot," she says. "The times when I don't have a job, I'm automatically like, 'What am I doing with my life?' And you sort of reevaluate for a second. But those are the moments when I'm like, 'Joanna, get real. What else would you be doing with your life?' Nothing else would be able to fulfill me in this way and keep me ticking."
*Note: After this feature had appeared in Time Out's winter print edition, producers moved the show's Broadway target date from spring to fall 2016.