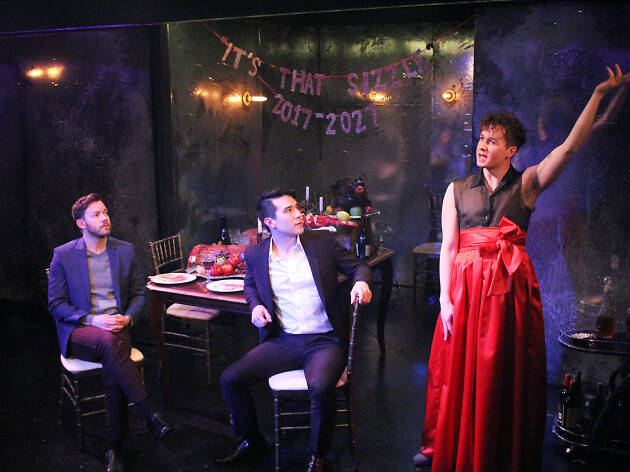 Theater review by Alex Huntsberger
Dan Giles wastes little time delivering on the excellent title of his enjoyable but uneven new play, Mike Pence Sex Dream. Played at first by the great Gage Wallace with an intensely alien deadpan, Vice President Mike Pence hangs like a phallus of Damocles over the marriage of Gary (Scott Shimizu), a failed writer and budding adman, and the nonbinary Ben (Collin Quinn Rice), an idealistic schoolteacher striving to make a difference in Trump's America. Gary's big shot in advertising comes in the form of Smokey Farms, a bacon company that needs rebranding after a scandal. When he lands the account—in part by taking a company exec, Tom (Wallace), to bed—Gary starts trading what's right for what feels good. But his fantasies about Pence become more intense and more disturbing, eventually bleeding into his reality. (Wallace and Rice take turns playing the veep.) Talk of slave laborers throwing themselves off large gold pyramids gives way to a vaguely dystopian future where those pyramids are a fixture of everyday life.
Mike Pence Sex Dream has many urges, and neither Giles nor director Hutch Pimentel can fully satisfy all of them: This might be the first play in history where the dream sequences are the highlights. The show has its irreverence and queerness down pat, but at times it feels like a lecturing Facebook post about the horrors of factory farming. William Boles's burnished metal set is long on mood—it's as though the characters were going clubbing in hell—but the monochrome looks gets monotonous fast. And while Wallace is fantastic, imbuing Tom with equal parts cynicism and innocence, Shimizu and Rice are up and down; how these two ended up together is a head-scratcher, though Rice somewhat makes up for their lack of chemistry by rocking some gloriously femme outfits from designer Uriel Gomez. Both actors also benefit greatly from the work of choreographers Breon Arzell (dance) and Micah Figueroa (fights and intimacy)—the latter of whom ensures that, no matter what else goes down, Mike Pence Sex Dream gets the sex part very right.
First Floor Theater. By Dan GIles. Directed by Hutch Pimentel. With Collin Quinn Rice, Scott Shimizu, Gage Wallace. Running time: 1hr 30mins. No intermission.