New holiday theater shows for 2011
We find eight new alternatives to Santaland, Scrooge and Bailey Building & Loan.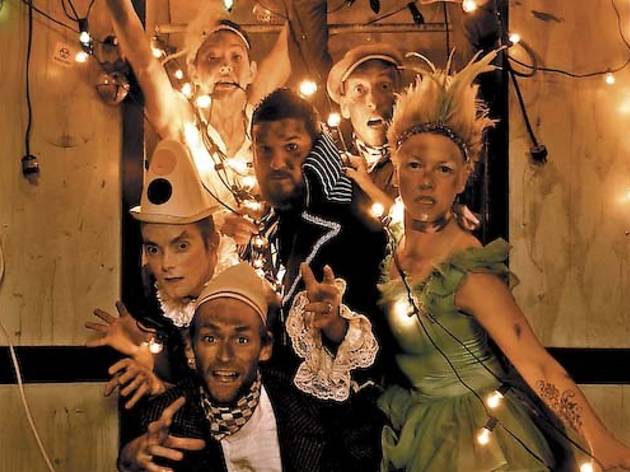 Most of the usual seasonal suspects are back as expected: Your traditional Scrooge is to be found at the Goodman, David Sedaris's caustic Macy's elf returns to Theater Wit, and you can live any number of Wonderful lives at theaters around town. But for theatergoers of good cheer, this holiday season also brings with it a welcome sackful of shiny new toys. Here's a guide.
Another Night Before Christmas
Eight-time Jeff Award winner—wait, as of last week make that nine-time Jeff Award winner Hollis Resnik stars in the Chicago premiere of this musical comedy by the authors of Married Alive! Resnik plays Karol, a cynical single woman who's followed home on Christmas Eve by a homeless man (Don Forston) who insists he's Santa Claus. Theatre at the Center, 1040 Ridge Rd, Munster, IN (219-836-3255). Thu 17–Dec 18; $36–$40.
A Beer Carol
Sean Benjamin and Steve Mosqueda of the Drinking & Writing Theater get Dickensian with their latest, in which heartless domestic-beer exec Bud Miller, CEO of Milweiser, is haunted by the ghosts of the four ingredients of beer. Drinking & Writing Theater at Haymarket Pub & Brewery, 737 W Randolph St. Sat 19–Dec 17; $15.
Burning Bluebeard
In the greatest disaster in the history of American theater, 600 people were killed when flames broke out during a matinee performance of the holiday panto Mr. Blue Beard at the newly opened Iroquois Theatre on Randolph Street. In this new work, Jay Torrence and the Neo-Futurists use the Iroquois tragedy in an homage to life and hope, as singed clown performers, feeling responsible for the audience members' deaths, try endlessly to save them by reaching their show's end. Neo-Futurarium, 5153 N Ashland Ave (773-275-5255). Thu 17–Dec 30; $15, students and seniors $10, Thu pay-what-you-can.
Charles Dickens Begrudgingly Performs "A Christmas Carol." Again.
Even Dickens has Scrooge fatigue in this new piece by Blake Montgomery, which combines a loose biography of the author with a(nother) retelling of his most-told tale. The Building Stage, 412 N Carpenter St (312-491-1369). Dec 1–Dec 24; $22, students $12.
A Christmas Story
The 1983 film that achieved classic status by attrition with its endless annual TV airings inspires this new musical. Rising theater composers Benj Pasek and Justin Paul penned the tunes tracking Ralphie's quest for a Red Ryder BB gun with a compass in the stock and this thing which tells time. Chicago Theatre, 175 N State St (800-745-3000). Dec 14–30; $35–$79.
Hannukatz the Musical
Hannukatz, a groovy, tie-dye-wearing rock & roll cat, teaches a Skokie family the true meaning of Hanukkah in this trippy new musical by Terry Abrahamson and Michael Carlson, based on Abrahamson's self-published children's book. Abrahamson's other theater work includes Kama Sutra: The Musical, but we're promised Hannukatz is family friendly. National Pastime Theater, 4139 N Broadway (773-327-7077). Dec 2–31; $25, kids ages 12 and under $10.
Our Holiday Stories
In this new collection of short works, novelist Elizabeth Berg and playwrights Rohina Malik and Tanya Saracho share personal tales of Thanksgiving, Ramadan and Christmas on the border. 16th Street Theater, 6420 16th St, Berwyn (708-795-6704). Through Dec 4; $18.
The Pirates of Penzance
The Hypocrites' sublimely goofy take on Gilbert and Sullivan returns for a second year, rubber ducks, kiddie pools and all. With this remount, the 'crites are positioning Penzance as an all-ages, secular holiday panto. Chopin Theatre, 1543 W Division St (773-989-7352, the-hypocrites.com). Wed 23–Jan 22; $28.