Seven Homeless Mammoths Wander New England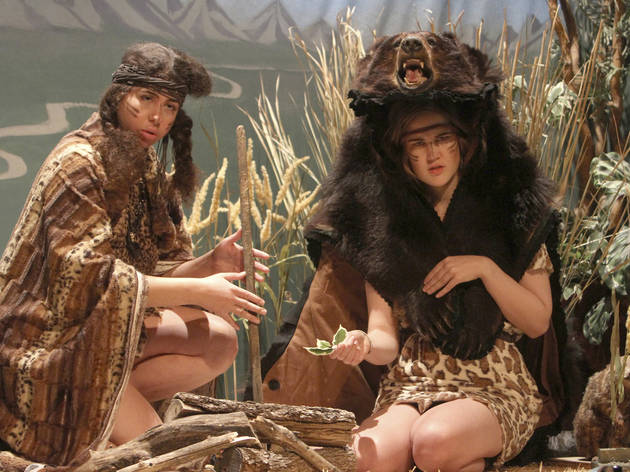 1/8
Photograph: Charles Osgood
Seven Homeless Mammoths Wander New England
2/8
Photograph: Charles Osgood
Seven Homeless Mammoths Wander New England
3/8
Photograph: Charles Osgood
Seven Homeless Mammoths Wander New England
4/8
Photograph: Charles Osgood
Seven Homeless Mammoths Wander New England
5/8
Photograph: Charles Osgood
Seven Homeless Mammoths Wander New England
6/8
Photograph: Charles Osgood
Seven Homeless Mammoths Wander New England
7/8
Photograph: Charles Osgood
Seven Homeless Mammoths Wander New England
8/8
Photograph: Charles Osgood
Seven Homeless Mammoths Wander New England
Theater Wit. By Madeleine George. Directed by Jeremy Wechsler. With Meighan Gerachis, Laura T. Fisher, Kristen Magee, Steve Herson, Susaan Jamshidi, Casey Searles. 2hrs 20mins; one intermission.
Theater review by Kris Vire
The mammoths of playwright Madeleine George's smart and highly entertaining 2011 comedy are the woolly kind, or were. They're seven skeletons, the signature pieces of the permanent collection of a decrepit natural history museum on the campus of an unnamed Northeastern private college, and after decades of benign neglect, they suddenly have champions.

The Pratt Museum is on the chopping block, set to be closed down to make way for additional student housing—thus making the mammoths homeless. This is the latest administrative headache for the college's dean, Cindy (Meighan Gerachis), a former philosophy professor who's chagrined to find herself now raising funds and coddling trustees.

Rumblings about the museum's imminent closure cause a stir on campus and off: Students form a protest group called Triassics Under Siege by the College, or TUSC for short, while townies who haven't visited the museum in decades, if ever, start writing letters to the local paper bemoaning the loss of this community gem.

While Cindy's drowning in meetings and media inquiries, she's dealing with epochal change on the domestic front as well. Her ex, Greer (Laura T. Fisher), also a philosophy prof, has had a recurrence of an unnamed cancer. Cindy insists Greer move back into the house they shared while she undergoes treatment, an arrangement made delightfully awkward by the presence of Cindy's new, much younger girlfriend, a sunny yoga instructor type named Andromeda (Kristen Magee)—"née Andrea, of course," Cindy tells Greer in a kind of apology in advance.

Andromeda is thrilled to welcome Greer into the house: "I love alternative kinship structures," she repeats at every opportunity. What she's not thrilled by is Cindy's plan for the museum, which Andromeda wants to keep open—it turns out the old neglected museum is a common hookup spot for students, and those dioramas of early man have seen the making of a lot of special memories for Andromeda and others.

Interspersed with scenes of Cindy, Greer and Andromeda at home, George deploys two unusual but very clever devices. The museum's caretaker (Steve Herson) recites passages from the local newspaper regarding the museum controversy: news reports, editorials, letters to the editor from local residents. His fevered account of a raucous town council meeting is a highlight.

And then there's the diorama. Susaan Jamshidi and Casey Searles repeatedly appear as stock-still mannequins of early man, maintaining their poses with poise while repeating very contemporary flirtations—presumably those of the students they've helplessly watched hook up over the years. It's a trick you might think would get old after the first reveal, but the exchanges are so well crafted, and Jamshidi and Searles deliver them with such panache, that it hits every time.

If you're reminded of Ross and Rachel's first time, it's no accident; Friends is Andromeda's favorite TV show, and it actually plays a significant part in the plot. Magee is terrifically layered in a role that at first seems it could be grating and one-note, and Geraichis hones a very amusing neurotic persona—Cindy's distracted, motormouthed speech pattern is itself a wonder. And while we've always known Fisher was funny (she was in the seminal '90s comedy troupe Cardiff Giant, after all), she's in rare form here, sardonic and drier than a good martini, with whip-smart timing. Jeremy Wechsler's smart staging, on Joe Schermoly's canny exhibit-display set, is worth a night at the museum.