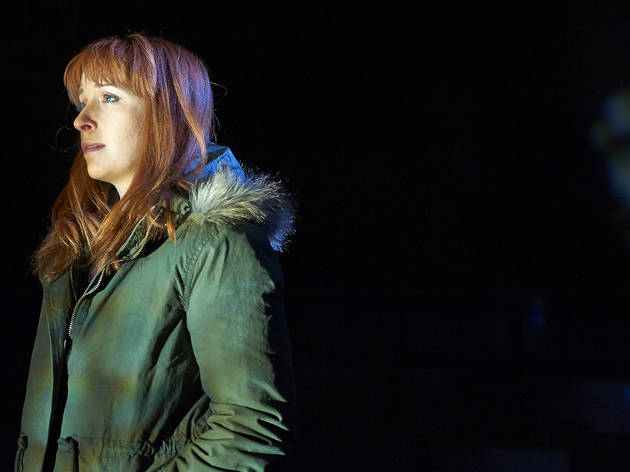 1/4
Photograph: Lee Miller
strangers, babies at Steep Theatre
2/4
Photograph: Lee Miller
strangers, babies at Steep Theatre
3/4
Photograph: Lee Miller
strangers, babies at Steep Theatre
4/4
Photograph: Lee Miller
strangers, babies at Steep Theatre
Steep Theatre. By Linda McLean. Dir. Brad Akin. With Sasha Gioppo, John Byrnes, Ian Paul Custer, Peter Moore, Sandy Elias, Andrew Burden Swanson. 1hr 30mins; no intermission.
Theater review by Kris Vire
You'd think Steep Theatre has built some kind of pipeline between its Edgewater home and the United Kingdom, where it repeatedly finds contemporary playwrights turning out portraits of common people's uncommon struggles, rendered with quiet but white-knuckle intensity. In its structure, which sends a female protagonist into a series of one-on-one scenes with five different men, Scottish playwright Linda McLean's strangers, babies closely resembles one of Steep's biggest triumphs of recent years, Simon Stephens's Harper Regan. But it's clear from the first scene that McLean's principal character, May (Sasha Gioppo), is hardly common.
The play opens on a seemingly simple domestic scenario: Cleaning up after breakfast with her apparently doting husband (John Byrnes), May notices an injured baby bird on their flat's balcony. She frets over its fate as any of us might, yet there's something about her dogged insistence on rescuing the bird if it doesn't recover on its own—and her husband's resistance to her plan to scoop it up and take it to the vet—that suggests this might not be a first, and that there's something deeper underlying May's "human…humanitarian…animalitarian" impulse. Gioppo's crafty performance seems to hint at something rehearsed in May's empathy.
To say much more about the story would be too much, since it's McLean's painstaking doling out of clues about what happened in May's life 20 years earlier and continues to define it despite her best efforts that makes strangers, babies so compelling. Gioppo captures May's roiling mix of grief, regret, vulnerability and seething fury so well it's impossible not to feel for her even as the horror of her past action becomes clear. And in Brad Akin's strong in-the-round staging, she's well matched in each of the five playlets she shares with Byrnes, Sandy Elias, Peter Moore, Andrew Burden Swanson and Ian Paul Custer. It's likely to reorient your thinking about redemption.