Sweet Confinement at SiNNERMAN Ensemble | Theater review
Anna Carini's portrait of a group of lifelong friends in crisis is skillfully plotted but underplayed.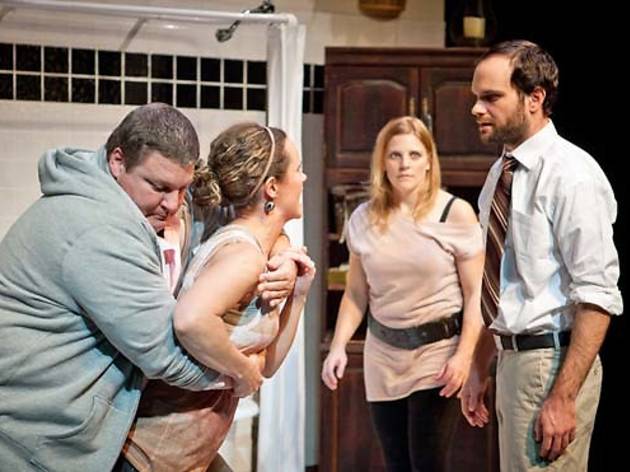 Beginning with the startling image of a handsomely appointed master bathroom covered in blood, Anna Carini's 2008 play offers a bracing soap opera in miniature as a group of lifelong friends reacts to an attempted suicide among their number. Playing out over the course of a single, ultra-tense day, Sweet Confinement deftly depicts the fluid loyalties and giddy gallows humor that can be triggered by tragedy.
The traumatized group resolves to clean up the mess, literally and figuratively, though it inevitably discovers that deep-rooted emotional ugliness can't be sorted out with bleach and paper towels; some things are thicker than blood. Carini displays skillful plotting, parcelling out the reveals of the friends' histories carefully and organically. The playwright's dialogue, on the other hand, is less artful, with an overreliance on clichés and curse words. Director Brea Hayes smartly negotiates the script's frequent, lifelike 180s between comedy and tragedy, though her pacing seems to wallow too much in the latter. Aside from the key moment of catharsis, when Cyd Blakewell explodes with rage and grief, the cast tends to underplay, seemingly acting for an unseen, close-up camera rather than a live audience. John Wilson's sharply detailed set provides a vivid backdrop.