White Trash Wedding and a Funeral at Factory Theater | Theater review
The Factory revisits an early, foul-mouthed hit.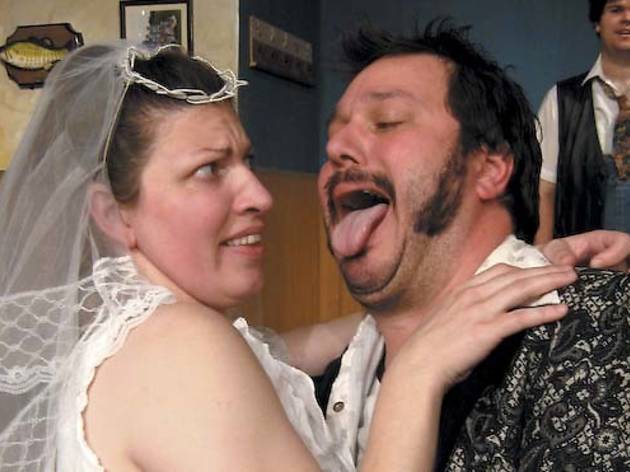 I didn't see Factory Theater's original production of Mike Beyer and Bill Havle's White Trash Wedding and a Funeral in 1995, when I imagine the show's caustic, ambitiously provocative sense of humor was in a better place to raise eyebrows than elicit polite, good-natured smiles. Seventeen years later, remounted by director Scott OKen to kick off the company's 20th-anniversary season, a good deal of the gross-out bits are still squirmers. But with our Internet-era, collectively desensitized gag reflexes, these foul-mouthed American Legion Post barflies show their age.
The plot follows a doomed wedding between septic-tank fortune heir Earl (Blake Dalzin) and his conniving, pernicious fiancée, Connie (Shannon O'Neill), along with the daft, toothless hicks and drag queens who make up their family and friends. On the road to marital bliss, the clan wades through its own bare asses, vomit, menstrual blood and ejaculate—some of which is less filthy than the dialogue. That's fine and well, but some of the funniest jokes happen to be the most innocuous, such as an extended audience-interaction bit from Aunt Shirley (Robyn Coffin) and an offhand cast-wide power ballad. As tragic ex-lover Bernice, Ed Jones nicely balances sketch-style absurdity and character work—no small feat with a visible butt crack and tramp stamp.