Bars | Southern Guide
From down-home to deluxe: We round up Chicago's best Southern spots and bourbon bars.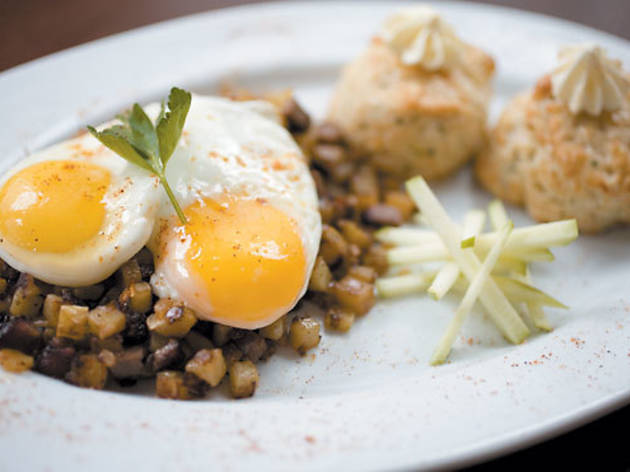 1/4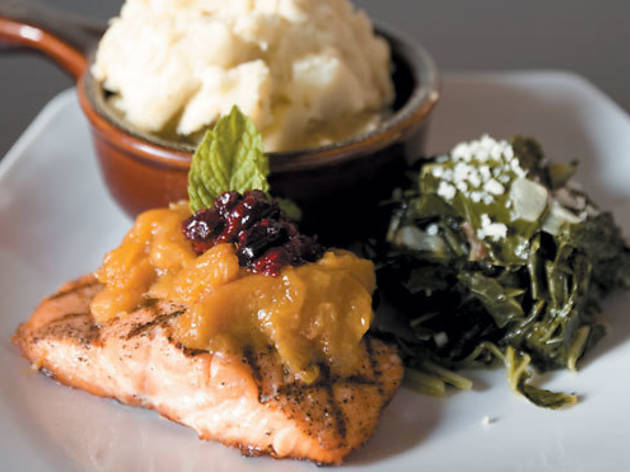 2/4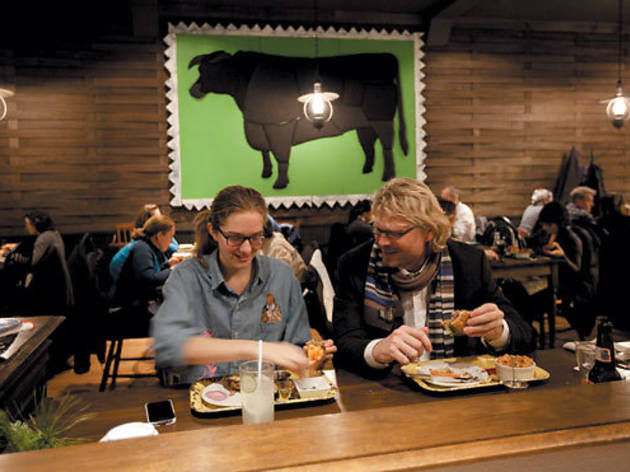 3/4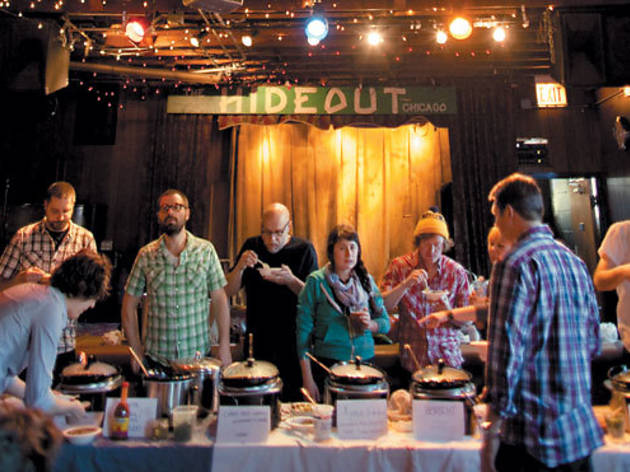 4/4
Barn & Company A smokehouse run by a so-called BBQ life coach, this Lincoln Park public hall puts pulled pork on a pedestal. Pair the baby back ribs and slaw with a Southern-inspired cocktail, including the requisite Carolina sweet tea lemonade. 950 W Wrightwood Ave (773-832-4000). Tue–Fri 4pm–2am; Sat 11am–1am; Sun 10am–2am.
Big Jones Beignets come standard at brunch, rounding out a menu of Southern heirloom–style favorites, including gumbo, corn-breaded catfish and biscuits and gravy. The morning menu also boasts a variety of booze—Sazerac, sidecars and so forth—and we're not complaining. 5347 N Clark St (773-275-5725). Mon–Thu 11am–9pm; Fri 11am–10pm; Sat 9am–10pm; Sun 9am–9pm.
Big Star Tex-Mex has never been hipper. Tacos, tequila and bourbon are the true stars at this eclectic Southern/Western Wicker Park outpost where Johnny Cash and skinny jeans go hand-in-hand. Good luck getting a booth, but if you can sneak onto a barstool, you'll never want to leave. 1531 N Damen Ave (773-235-4039). Sun–Fri 11:30am–2am; Sat 11:30am–3am.
Blue Bayou Lakeview's Cajun staple recently underwent a menu overhaul, replacing items such as Purple Haze Chicken Wings with tried-and-true New Orleans fare. The cocktail list has also been upgraded and now offers classics such as Sazerac and hurricanes. 3734 N Southport Ave (773-871-3300). Mon–Fri 10am–2am; Sat 9am–3am; Sun 9am–2am.
Bub City A whopping 150 whiskeys round out the list at this classic Southern BBQ joint in River North,where a huge American flag made of beer cans sets the scene. Bourbon and rye are painstakingly organized by distillery, to which we offer a respectful "Yeehaw!" 435 N Clark St (312-610-4200). Sun–Fri 11am–2am; Sat 11am–3am.
Carol's Pub "POOL DARTS SANDWICHES" reads the black sign outside this ancient Sheridan Park country bar. People flock to the honky-tonk for beer specials, and live bands doing Patsy Cline covers lure perfect strangers to partner off on the dance floor. 4659 N Clark St (773-334-2402). Mon, Tue 9am–4am; Wed–Fri, Sun 11am–4am; Sat 11am–5am.
Carriage House Shrimp and grits, she crab soup and fried chicken are among the traditional and reimagined offerings that pay tribute to the chef's South Carolina upbringing. Cocktails include the traditional Creole Cocktail, plus original creations by Sterling Field. 1700 W Division St (773-384-9700). Tue–Sun 5pm–late; Sat, Sun 10am–2pm.
Chicago q We don't typically think of the Gold Coast when weighing options for BBQ. But Chicago q has it going on, offering everything from hush puppies and brisket to bourbon flights and enough ryes to keep us interested. 1160 N Dearborn St (312-642-1160). Sun–Thu 11am–10:30pm; Fri, Sat 11am–midnight.
Delilah's All hail Delilah's, the long-running king of whiskey in Chicago (and, some would argue, the Midwest). With more than 600 whiskey options, there is very little one can't get here, from obscure bourbon to high-rye hooch. 2771 N Lincoln Ave (773-472-2771). Sun–Fri 4pm–2am; Sat 4pm–3am.
Derby Bar & Grill This aptly named Lincoln Park sports bar is all rosewood and cozy booths, with televisions everywhere the eye might wander. Mint juleps are standard here, as well as the Arlington: bourbon, maple syrup and a splash of grapefruit juice. 1224 W Webster Ave (773-248-0900). Mon–Thu 5pm–2am; Fri, 11am–2amSat 11am–3am; Sun 11am–2am.
Drumbar For the discerning bourbon connoisseur, this handsome Mag Mile hotel bar is a must-visit. Indulge in seldom-offered by-the-glass pours of very rare A.H. Hirsh 16-year ($125/glass), as well as the comparably more affordable Heaven Hill 1970 ($45). Don't worry: There are proletariat-priced whiskeys here, too. 201 E Delaware Pl (312-924-2531). Tue, Wed 5pm–midnight; Thu, Fri, 5pm–2am; Sat 5pm–3am.
Fat Willy's Rib Shack Moist, tender brisket marinated for what tastes like forever is the thing to get at Fat Willy's—unless, of course, you're there for the ribs. These are the tough choices when eating at one of Chicago's favorite BBQ joints, whose finger-lickin' dishes go down nicely with a vodka-lemonade. 2416 W Schubert Ave (773-782-1800). Sun–Thu 11:30am–10pm; Fri, Sat 11:30am–11pm.
Five Star From pulled-pork sandwiches to shrimp po' boys, several Southern favorites are on the menu at this rollicking rock & roll–themed West Town bar. But the bourbon list alone—30-strong, plus cocktails to boot—is worth the visit. 1424 W Chicago Ave (312-850-2555). Mon–Fri 4pm–2am; Sat noon–3am; Sun noon–2am.
Frontier With a 2,500-square-foot beer garden and the capacity to smoke a whole animal on the terrace, this really is the next frontier. Seasonal and traditional beers round out this saloon-themed tavern's drink options, including plenty of whiskey. 1072 N Milwaukee Ave (773-772-4322). Mon–Thu 4pm–2am; Fri 11am–2am; Sat 10am–3am; Sun 10am–2am.
Grange Hall Burger Bar Swing open the barn-style door at this Randolph Row burger joint, and you'll find down-home decor, grass-fed burgers and homemade pies. Country cocktails such as the Flint Julep and Old Fashioned-Forward offer cheeky spins on the classics, or save room for a spiked milkshake such as the Bourbon Caramel Malt. 844 W Randolph St (312-491-0844). Tue–Thu 11:30am–10pm; Fri 11:30am–11pm; Sat 8am–11pm; Sun 8am–2pm.
Heaven on Seven Gumbo is the word at this Louisiana comfort food hub with three local locations. Embrace the experience by sipping an Abita while enjoying the Cajun soundtrack. 600 N Michigan Ave, second floor (312-280-7774). Sun–Thu 11am–10pm; Fri, Sat 11am–11pm.
The Hideout As if the perma-strung Christmas lights and cracked linoleum floors weren't a dead giveaway, the Hideout has aged, hole-in-the-wall charm to spare. The Texas-style tavern washes down quality local and touring bands with a terrific tipple called the Wooden Leg. 1354 W Wabansia Ave (773-227-4433). Tue 7pm–2am; Wed–Fri 4pm–2am; Sat 7pm–3am; Sun, Mon, depending on event calendar.
Longman & Eagle This Michelin-starred gastropub prides itself on its impressive list of "whiskey for drinking," priced affordably enough to wind up in a shot glass, as opposed to collecting dust on a shelf. Can't decide? Book a flight. 2657 N Kedzie Ave (773-276-7110). Mon–Fri 9am–2am; Sat 9am–3am; Sun 9am–2am.
Moonshine Brewery The menu here has a bit of an identity crisis—a little Southwest, a little South-central—which results in quite a wide range for food. Booze is hardly limited to moonshine proper: There's actually a nice list of bourbon on hand, as well as a handful of vodka-lemonade iterations, and a hurricane for good measure. 1824 W Division St (773-862-8686). Mon–Thu 11am–2am; Fri 11am–2am; Sat 10am–3am; Sun 10am–2am.
Old Town Social The room is big but the vibe is cozy at this modern-classic tavern. Southern-inspired comfort food (fried pickles, mac 'n' cheese, deviled eggs) goes down easily with the cleverly concepted whiskey flights, starting with the Freshman (George Dickel, Ancient Age) on through the Doctorate (Blantons, Whistle Pig). 455 W North Ave (312-266-2277). Mon–Fri 5pm–2am; Sat 11am–3am; Sun 11am–2am.
Pitchfork Food & Saloon More than 100 whiskeys live at this Irving Park BBQ joint, and the management wants you to know your stuff: occasional whiskey tasting classes are offered, which include guest speakers, samples and a hosted bar. 2922 W Irving Park Rd (773-866-2010). Mon–Fri 4pm–2am; Sat 11am–3am; Sun 11am–2am.
The Pony "Good Food, Cold Beer" is the unfussy motto at this Southern-styled Lakeview sports bar. Burgers and sliders round out the fare, and Pony Punch seasonal cocktails change as often as the weather. 1638 W Belmont Ave (773-828-5055). Mon–Fri 4pm–2am; Sat 11am–3am; Sun 11am–2am.
Smoke Daddy This month marks the grand reopening of this Wicker Park BBQ institution famous for its slow-cooked meats and laid-back, Memphis blues vibe. With its 2,000-square-foot expansion, the joint now offers a Southern Sunday brunch starring hearty entrées with fixins like corn bread and hash. 1804 W Division St (773-772-6656). Sun–Thu 11am–11pm; Fri, Sat 11am–midnight.
The Southern This understated Bucktown tavern specializes in Southern comfort food, ranging from Shiner Bock mussels to a trout-topped Carolina Caesar salad. Classic whiskey "dranks"—manhattans, Sazeracs, mint juleps and old-fashioneds—are the cocktail go-tos. 1840 W North Ave (773-342-1840). Mon–Thu 5pm–2am; Fri 5pm–2am; Sat 11am–3am; Sun 11am–2am.
Table 52 Chef Art Smith shows his Southern roots in dishes such as his low-country shrimp and grits and fried green tomatoes. But we're equally impressed with his range of bourbon "and beyond": an upper-crust brown bottle list of lesser-known greats. 52 W Elm St (312-573-4000). Mon–Sat 5–9:30pm; Sun 10:30am–1:30pm, 4–8:30pm.
Twisted Spoke This friendly neighborhood biker bar prides itself on its Bloody Marys, but equally embraces whiskey—especially on Wednesdays, when all whiskeys are half-price. 501 N Ogden Ave (312-666-1500). Mon–Fri 11am–2am; Sat 9am–3am; Sun 9am–2am.
Stanley's Kitchen & Tap This is the stuff Southern comfort food dreams are made of: a whole Southern-fried chicken, mac 'n' cheese fritters and "redneck" poutine. And just in case you're wondering how Stanley's feels about bourbon, it's on the appetizer list. 1970 N Lincoln Ave (312-642-0007). Mon–Fri 11am–2am; Sat 10am–3am; Sun 10am–2am.
Wishbone This colorful Chicago classic specializes in New Orleans–style "Southern reconstruction cooking," including panfried catfish, mashed potatoes with gravy, jambalaya Cajun stew and chicken andouille po' boys. Several classic New Orleans cocktails, such as the hurricane, are up for grabs. 3300 N Lincoln Ave (773-549-2663). Mon, Tue 7am–3pm; Wed–Fri 7am–3pm, 5–9pm; Sat, Sun 8am–3pm, 5–9pm.