Celebs and politicians at the Obama reelection victory party in Chicago
Photos from the party at McCormick Place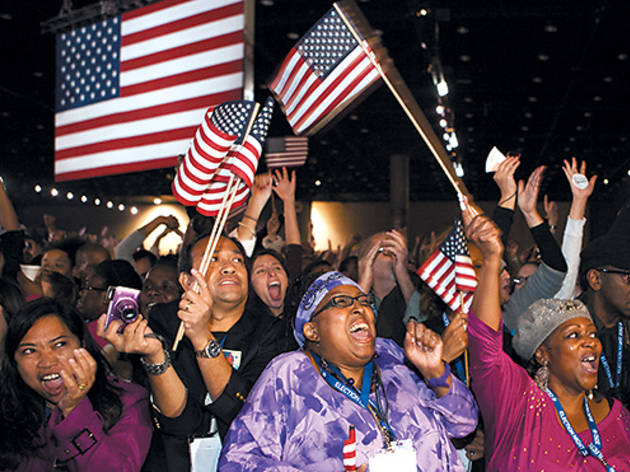 How many impossibly bedazzled Barack Obama shirts can 300,000 square feet of convention center possibly hold? A helluva lot, as evidenced by the thousands of supporters at McCormick Place on Tuesday night who witnessed the President's decisive defeat of Mitt Romney.
Milling about the lakefront convention center were a number of notables: Mayor Rahm Emanuel (see him in our photo slideshow laughing it up with Fox News); Illinois Gov. Pat Quinn; State Rep. and Blago sister-in-law Deb Mell, who won reelection on Tuesday; DJ Mel, the party's soundtrack maestro; @MayorEmanuel author Dan Sinker; Broadway in Chicago vice president Eileen LaCario, who canvassed for Obama in Iowa and phone-banked for him here; jazz drummer Mike Reed; and actress Vivica A. Fox (still lookin' foine).
Congressman Luis Gutierrez said he was surprised a reelection victory was called for Obama well before 11pm, earlier than most pundits believed the race would stay competitive. "I thought it would be called much later in the day," said Gutierrez, as he jetted around the floor of McCormick Place. The longtime immigration rights advocate spent the early part of the day in Ohio courting the Hispanic vote for the President. Gutierrez said he believes the demographic was a decisive factor in Obama clinching the necessary 270 electoral votes. "You see [the Hispanic vote's impact] across this country—Colorado, New Mexico," Gutierrez said of two states that ultimately went into Obama's column. "Finally, we had a debate about immigration policy, about 12 million people who live in our country in the shadows. And at the debate it was pretty clear: Romney said self deport and the President said let's bring about comprehensive immigration reform."
Maybe there wasn't the same electricity in the air at the McCormick Place party as there was in Grant Park in '08. But Congressman Bobby Rush argued Obama's reelection is more of an emphatic statement because the President based this campaign on the record he earned—not just on promise. "It shows that this nation is not only willing to accept an African-American as president but is willing to give him a second term," said the former Black Panther. "And his numbers are very, very high. So we're seeing what kind of currency this man has." As of this writing, with Florida still not decided, Obama has 303 electoral votes to Romney's 206.
"His first election was historic and landmark," said 45th Ward Ald. John Arena. "This one is historic for the direction of the country. This is about who we are as a country. That is the big split here." Arena believes, as do many of Obama's supporters, that the President's tone will be stronger in his second term—less hope, more change. "A lot of what we do as leaders is inspire first and then you have to get to work and roll up your sleeves. Now we're going to see him work on the results from that inspiration, getting business and industry working again and then they can move forward." The Alderman also addressed rumors about Jesse Jackson Jr, who won reelection on Tuesday night despite his absence from the race while battling bipolar disorder at the Mayo Clinic. Could Junior be planning to hand his seat off to wife Sandi Jackson, Arena's City Council colleague? "She's a good politician and she's a well respected leader," Arena said, "so it's a possibility."
Stomping through the mess of campaign confetti that littered the ground after Obama's rousing speech, I spotted Cubs mascot incarnate Ronnie Woo Woo filing out of the convention center at around 1am. Wearing his usual uniform and carrying a latex Obama mask on one of his fists like a trophy, he seemed overjoyed. Could you blame him? He rooted for the home team—and actually saw it win.