Chicago Water Taxi
All aboard for Water Taxi season.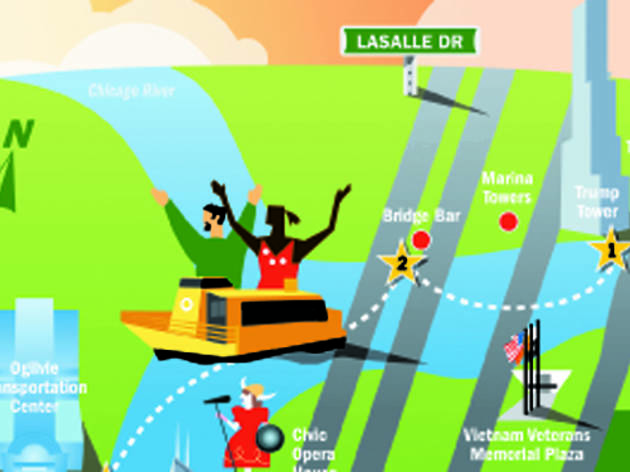 Chicago Water Taxi runs daily service along the Chicago River from Michigan Avenue to Madison Street and, come May 16, continues on to Chinatown. Single rides range from $2 to $4 and, new this year, a 31-day pass costs $45. With daily departures every 11 to 15 minutes, commuting among four taxi docks (or merely acting like a tourist in your own city) is a breeze.
1. Michigan Avenue
Conveniently located where the Mag Mile meets the Loop, Water Taxi docks at the base of the Trump Tower (401 N Wabash Ave); spring for a $17 alfresco cocktail on the 16th floor terrace (opens May 18, weather dependent) or go low budget and underground, literally, at legendary newsman hangout Billy Goat Tavern (430 N Michigan Ave, lower level). Across the river, the grassy lawn of the Vietnam Veterans Memorial Plaza (northwest corner of Wacker Dr and Wabash Ave) provides a serene respite from the bustling streets.
2. Between LaSalle Drive and Clark Street
This dock is your portal to the River North bar and club scene. Make a modish entrance onto the boat by heading straight from new cocktail haven Bridge Bar (315 N LaSalle St). Play tourist and cross the river to snap a good pic of the corncobs, a.k.a. Marina Towers (300 N State St).
3. Madison Street
This dock, just east of Ogilvie Transportation Center and blocks from Union Station, makes the river a convenient commuter route for Amtrak and Metra riders. Grab to-go goodies like croissants from Vanille Patisserie or pastrami from Fumare Meats at the Chicago French Market (Ogilvie, 131 N Clinton St). The stoic Civic Opera House (20 N Wacker Dr) sits across the river, and, two blocks south, the Willis Tower (233 S Wacker Dr) offers the Skydeck's Ledge ($17, kids ages 3–11 $11), which famously juts out 4.3 feet from the 103rd floor.
4. 18th Street
Browse nearby Yin Wall City (2002 S Wentworth St), a modern herbal and dried-food emporium that sells loose teas, fun Chinese candies and exotic wares like whole, dried sea horse (a staple in Chinese medicine). Before you reboard, stop at Ping Tom Memorial Park (300 W 19th St), where you're greeted by a pagoda (photo op!), playground and ample riverfront lounging space.
For more information about Chicago Water Taxi, go to chicagowatertaxi.com.