Croatian cevapcici guys | Essential Chicago melting pot
Joe Alfirevich and Phil Vucinic specialize in Balkan sausages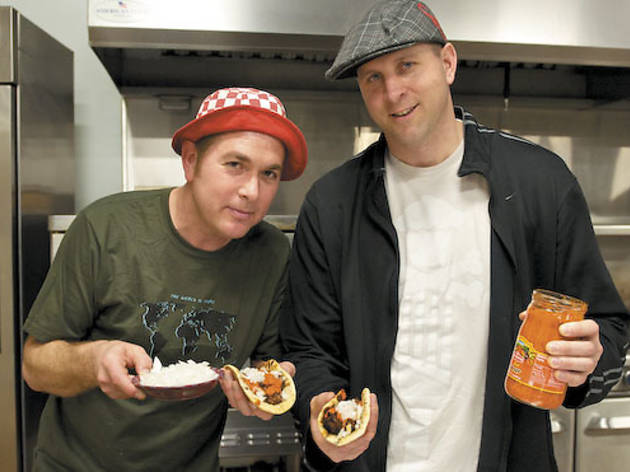 Growing up in the Sacred Heart neighborhood on the city's Southeast Side, second-generation Croatian-Americans Joe Alfirevich and Phil Vucinic were raised on the mixed-meat skinless sausages known as cevapcici (pronounced "che-vap-chi-chi") that are a dietary staple in the Balkans.
"When we moved up north and mixed in with the yuppies," Alfirevich says, "we'd throw parties and cook cevapcici and people thought we created the dish!"
Ten years ago, Alfirevich and Vucinic, now both 40-year-olds who work in recycling, took their backyard Croatian barbecue on the road at fests like Pitchfork.
"Cevapcici is basically a unifier of the Balkan area," Vucinic says. "In Croatia and Serbia, it's a mixture of beef, lamb and pork." In Chicago's Croatian enclaves—around Sacred Heart Church in Alfirevich and Vucinic's old stomping grounds, St. Jerome Church at 28th Place and Princeton Avenue, and Blessed Alojzije Stepinac Church near Devon and Western Avenues—restaurants featuring the Balkan sausages have a long history. But Alfirevich says of his vending venture, "We're catering to the people who didn't know about it until we showed up, people in Lincoln Park or Bucktown."
This summer, Alfirevich and Vucinic have about a dozen fests on the schedule. You'll recognize them by their big blue sign that spells out the ingredients—half cow, quarter lamb and quarter pig—or by the action that always seems to surround their booth. Says Vucinic: "We're like the Croatian culture kiosk."
TASTE OF HOME For traditional Croatian food with an Italian twist, Alfirevich hits up Pizza Art Café (4658 N Rockwell Ave, 773-539-0645) for 'za topped with—what else?—cevapcici.