Free things to do in Chicago in February
Close out winter with a happy wallet by taking advantage of these fantastic free things to do in Chicago in February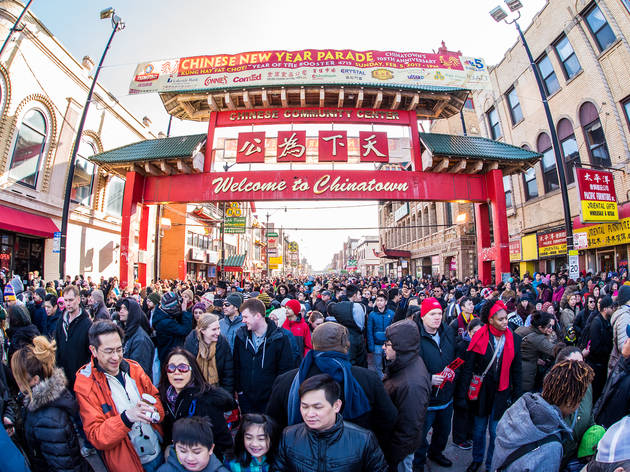 All right, Chicago, this is the tough stretch. It may be the shortest month of the year, but between the "Oh my god, it's still winter?" weather and Valentine's Day, February in Chicago seems to drag on forever. But don't worry! We've assembled this list of the best free things to do in February to keep you sane and happy, without going broke. Take in fantastic Chinese New Year events, check out incredible contemporary up and hit up concerts at the city's best venues, all free of charge. Just because the weather is miserable this month doesn't mean you have to be!
Recommended: Events calendar for February in Chicago
Free things to do in February in Chicago
Chicago-native artist Barbara Jones-Hogu was a leader of the Black Arts Movement and a founding member of the African Commune of Bad Relevant Artists (AfriCOBRA) who was a contributor to the infamous South Side mural, the Wall of Respect. "Resist, Relate, Unite 1968–1975" is her first museum exhibition, showcasing prints, lithographs and woodcuts that celebrate African-American culture.
Read more
Christopher Piatt hosts this weekly "live magazine," a cavalcade of culture, politics and wit featuring journalists, actors, comedians and musicians offering idiosyncratic reports on the news of the day. Head to Uptown's iconic Green Mill for a Saturday afternoon of drinks, hot takes and laughs.
Read more
Outsider artist Stephen Warde Anderson taught himself how to paint after finishing a stint in the United States Navy, creating works that depict historical figures, film stars, Biblical scenes and aliens. "Attention to Detail" focuses on some of his earliest works, including paintings that utilize pointillist techniques achieved by creating tools from sewing needles and whipped cream containers.
Read more
When Egyptians were mummified centuries ago, some were wrapped with paintings of themselves. The Block Museum's new exhibit displays portraits recovered from the ancient city of Tebtunis, exploring how archaeologists and art historians have collaborated to understand the creative custom.
Read more
At this polysexual Logan Square dance-off, party purveyor Kristen Kaza and DJ Audio Jack drop the needle on love-drenched classics by Al Green, Marvin Gaye, Prince and the queen of lovers' rock, Sade. Admission is always free and the Whistler's capacity is limited, so there's usually a line out the door. Arrive early if you want to start grooving on the crammed dance floor ASAP.
Read more
This group show assembles work that places a spotlight on the aspects of the natural world that many of us take for granted, encompassing videos, sculptures and photographs inspired by the elements and our geophysical surroundings. The exhibition features work by Daniel G. Baird, Marissa Lee Benedict, Nina Canell, Revital Cohen, Tuur Van Balen, Cécile B. Evans, Florian Germann, Jochen Lempert and Nicholas Mangan.
Read more
Each week, Chicago comics bring the freshest, most experimental new material to the Annoyance for the Holy Fuck Comedy Hour. The weekly show is an eclectic mix of sketch, improv, stand-up and everywhere in-between—you never really know what you're going to get at Holy Fuck.
Buy tickets
Read more
In the late '60s, Sam Gilliam was part of a group of painters that began experimenting with color, making it the primary focus of their canvases. Gilliam developed "drape" paintings, featuring an unstretched canvas that was covered with paint and presented as a hanging sculpture. To celebrate the recent gift of Gilliam's painting "One," the Block Museum will present an exhibit devoted to his work, accompanied by pieces by contemporaries Alan Shields and Frank Stella.
Read more
Show more