February 2017 events calendar for Chicago
Pack your February with the best things to do in Chicago for Valentine's Day, the Chinese New Year and more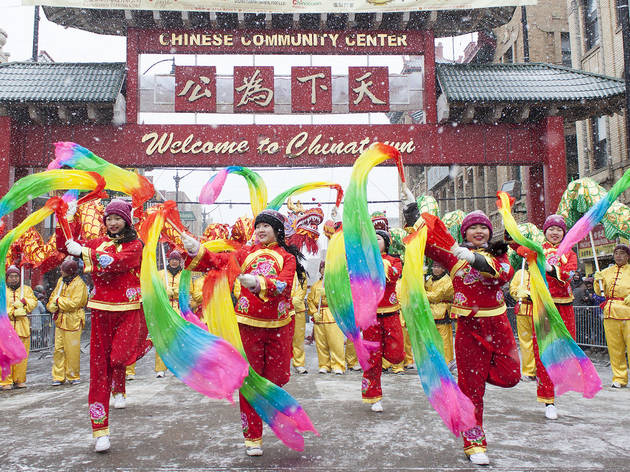 February can be a rough month in Chicago. The magic of the holidays is long worn off, you've been buried in your winter coat for months, and to top it all of, you've got to deal with Valentine's Day. Seems cruel, no? But as always, we're looking out for you, Chicago! Whether you're in the mood for ice skating under the skyline, or jonesing to cozy up with a hot cocktail at a bar with a fireplace, we've got dozens of ways make the shortest month of the year the sweetest.
RECOMMENDED: The best events in Chicago

Featured February 2017 events
Art events in February 2017
Theater in February 2017
Let's not mince words, since we've already spilled so many of them: Hamilton, writer-composer-lyricist Lin-Manuel Miranda's biography of Alexander Hamilton as refracted through a hip-hop, pop and R&B lens, is a sprawling, stunning, singular achievement. By filtering the story of the American Experiment's beginning into modern, meticulously rhymed vernacular and populating the stage with performers of color to play the likes of Hamilton, Washington, Jefferson and Madison, Miranda and his regular collaborators (director Thomas Kail, music supervisor Alex Lacamoire and choreographer Andy Blankenbuehler) make the founding fathers feel fresh and, miraculously, human. RECOMMENDED: Our complete guide to Hamilton Chicago Weeks out from the country's naming its 45th president, Hamilton's new Chicago company arrives to remind us our democracy has always been messy, political, personal, and worth fighting for. Kail and Blankenbuehler fill designer David Korins's spare set—which suggests that, like the country, it's still under construction—with movement as thrilling and dense as Miranda's lyrics. (The few moments of stillness are also used to great counter effect.) The nearly all-new Chicago cast (ensemble member Emmy Raver-Lampman is the sole transfer) easily lives up to the originals while finding their own new moments and shades. Miguel Cervantes is a rather more grounded Hamilton than the more frenetic Miranda, who originated the role, but Cervantes conveys the man's vital, fatal
Book now
Read more
Nick Bowling helms the Chicago premiere of this 2007 work devised by the British theater company Complicité, exploring mathematics and human connection in a series of vignettes set both in the present and a century earlier.
Book now
Read more
Set in a distant future, in an even more distant star system, Diamond Dogs (adapted by the playwriting collective Althos Low from science fiction author Alistair Reynolds's novella) opens on a disgraced scientist named Swift (John Henry Roberts). He's standing in a darkened tomb and intoning the story of his aristocrat parents' death at the hands of a shady, quasi-governmental institute. That this long, info-dumpy story—the first of many to come—ends up having little to do with the rest of the play that follows it is telling. Suddenly, so suddenly in fact that it's really quite awkward, Swift is interrupted by old friend Roland Childe (Chris Hainsworth), long thought dead in the same incident that killed Swift's parents; instead, Childe pops out of the darkness, still quite alive and with an offer to make. On the surface of a distant planet sits a mysterious, alien tower, and Childe wants Swift to help him get to the top of it—which, given the tower's penchant for murdering all who enter it, is a bigger ask than it might seem like initially. Swift readily says yes. He's not the only person that Childe has brought into the fold. Also along for the ride are Swift's ex-wife Celestine (Katherine Keberlein), a brilliant mathematician, the memory of whom he's had suppressed, and the creepy, robo-domed Trintignant (Joey Steakley), who can best be summed up as the Dr. Mengele of cybernetics. (There are two other crew members, both characters of color, whose retrograde portrayals re
Book now
Read more
This long-running, lovey-dovey musical sketch show has found the perfect home in Stage 773's cabaret theater. It's refreshingly raunchy for date night, although its quaint take on dating in the age of social media feels a little rusty and outdated at times.
Book now
Read more