Garfield Park
The West Side 'hood offers natural beauty and soul food that'll keep you coming back for more.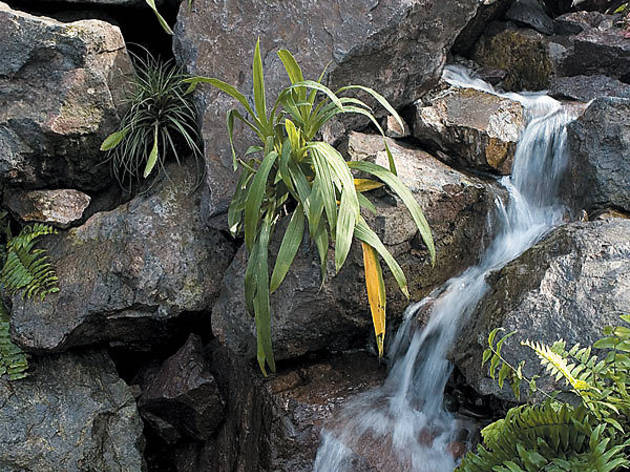 Even though Garfield Park's West Side revitalization project has a long way to go (it's not the safest place in the city...yet), there is one gem in this 'hood: the Garfield Park Conservatory. In the spirit of Earth Day (Tuesday 22), make the short trip west to appreciate it's natural beauty.
2:30–4:15pm
Take the Green Line to the new Conservatory stop and head one block north. As the train stop's moniker suggests, Garfield Park Conservatory (300 N Central Park Ave, 312-746-5100, garfieldconservatory.org) is the main attraction here. (In fact, the destination just celebrated its 100th birthday.) Drivers will appreciate the free parking next door. (If you decide to explore more after your visit to the Conservatory, having a car comes in handy because the locales are so spread out.)
With more than 900 species of plants on about four-and-a-half acres, the Conservatory offers a lot of ground to cover. We suggest starting in the Palm Room, a giant greenhouse filled with diverse, tropical plants. Meandering pathways make it feel like you're wandering through a mini-rainforest. Things heat up in the Fern Room, where you'll feel steamy wearing any extra layers of clothing. Water cascades down rocks toward the back of the room; Jens Jensen, the Garfield Park Conservatory designer, asked the stone mason who designed the waterfall to listen to Mendelssohn's "Spring Song" for inspiration while he was working.
From here, step into the Sweet Room, a fragrant spot where mist hydrates hanging plants and keeps the temperature cool. Pop a squat on one of the many inviting rocks and listen to the sound of birds chirping. Next, step into the Children's Garden, where you'll spot axolotls (white salamanders) in the pond. Native only to certain lakes in Mexico, the bizarre-looking creatures can regenerate lost body parts rather quickly. Next up in the Desert Room, check out the cycads, a plant that, after 100 years, blooms a single flower and then dies. End your visit at the Garfield Park Conservatory Gift Shop, where you'll find items ranging from a sprout-and-grow mini-greenhouse to books about horticulture and Jensen.
4:15–5pm
After a visit to the conservatory, you'll be ready to start your own garden. Head due east down Lake Street to City Escape Garden Center and Design Studio (3022 W Lake St, 773-638-2000, cityescape.biz), a gardener's dream-come-true that offers plant food, garden fountains, variously colored and sized pots (including small, pink pots) and glass Moroccan hanging lanterns. For something more Zen, check out the decorative Buddha heads and Foo dogs made of stone. If you're passionate about gardening but not sure where to start, consult one of the überfriendly staff members about landscape-design services.
Photo: Donna Rickles
5–6:06pm
As the afternoon dwindles into evening, settle in for an early dinner at Edna's Restaurant (3175 W Madison St, 773-638-7079), a local favorite and a soul-food standout. One of the few sit-down spots in the area, the homey diner's walls are painted a deep pink, and the booths are soft and inviting. While we scanned the menu, one patron told us that she came all the way from Elgin just to pick up a carryout order. The menu includes lots of fried food—catfish, chicken, steak and okra—as well as the best biscuits in town and cobblers galore.
After spending time in the neighborhood, pick up a copy of the weekly Garfield Lawndale Voice. The issue we found highlighted a new volunteer organization run by Danette King called Young Creative Minds (630-802-1415, youngcreativeminds.cfsites.org), which helps neighborhood kids and teens improve the community and shape their futures. It might even inspire you to make some time for volunteering on your next visit to Garfield Park.