No Chicago Steak 'n Shake | What's up with that?
Why you can't get a Steakburger inside the city limits.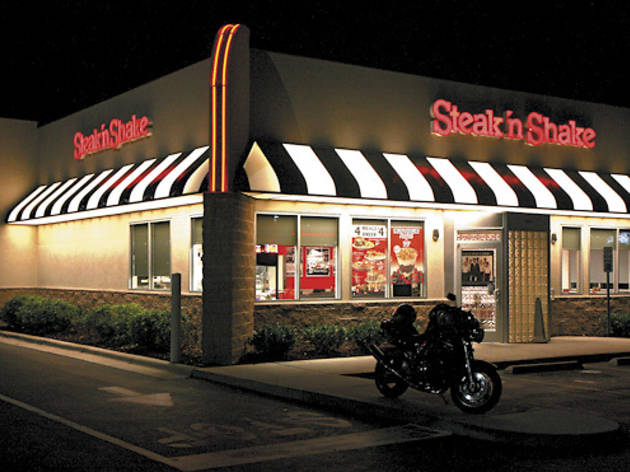 I saw Uptown is getting Chicago's first Sonic fast-food location. Which just underscores the fact that the city still doesn't have one location of Steak 'n Shake! Why hasn't this happened yet?
The case of the missing Chicago Steak 'n Shake is one Roger Ebert—one of the restaurant's most outspoken fans, even after cancer took away his ability to enjoy a meal there—has been puzzling over since he moved to the city. "If I were on Death Row, my last meal would be from Steak 'n Shake," he wrote on his blog in 2009. "For reasons obscure to me, Steak 'n Shake surrounded the city but never entered it."
The explanation might elude the Pulitzer-winning film critic, but the San Antonio–headquartered company's vice president of franchise sales, Kim Andereck, knows precisely why there's no Chicago Steak 'n Shake. The restaurant's dedication to a more leisurely '50s-diner experience, with table service and made-to-order milkshakes, he explains, makes the likelihood of a franchisee setting up shop in the city "not very good." "When you talk about Chicago, it's not wide open. You have to pick a location that's on about an acre of land so you can park 70 cars, have seating for 100, have a drive-through," he says. "A lot of customers in large cities are looking for fast food. We're not quite fast enough."
A "quick service" Steak 'n Shake opened in Times Square last year with a counter-service-only format. That concept, with an estimated $2 million start-up cost, is a possibility downtown, Andereck says. "But there has to be a millionaire in Chicago who wants to do that." So until a moneybags entrepreneur steps up, you'll have to head to Evanston or Rosemont for a Steakburger fix.