Pilsen Junior Tennis Camp goes national
Pilsen Junior Tennis Camp founder Mark Revermann helps the United States Tennis Association convert Hispanics to tennis.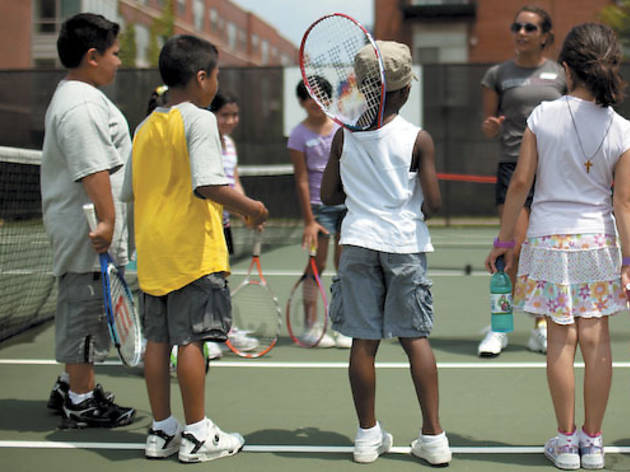 Mark Revermann's tennis crusade began three years ago after he caught a peculiar sight: Hispanic kids using three courts in Pilsen's Harrison Park for pickup soccer, in-line skating, skateboarding—anything but tennis. Raised in South Bend, Indiana, by a Mexican-born mother, Revermann was well aware of the stigmas the sport carries in the Hispanic community.
"It's seen as country club, a white man's sport, a sport of privilege," says Revermann, a vice president of business development at Chicago's GSP Marketing who moonlights as a tennis instructor. "Kids think it's a sissy sport: 'If I play, my boys in the 'hood will make fun of me.' Or it's a cultural thing: 'We just don't play that.' "
Almost all of the Chicago Park District's tennis lessons are offered in the Loop or on the North Side, and can cost $75. But if the financial barriers to tennis were removed, Revermann wondered, would Hispanic kids come out and play?
The answer has been an emphatic yes. In spring 2009, he rented courts for the Pilsen Junior Tennis Camp at UIC near his University Village home and distributed flyers in Pilsen cafés and outside churches. Revermann, 34, who played on the men's tennis team at Kenyon College in Gambier, Ohio, in the late '90s, and a volunteer crew of fellow local former college players and teaching pros provided five weekly hour-and-a-half-long lessons to 100 children ages 7 to 13. The lessons were free and any kid who didn't have a racket was provided one. In 2010, PJTC enrollment spiked to 298. About 70 percent of the students, Revermann estimates, were Hispanic. "Ninety percent of them had never picked up a racket before."
As Revermann anticipates a whopping 400 campers this year, he's also gearing up to take his grassroots model for Hispanic involvement in tennis national. In January, Chicago lawyer and tennis enthusiast Jon Vegosen was named chairman of the board and president of the United States Tennis Association—the nonprofit governing body whose mission is to grow tennis in the U.S. Vegosen met Revermann at a Chicago Tennis Patrons Awards banquet last year.
"A number of things impressed me," Vegosen said last week via e-mail from Santiago, Chile, where he was taking in the Davis Cup. "Mark and his passion, the methodical way he approached the model, the importance of understanding the marketplace, recognizing that one has to pursue those constituencies in which one is interested."
Last December, Revermann presented his vision, "Growing Hispanic Participation," at the USTA's headquarters in White Plains, New York, for Vegosen and USTA chief diversity officer Kevin Clayton. Shortly after Vegosen was named president, he appointed Revermann USTA vice chair to lead the charge for Hispanic tennis. Revermann has identified eight cities with sizable Hispanic populations to deploy the PJTC model, including Los Angeles, New York and Houston.
"Why should tennis be in the Hispanic community? Well, everything, all activities should be available to all communities," Revermann says. "Affluent families have the resources to let their kids try a bunch of different things, activities, arts, athletics, music. Those kids have more of an opportunity to find their passion." That disparity, Revermann argues, isn't fair—or necessary.
Revermann and the USTA chairmen will meet in April to discuss the plan's rollout; it will be paid for by the USTA, which generates revenues from sources such as the US Open and membership dues. "We don't know yet whether [Revermann's plan] can work nationwide," Vegosen says, "but we certainly know that it is working very well in Chicago."
Making the face of tennis, as Vegosen says, "more closely resemble the face of our country" is a big, unpaid job, but Revermann is confident his grassroots model will succeed. "I'm not just a guy that goes to committee meetings and talks," he says. "I'm a person who came up with something, did it and am experiencing success."
Register for Pilsen Junior Tennis Camp's summer session beginning in June at pilsenjuniortennis.org.