Real Housewives Live in Chicago
Brush up on your Real Housewives trivia before the Bravolebrities visit Chicago on Saturday 8.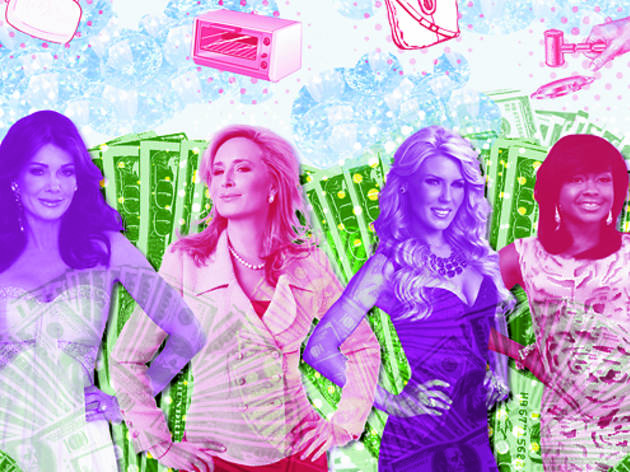 Lisa Vanderpump
Show The Real Housewives of Beverly Hills
Famous quote "Life in Beverly Hills is a game, and I make the rules."
Known for Being British, loving (and occasionally dressing like) her little dog
Product she's hawking Vanderpump and her husband, Ken, own more than 26 restaurants, including the Beverly Hills hot spot Villa Blanca. She also has her own skin-care line (shocker), Epione.
Expected onstage antics Vanderpump seems to be the least dramatic Housewife, but she's always good for inadvertently making a Housewife cry. (Watch out, Gretchen.)
Sonja Morgan
Show The Real Housewives of New York City
Famous quote "I have a taste for luxury, and luxury has a taste for me."
Known for Filing for bankruptcy, hosting burlesque parties
Product she's hawking A line of toaster ovens and a toaster-oven cookbook. (So much for luxury.)
Expected onstage antics We predict she'll make chicken parmigiana in a toaster oven, or do a dance number. Either way, we hope she's wearing underwear.
Gretchen Rossi
Show The Real Housewives of Orange County
Famous quote "Happiness means never having to apologize for being me."
Known for Flaunting her bikini bod, getting wasted on tequila at dinner parties
Product she's hawking Handbag and makeup lines
Expected onstage antics Maybe she'll dish on the legal drama in her life.
Phaedra Parks
Show The Real Housewives of Atlanta
Famous quote "I'm the ultimate Southern belle. I get what I want."
Known for Posing with pickles during a photo shoot while pregnant
Product A forthcoming etiquette book
Expected onstage antics The successful lawyer has served as a legal analyst for NBC and Fox News. Perhaps she'll offer up some legal advice to bankrupt Housewives?
The Real Housewives Live Tour stops by the Venue at Horseshoe Casino on Saturday 8.