The saint goes marching in
Dragons and pagodas come face-to-face with a revered Catholic saint in Chinatown's 85-year-old St. Rocco Parade.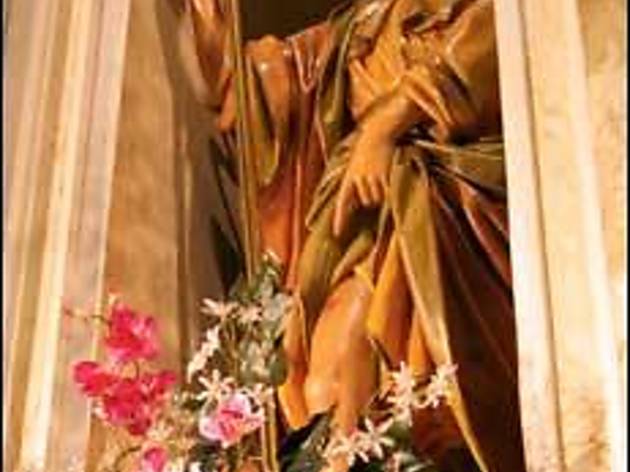 Italians and Chinese have more than pasta in common—at least in Chicago, where they come together on the streets of Chinatown one day a year. On Sunday 20, as the scent of Hainanese chicken rice floats south down Wentworth Avenue from Penang restaurant, so will a life-size statue of the adored St. Rocco, patron saint of Simbario, a small town in southern Italy.
The Feast of San Rocco—honoring the late-13th-century French-born nobleman who dedicated his life to aiding Italian and French peasants stricken by the plague—is a tradition still upheld by Simbarian immigrants and their families today. And it steps off in seemingly one of the most unlikely of places: Chinatown.
A similar event happens on the same day back in Simbario. The Chicago version of the St. Rocco Parade was founded, and is still run, by the St. Rocco Society of St. Therese Church in Chinatown. The group, originating in 1920 and sharing the name but not connected with other St. Rocco societies, was founded by Bruno Roti Sr., the patriarch of Chicago's notorious Roti family, and brother-in-law Bruno Bertucci. It's St. Therese's only remaining all-male closed club, which in this case means membership is restricted to men whose ancestors can be traced back to Simbario, or who marry into a family with that ancestry. But everyone, regardless of gender, religion or ethnicity, is invited to watch this Italian celebration, which, if it weren't for the pagodas and dragons looking on, might make you feel as though you're vacationing in an ancient Mediterranean village.
This scene of Asians and Italians celebrating together in the near South Side isn't as incongruous as you may think. Although Chinatown is lined with shops and restaurants hawking dim sum, bubble teas and knickknacks covered with Chinese characters, plenty of Italians still reside in the area. A mini history lesson: Chinese and Italian immigrants came to this part of Chicago about the same time—the late 19th century. Both were looking for jobs as vendors, merchants and railroad workers. Many settled in the Armour Square neighborhood, now also known as Chinatown. Chinese and Italians (mostly from Sicily and the Calabria region) have been neighbors here ever since, with the number of Chinese surpassing the amount of Italians in the latter half of the 20th century.
No landmark symbolizes the neighborhood's history more aptly than St. Therese Church. Originally named Santa Maria Incornata, the church was built 102 years ago at 218 West Alexander Street for Italian-speaking immigrants. Today, the church offers mass in Mandarin, Cantonese, Indonesian and Italian, and on an average Sunday, more than half of the congregation is Chinese.
Back to the parade, which originated around the time the St. Rocco Society was founded: "It was better than Christmas," says Simbario-born Tresa Abbate, who moved to Chinatown in 1930 and still lives there. "It was a big, big thing to have such a festive event right in the middle of summer. I loved and still love everything about it."
On Sunday, the parade begins after the 10:30am benediction inside St. Therese. It heads down 23rd Street before turning south onto Wentworth Avenue. St. Rocco Society members, friends and family make up the band that leads the procession. More relatives and acquaintances, along with church officials and a statue of St. Rocco carried on a cinghia (raised platform), follow at a sedate pace. Firecrackers are set off throughout the very slow walk, which goes up and down several of Chinatown's streets, occasionally pausing to let people pin money onto the statue, which counts as a donation to the society. "The streets of Chinatown just fill with old classic Italian marches," says Theresa Scopacasa, a lifelong resident who is of Simbarian heritage. "And it's so good to see new and old friends and family."
The St. Rocco Parade hits the streets at St. Therese Church at 11:30am Sunday 20.