Travel to Milwaukee
It's okay. We all need to get away some days. A short jaunt north may be just the change of scenery you need.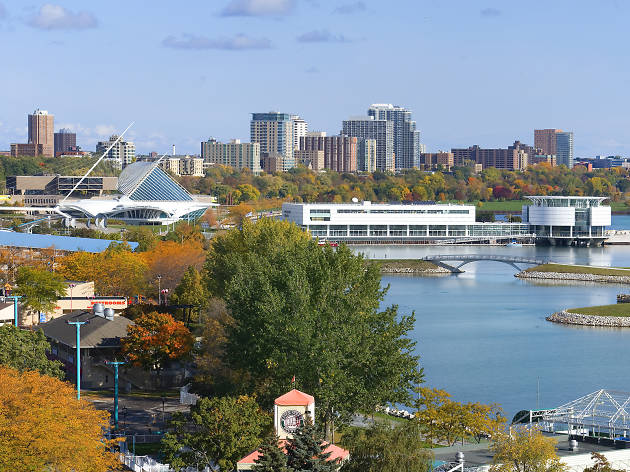 An hour and a half by car or Amtrak takes you to Wisconsin's largest city, another epicenter of art and food set on our beloved Lake Michigan (home to so many beautiful beaches). Close to home and yet worlds away, you'll feel relaxed the moment you arrive in the land of cheese. After all, it's also the land of big-time brews.
Yes, Milwaukee knows its beer. The city is home to some of the country's biggest brewers, including Miller and Pabst, as well as smaller outfits. One definite must is Lakefront Brewery (1872 N Commerce St, 414-372-8800, lakefrontbrewery.com), a Milwaukee staple since 1987 (we recommend its pumpkin lager). More of a light lager lover? Take a free, one-hour MillerCoors brewery tour (4251 W State St, 414-931-2337, millercoors.com). Or tour Pabst Mansion (2000 W Wisconsin Ave, 414-931-0808, pabstmansion.com) to see what life was like as a beer baron in the 1890s.
Every fall, Oktoberfest takes place in nearby Glendale (700 W Lexington Blvd, oktoberfest-milwaukee.com) across several weekends from September 11 through October 3. It's worth the 15-minute drive for traditional German music and grub, like roasted pig on a spit and bratwurst with kraut. Stop at Hofbrauhaus (1009 N Old World 3rd St, 414-226-2728, oldgermanbeerhall.com) to keep the schnitzel comin' when you're back in Milwaukee.
But this city also has a bounty of art, as evidenced by the ultramodern Milwaukee Art Museum (700 N Art Museum Dr, 414-224-3200, mam.org). Perched on the lake, the beautiful venue is home to 30,000-plus pieces of art, from Van Gogh to O'Keeffe to Pollock. Just up the road, Villa Terrace Decorative Arts Museum (2220 N Terrace Ave, 414-271-3656, villaterracemuseum.org) has fine art from the 15th to 18th centuries. You should also squeeze in a stop to see the Domes, a.k.a. the Mitchell Park Horticultural Conservatory (524 S Layton Blvd, 414-257-5611). These three eye-catching spheres have plant life you might not be used to seeing, like cacti or a kapok tree.
Of course, you won't get far without fuel. Sip the best coffee at Colectivo (1701 N Lincoln Memorial Dr, 414-223-4551, colectivocoffee.com) on the lakefront patio while you people-watch on the East Side, the hub of all things hip. When your stomach starts to growl, hop back in the car and drive two miles to grab a sub with enormous meatballs at Glorioso's Italian Market (1011 E Brady St, 414-272-0540, gloriosos.com). Vegetarian? You won't go hungry at the cozy Comet Cafe (1947 N Farwell Ave, 414-273-7677, thecometcafe.com). This friendly eatery can make almost anything meat-free, though it's also quite popular on unlimited bacon Sundays.