Doll & Em: TV review
HBO's latest British import takes a little too long to find itself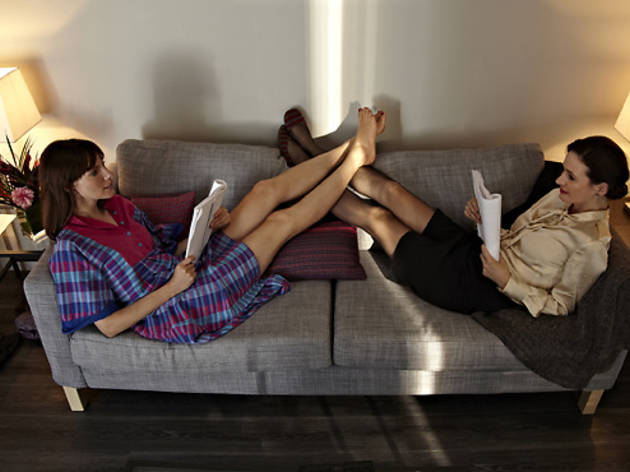 Premieres Wednesday, March 19 at 9pm on HBO.
In continuing its practice of rebroadcasting British comedy series, HBO's latest acquisition comes from the mind of Newsroom star Emily Mortimer and her real-life BFF Dolly Wells. Like Ricky Gervais's Extras, Doll & Em takes place in the glamorous world of moviemaking, featuring guest appearances from Hollywood stars, but it struggles to match the same level of awkward humor.
RECOMMENDED: Winter TV premieres
Mortimer and Wells play versions of themselves, old friends who've known each other since they were kids. When Dolly breaks up with her unappreciative boyfriend, Emily gets the bright idea to hire her buddy to act as her personal assistant while she's working on a film. It seem like a great idea as it gets Doll away from her toxic relationship and provides Em with some much-needed companionship while her she's away from her family for the movie shoot. Unfortunately, the ladies' friendship is tested instantly by their new power dynamic and their jealousy of one another.
In it's six-episode first season, Doll & Em spends a little too much time trying to figure out where its going. It gets distracted by relishing in the oddities of a film set and its parade of celebrity cameos including Susan Sarandon, Chloë Sevigny, John Cusack and Andy Garcia. It's not until the last two episodes of the season that we get a real sense of the relationship between Dolly and Emily—both as performers and characters—and why this ordeal has proved to be such a trial for them. Additionally, the show has a whiplash-inducing change of loyalties with its protagonists, first painting Emily as a shallow and self-centered celeb before suddenly taking her side against Dolly's growing sense of self-worth.
Unfocused and light on laughs, Doll & Em squanders the strong relationship between its lead actresses.