Alexander Calder: The Magic of a Sculptural Movement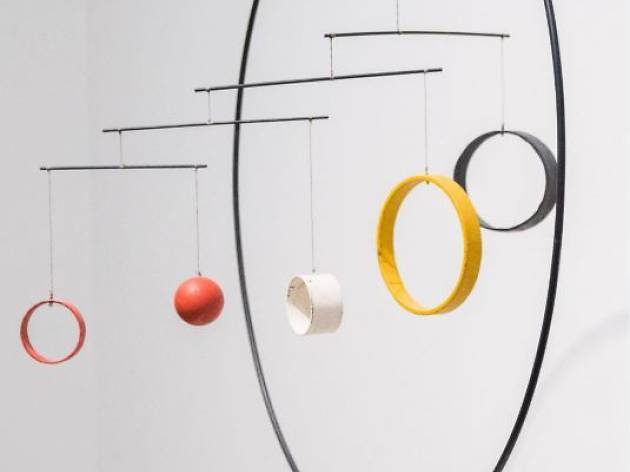 Time Out says
This exhibition focuses on the work of American Modernist Alexander Calder – also known as the man who invented the hanging mobile
Somehow, the brightly-coloured abstract sculptures of Alexander Calder and the belle-époque opulence of Zagreb's Art Pavilion seem made for each other. Several of the American artist's famous mobiles hang from the pavilion's high ceilings, providing the perfect counterpoint to the bare-torsoed titans who hold up the building's central dome.
Calder (1898-1976) was one of the greatest sculptors of public works within the twentieth century, filling squares and plazas around the world with his thrusting, life-affirming forms. What we get to see here are his more intimate 'indoor' works, kinetic sculptures in lively reds and blues whose metallic petals sway slightly in the pavilion's largely draught-free interior. With an accompanying series of lithographs and gouaches lining the walls, it's an incandescent display that will linger in the visitor's memory for a long time (which is a good thing, because you're strictly forbidden from taking any photographs).
Calder was a man who believed that art should be joyous, playful, but also powerful. When living in Paris in the 1920s he was famous for making moving toys that starred in the 'home circus' performances held in his own flat. 'He was never without a roll of wire and a pair of pliers in his pocket' says one of the talking heads in the accompanying documentary film, before explaining how Calder would go to parties with them and sculpt wire portraits of people on the spot.
The fact that the Art Pavilion features a long uninterrupted gallery space (rather than a suc- cession of separate rooms) allows you to choose your vantage points and gaze at the whole exhibition, rather than proceeding from one room to another and then out through the exit. The overall effect is stunning, and you may well end up spending longer here than you thought.
Details