Croatian architecture now
Installations, hotels, museums and mosques – Croatia's architects and designers have created a whole raft of radical new constructions across the country. Jonathan Bousfield goes back to the drawing board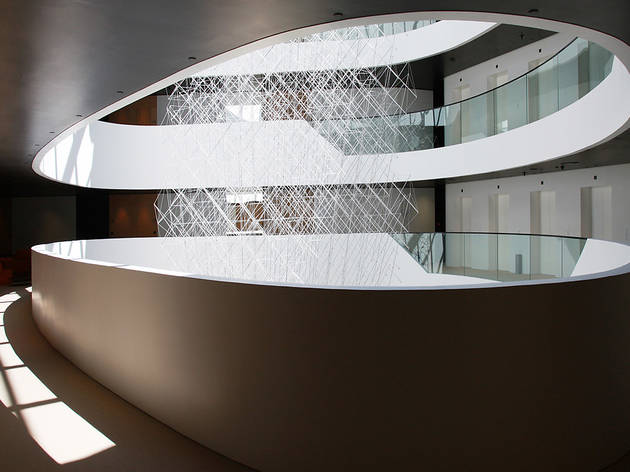 Croatia will always be renowned for its ancient, medieval and Renaissance treasures. Diocletian's Palace in Split, the medieval city walls of Dubrovnik, and the Cathedral in Sibenik are just three of the UNESCO-protected monuments that the world flocks to see.
But when was the last you time you thought of Croatia as a country of the future? It has certainly been at the cutting edge before, building the kind of hotels and sports stadiums in the 1960s and 1970s that are nowadays considered classics of Mediterranean modernism.
Over the past decade a new generation of talented architects and designers have been re-exploring the modernist traditions of their forebears and adapting them to the needs of the country today. Croatia's hybrid heritage of Communist past, capitalist present, Mediterranean style and Central-European cosmopolitanism can all be detected in the Adriatic's new look.
Have we missed anything out? Let us know on Facebook or Twitter
1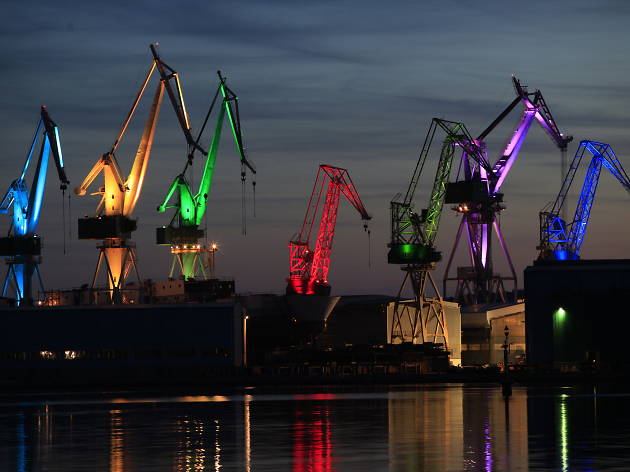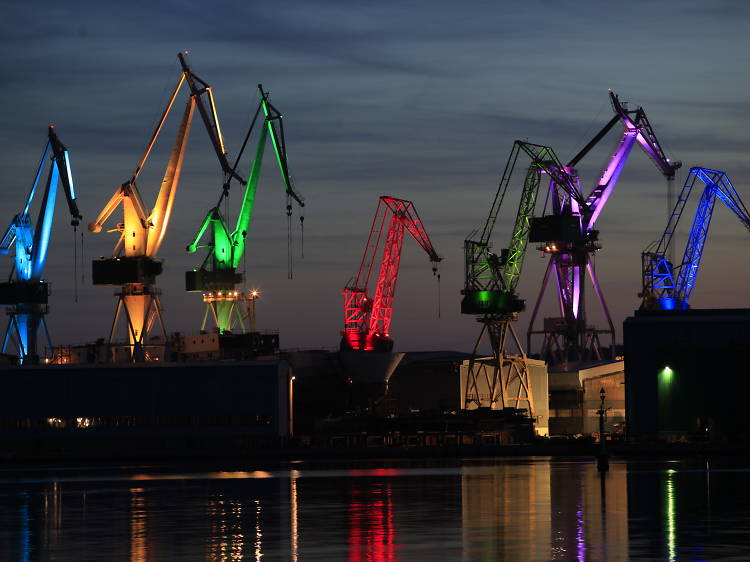 Goran Sebelic
The Lighting Giants, Pula
The gaunt cranes of the Uljanik shipyard, located on a small island right opposite Pula's town centre, have always been one of the Istrian town's visual trademarks –almost as skyline-defining as the arched bulk of the first-century Roman Amphitheatre nearby.
In 2014, lighting designer Dean Skira conceived a bold son-et-lumière light show that would bathe the cranes in a wash of changing colour, creating a stately kinetic show that produces dramatic reflections in the water below. The performance takes place after nightfall, on the hour and lasts about 15 minutes.
Uljanik is still a working shipyard, and there's something stately and dignified about this tribute to shipbuilders past and present.
New-York educated, Pula-based Skira numerous projects for commercial clients in Croatia, Slovenia and Italy. Among other projects, he has designed the interior and exterior lighting for the Hotel Bellevue in Mali Lošinj, for Hotel Lone in Rovinj (see below) and the Hotel Maestral in Novigrad.
2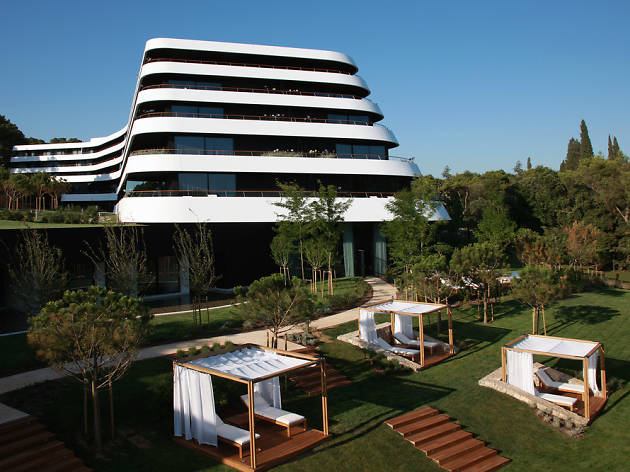 Hotel Lone
Croatia has seen plenty in the way of new hotels over the past 20 years but few have enjoyed the kind of media fanfare generated by Rovinj's Hotel Lone. Opened in summer 2011, this seven-layer wedding-cake-cum-ocean-liner of a building is a headline-grabber whichever way you look at it as a state-of-the-art spa retreat, a bold piece of architecture or an exemplary exercise in interior design.
The Lone is also remarkable in that it was conceived right from the outset as a specifically Croatian showpiece: the building itself was entrusted to award-winning Zagreb architects 3LHD, who then engaged a team of local designers and artists to handle the interior details. Numen/For Use provided their characteristically sleek-but-solid furniture; fashion designers I-GLE got to grips with the staff uniforms and wall hangings, and contemporary artists Ivana Franke and Silvio Vujičić were commissioned to produce site-specific works.
Zagreb agency Bruketa&Žinić designed a logo for the hotel which assumes different shapes on different documents – thereby subverting the whole idea of a logo as something permanent and instantly recognisable. As a hip who's who of contemporary Croatia, the country couldn't have asked for a better advertisement.
3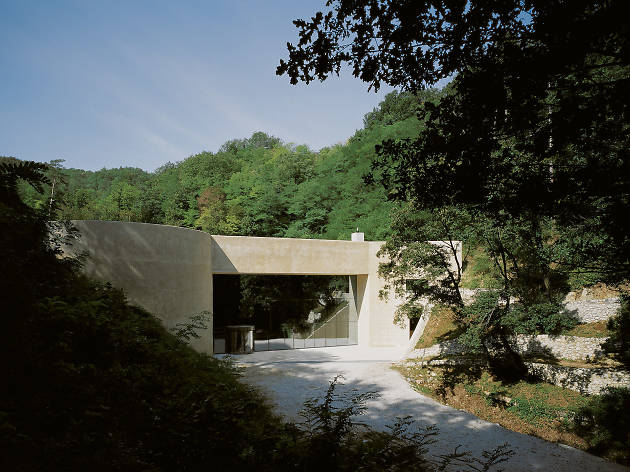 Damir Fabijanic
Neanderthal Museum, Krapina
Much more than just a collection of old bones, this state-of-the-art museum 40km north of Zagreb employs film projections, computer animation and life-like models to tell the story of the Neanderthals, who roamed the earth between 130,000 and 30,000 years ago.
Opened in 2010, the building itself is set into a natural cleft between neighbouring hillsides. Visitors ascend a spiral path in a cylindrical exhibition area, passing displays marking the major stages of evolution as they go. It's a great example of how to design a museum, with visual, narrative and educational elements entertainingly presented.
4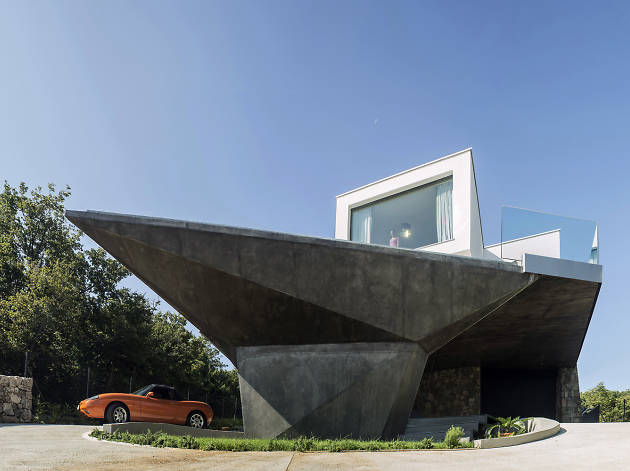 Could this be the shape of things to come as far as private detached housing is concerned? Designed by Idis Turato for a private client in the village of Risika in north-eastern Krk, this unabashed piece of quirky modernism places an irregular cross-shaped box on top of a square-shaped box to create an angular, two-storey house that faces in all directions. The front porch protrudes over slope of a hillside, providing room for a car-port below. It looks every inch the kind of high-tech hideaway you would expect to see in a 1960s' sci-fi film; it would certainly come as no surprise if Thunderbird Six emerged from the garage or James Bond screeched up the driveway in a gadget-enhanced sports car.
The name of the house comes from gumno, a walled circular threshing area that served as a communal space for agricultural work and social gatherings in many Adriatic villages. And, indeed, there is a restored gumno beside the driveway, its circular limestone form echoing the geometric lines of the house.
5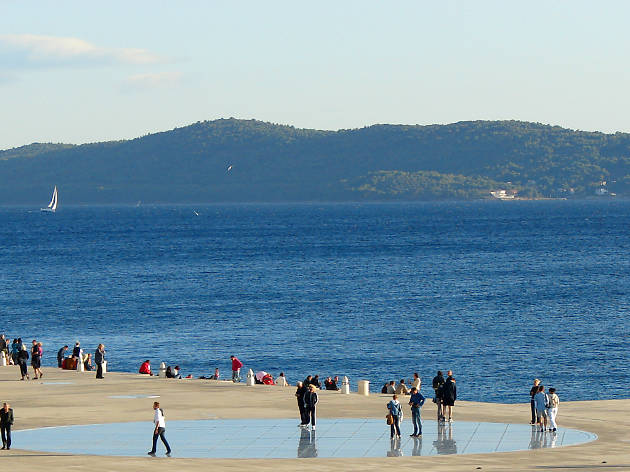 Greeting to the Sun, Zadar
Always intended as a counterpart to the Sea Organ, which is situated 100 metres south along the seafront promenade, Nikola Bašić's Greeting to the Sun (Pozdrav suncu) is one of the modern wonders of the Adriatic, attracting everyone from art buffs to excited kids with its nocturnal display of coloured light.
Located on the tip of Zadar's north-facing peninsula, Greeting consists of a 22-metre-diameter circle made up of 300 glass tiles. Underneath them are light sensitive cells that absorb the sun's energy during the day and are used to generate a light show at night, when the thing glows and pulses with abstract washes of colour. Rooting the work in local pre-modern tradition are the medieval symbols that run around the outside edge of the disc. They are taken from the Calendar of St Krševan (one of Zadar's patron saints), a 13th century manuscript detailing the changing of the seasons and the positions of the planets.
6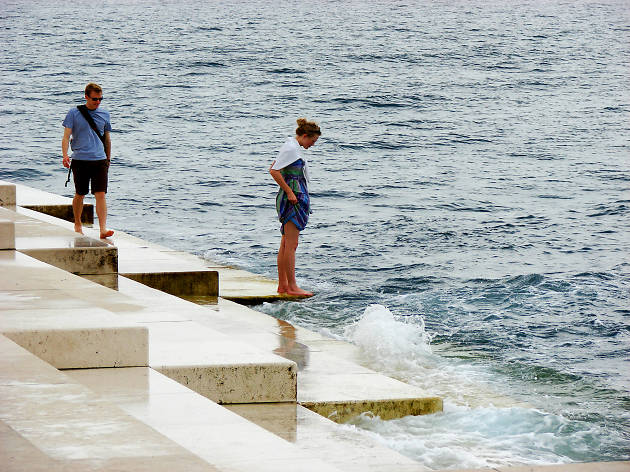 Producing a constant murmur of ethereal sound, Zadar's Sea Organ (Morske orgulje) is one of the most popular pieces of public art so far commissioned in Croatia, and has become something of a trademark for the city that serves as its home.
Unveiled in April 2005, the organ consists of a low staircase descending into the sea, with five rows of seven organ pipes hidden beneath the steps. Air is pushed by wave power through the pipes, producing the polyphony of gentle, lowing sounds for which the organ has become famous. When the Adriatic is calm, the organ's music is slow and meditative; when the sea is choppy, all of the organ's 35 pipes might be blasting happily away at once.
Although conceived by leading local architect Nikola Bašić the organ was a truly collaborative effort, involving acoustics expert Ivan Stamać, organ builder Tomislav Faullend Heferer, hydraulic engineer Vladimir Andročec and specialist pipe manufacturer Goran Ježina.
7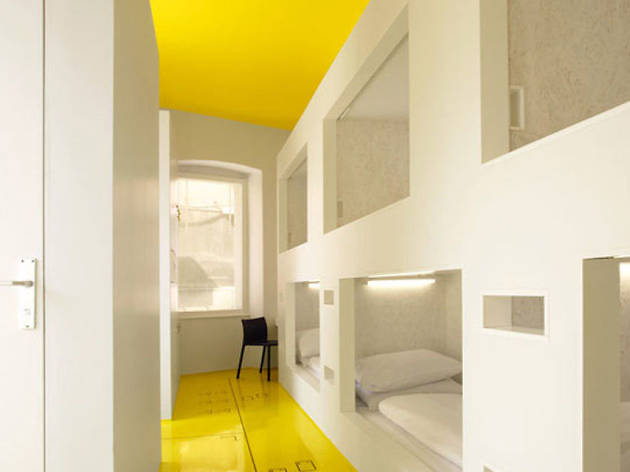 Goli + Bosi Design Hostel, Split
Located in a thoroughly renovated former department store, this bold exercise in contemporary Croatian design muscled its way into the media limelight almost immediately upon opening in August 2010. The work of designer Damir Gamulin Gamba and Studio Up architects Lea Pelivan and Toma Plejić, Goli & Bosi features minimalist lemon-yellow public spaces and pristine white sleeping units. Texts describing important events and personalities from Split history are laid out on the floors, the typography and layout betraying futurist and constructivist influences. Gamulin's elegant pictograms point the way to showers, toilets and lockers. All in all, it's a bold exercise in how not to run with the crowd, and has become something of a one-off contemporary classic as a result.
8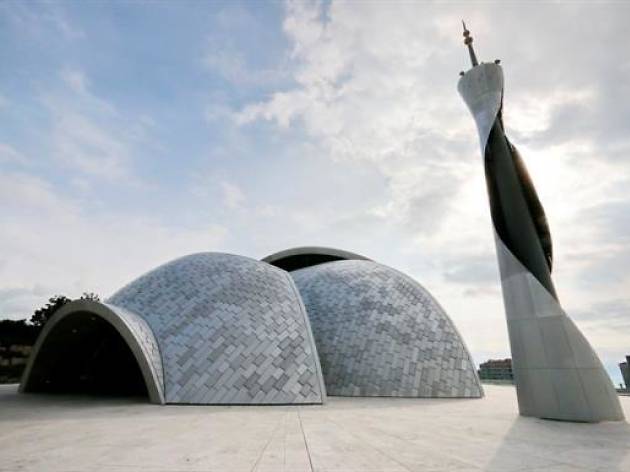 Visit Rijeka
Rijeka Mosque & Islamic Centre
Opened in May 2013, this is one of the most stunning sacral buildings in south-eastern Europe, and a signpost towards the social architecture of the future. The central concept of grey-plated curvy surfaces was outlined by Dušan Džamonija (1928-2009), the abstract sculptor whose rough-textured, rust-coloured orbs and hemispheres can be seen in parks and sculpture collections throughout Croatia – Darko Vlahović and Branko Vučinović were the architects who wrestled with its fulfilment.
Both arrestingly brutalist and swoon-inducingly organic at the same time, the mosque takes the form of a fractured dome constructed of several interlocking segments, as if an enormous chocolate orange has been taken apart and reassembled in the wrong order. The free-standing minaret looks like a constructivist prong spiraled with the gills of a fish; the plateau in front of the mosque offers a splendid panorama of the Adriatic. 'Most beautiful mosque in Europe' is what the media said when it opened, and they're probably right. It's certainly a fitting final tribute to Džamonija, who died before seeing its completion.