Ten beautiful concert posters from Močvara
This new book compiles music posters printed by Močvara over the last nineteen years as Zagreb's music and underground art scenes flourished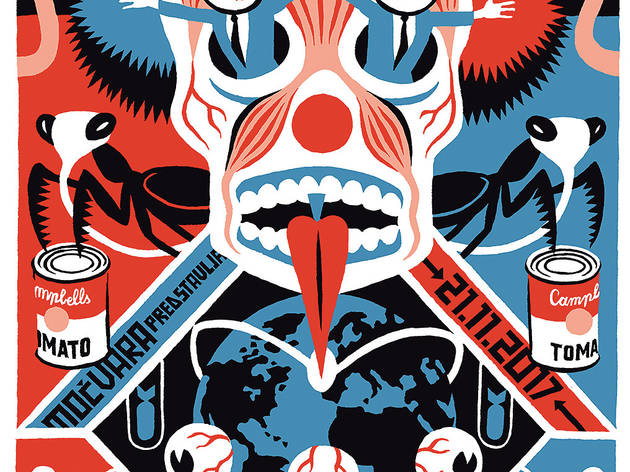 Official histories of cultural institutions are usually dull, self-serving affairs. Not so Močvara i priča o URK-u ("Močvara and the Story of URK"), the recently published account of Zagreb's Močvara or "Swamp", the alternative cultural institution that has for 19 years served as home to an array of live music, DJs, film nights, theatre, art exhibitions and a whole lot more. Such is the book's sprawling nature that it isn't so much a history of the Močvara as an all-embracing if willfully woozy panorama of alternative Zagreb as a whole. Thankfully it comes with English-language summaries, thereby rendering the Croatian underground just about navigable to the complete outsider. It's the sumptuous visual content that makes the book so essential – both as a historical record and as a beautiful artefact in its own right. Featuring page after page of concert pictures, psycho-punk posters, and programme booklets that look like miniaturized graphic novels, it reveals the extent to which the Močvara has created a self-sustaining visual universe of its own. Leafing through this 480- page breeze block of a book it becomes clear that the Močvara has done more than any other Croatian institution to promote and sustain a home-grown graphic arts tradition. No other local organization has come close to producing so much quality work, in such impressive year-on-year quantities.
What follows are ten of the Močvara's best posters – although such a limited number does little justice to the sheer breadth of material commissioned by the club over the last two decades. To get a handle on that, get hold of the book.
Močvara i Priča o URK-u is published by URK/Močvara and UPI2M. It can be purchased from the club itself or from selected outlets - notably Rockmark music bookshop (Berislavićeva 13) and the Pločnik bar and record shop (Međimurska 21).
Ten Močvara posters
Blurt: artwork by Igor Hofbauer, layout Danijel Sikora Six 2001
Sax-powered post-punk stalwarts Blurt (founded by artist and poet Ted Milton in 1979 and still going strong) first played Zagreb in 1991 and have been part of the family ever since. Suitably impressed by the urban horror aesthetic of their Močvara poster, Blurt subsequently engaged artist Igor Hofbauer to design several of their record sleeves; the 2015 album Beneath Discordant Skies being one appropriately unnerving example.
Concert for Bara 2003: artwork Igor Hofbauer, layout Tomislav Vranić Vrana
Prime among the artists associated with the Močvara is Igor Hofbauer, who graduated from edgy black-felt-pen drawings in the early years of the club to the assured comic-noir style that characterizes his work today. This poster advertises a mini-festival in honour of Ivica Baričević Bara (1971-2002), the concert promoter, label boss, designer, and driving spirit of the Zagreb underground scene.
Jonathan Richman: artwork Igor Hofbauer, layout Darko Kujundžić 2005
One of the fondest remembered performances in Močvara history is the Jonathan Richman concert of spring 2005. Playing unplugged with just a drummer for company, Richman hushed the packed, boisterous crowd with a show of rare warmth and intimacy. The retro pop stylings of the poster captured perfectly the naïf, I'm-no-rockstar charm of the performer himself.
Publicist: Tomislav Vranić "Vrana" 2009
A prolific and versatile designer who has contributed to the look of the club for many years, Vrana used this semi-abstract cog motif to convey the metronomic machine percussion of Publicist (the solo project of Trans-Am drummer Sebastian Thomson).
Slobich Graphics: Slobodan Alavanja "Slobić" 2011
A regular on the Močvara scene since 1998, Slobić has turned his hand to everything from concert promotion to poster design. This work advertises an exhibition of his own posters, held as part of the Močvara Gallery (Galerija Močvara) programme, one of the club's regular cultural strands. See more at www.slobichgraphics.com.
Let 3: artwork Igor Hofbauer, layout Johanna Marcadé 2012
Legendary subversives of Croatian rock, Let 3's live shows are big on costume changes, comic vulgarity and rousing indie anthems. The band has played Močvara many times, inspiring a brilliant poster on each occasion. This one marks the first appearance of a Darth Vader-inspired motif, subsequently to become one of Igor Hofbauer's stock obsessions.
Peach Kelli Pop: Željka Tkalčec 2014
Željka Tkalčeć's colourful, kids'-cartoon designs provide the perfect visual flavour to the kind of garage-trash-sugar-pop concerts organized by Beat City and Wolfbad Squad, two local gig promoters with whom the Močvara regularly works. More of Željka's posters, illustration and typography can be found at www.behance.net/puh.
Tortoise: Darko Kujundžić 2016
A member of the Močvara team since 2002, Sarajevo-born Kujundžić is arguably their most accomplished all-round designer. Whether dabbling in pop art, kids' cartoon aesthetics or pure colour, his artwork always tells you something about the band. Check out his full professional portfolio on www.vizualab.net.
Mike Watt & Il Sogno Del Marinaio, Savak: Darko Kujundžić 2016
Former Minuteman Mike Watt has twice made it to the Močvara and was each time rewarded with one of Kujundžić's incomparably sharp and penetrating posters. Never has the life of a band on tour looked so much like a summer holiday.
The Residents: artwork Igor Hofbauer, layout Josip Bolonić 2017
Mysterious, unclassifiable and very much a world unto themselves, The Residents are the sort of band that clubs like Močvara seem made for. Surprising therefore that they didn't get round to playing here until 2016. Their startling, sell-out show was very much the talk of Zagreb (especially among those who couldn't get in), and the California bizarre-core veterans were back for more in 2017.