Croatia has a rich and long-spanning history with manifold sights to prove it. Indeed, there could be an archaeological road trip for every fascinating era in Croatia, but this one is focused on a particularly epic time in the Mediterranean: Antiquity.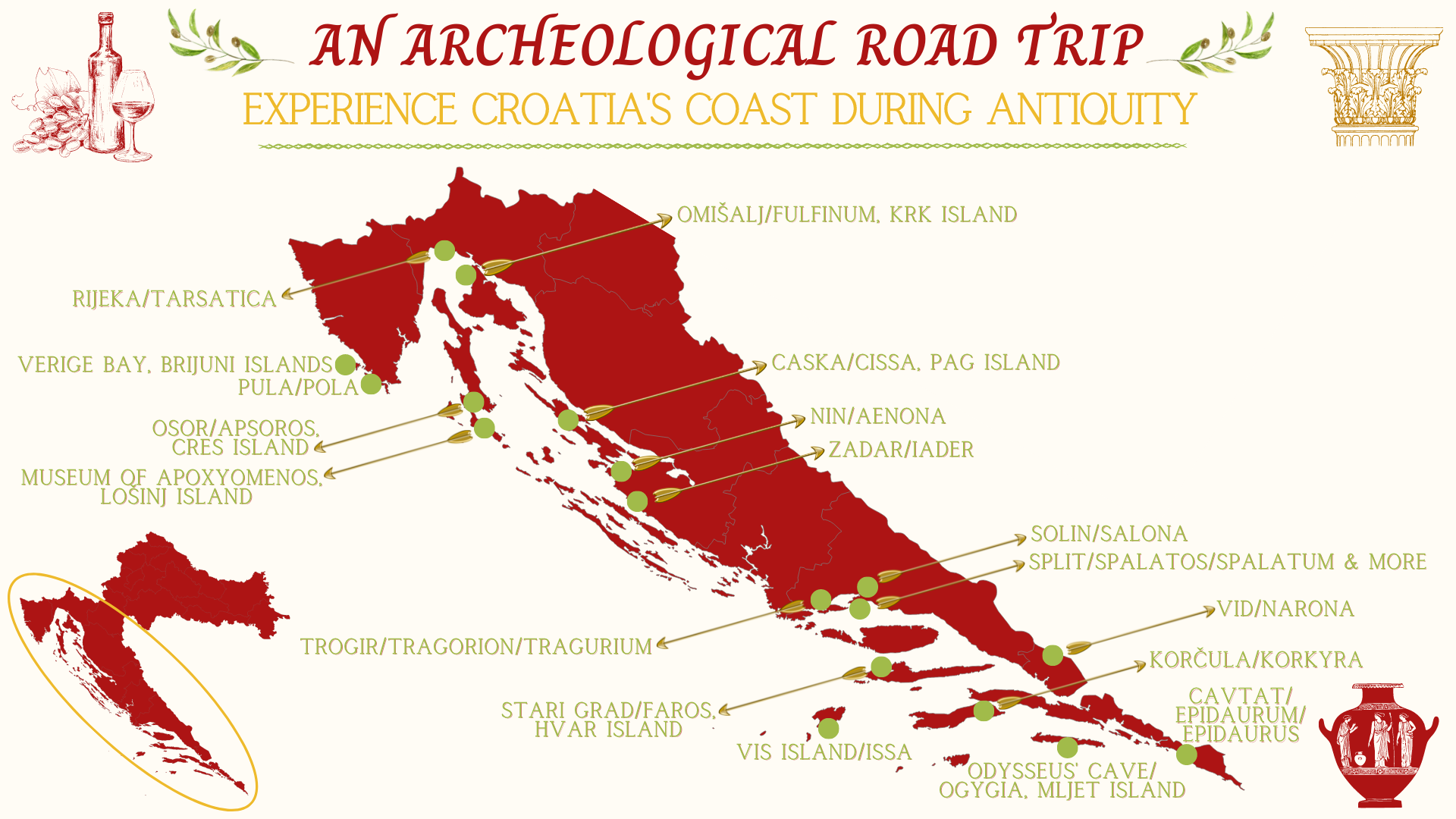 As Edgar Allen Poe romantically put it, "the glory that was Greece, and the grandeur that was Rome" left a significant mark on Croatia, along with much of Europe, Western Asia, and Northern Africa. Croatia is one of the unique lands that geographically sit between the centres of Greece and Rome and, as such, took on especially significant influences.
The starting date of Greece and Rome's age of Antiquity is debated, but some place it around 800 BC during Homer's time, when the Illiad and Odyssey likely came about. Antiquity lasts through about 400-500 AD, finishing after the fall of the Western Roman Empire. This time period is one of the revolutionary eras that changed the world as we know it, leaving behind philosophies, literature, art, law, warfare, and more, whose immense influences are still prevalent today.
To put things into context, here's a (very-short-and-very-simplified) timeline of Croatia in the context of Classical Greece and Rome. We begin with the Bronze Age.
3000-1000 BC: The northeastern Mediterranean sees several early Indo-European-language-speaking civilizations rise and fall. In Croatia, this is the Vučedol Culture (3000-2500 BC); in Greece, the Minoan Culture (2000-1500 BC) and the Mycenean Culture (1400-1100 BC).
1200-1178 BC: Per legend, the Trojan War begins (starting dates proposed by modern researchers are around 1200 BC). Following the war, ancient Greek hero Odysseus sails for 10 years before returning home to Ithaca in 1178 BC.
1100-800 BC: Ancient Greece goes through a period referred to as the Dark Ages.
800 BC: Illyrian tribes inhabit the region of Croatia and its surroundings. Other tribes, such as the Liburni and Celts, also live in the area.
800 BC: Homer's Illiad and Odyssey are written in Greece.
753 BC: Per legend, brothers Romulus and Remus found the city of Rome.
750-500 BC: The era of Greek colonization ensues, with colonies popping up around the Mediterranean, Croatia included. As they colonize, the Greeks spread their own cultural elements such as mythology and building styles; these work their way into Croatia, too.
650-320 BC: Monumental works of Greek architecture and sculpture flourish.
510 BC: The Roman Republic is founded.
470-322 BC: The Greek philosophers Socrates, Plato, and Aristotle live and die.
431-404 BC: The Peloponnesian War is fought between the Delian League, led by Athens, and the Peloponnesian League, led by Sparta.
356-323 BC: Alexander the Great lives and dies.
323-146 BC: The Hellenistic Period begins, and ends with Greece becoming subject to Roman rule.
168 BC: Illyria, until now a sovereign state with various colonies in and around it, is designated as Roman territory. The Romans divide ancient Croatia into two provinces: Pannonia and Dalmatia. This prompts cultural changes in the area, such as the use of Romance languages, the building of classical Roman towns (temples, amphitheatres, and forums in tow), and the construction of Roman roads.
100 BC - 44 BC: Julius Caesar lives and dies.
27 BC - 14 AD: The Roman Republic becomes the Roman Empire under Caesar Augustus, also known as Octavian (63 BC - 14 AD). During his reign, Rome officially annexes vast swaths of land, including Croatia (that is, Dalmatia and Pannonia) and Greece.
117 AD: The Roman Empire reaches its peak around this time.
244-311 AD: Roman Emperor Diocletian, born in Dalmatia, lives and dies.
272-337 AD: Roman Emperor Constantine lives and dies, making Christianity the main religion of the Roman Empire during his reign. He also moves the capital from Rome to Constantinople toward the east, where Istanbul stands today.
395 AD: The Roman Empire is divided into East and West.
378-437 AD: Invasions by Germanic tribes from the north bring the Western Roman Empire to an end. In 410, Rome is sacked for the first time in 800 years. The Huns also attack Roman territories toward the end of the 5th century AD.
476 AD: By this date, the Roman Empire as it was is no more. Various tribes (such as the Franks, Visigoths, and Ostrogoths) divide Europe amongst themselves. Croatian lands are incorporated into the Ostrogoth Kingdom. The Eastern Roman Empire, also known as the Byzantine Empire, briefly retakes some western territories in the 6th century AD - but Antiquity is over at this point.
Though their era didn't last forever, the legacies of ancient Greece and Rome very well might. In modern-day Croatia, 2000 years later, it's still possible to totally immerse yourself in the world of Antiquity through the extensive architecture, art, and artefacts the era left behind, especially along the country's coast.
So, we're bringing you a glorious gallery that will guide you on an archaeological road trip - and hopefully inspire you to embark on your own. The photos, coupled with the map above, provide an overview of coastal Croatia's major Antiquity-era sights. But, keep in mind that these are just the basics... In total, there are too many Classical archaeological sites in Croatia to include in just one article - and that's just considering the ones we've discovered so far!
So, carpe diem (and/or carpe vinum) - we're off on a Croatian Odyssey...