Korčula town bar guide
There's a small crop of great bars in Korčula town. Here's our pick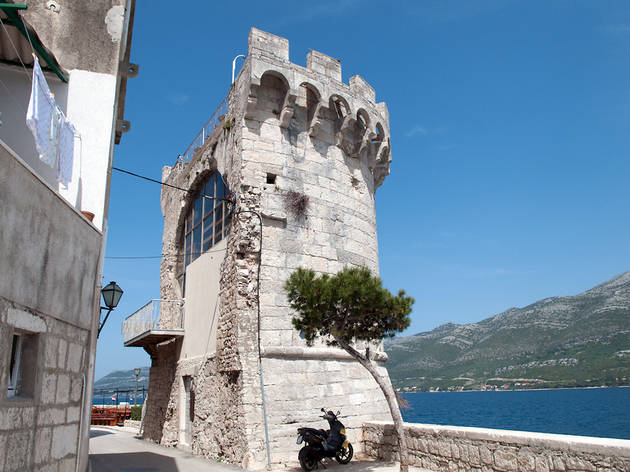 Until the arrival of Boogie Jungle, the island of Korčula wasn't well know for it's late night party scene, but there is a modest selection of bars and cocktail joints in town. Here we select the best.
Where to drink in Korčula...
Tiny café near Plokata Square offering cakes, pastries, and ice cream. Try the potica, sweet dough rolled with layers of walnut paste.
Read more
Latest addition to the behind-the-bus-station bar crawl, Bili cvitak ('Little White Flower') is a snazzy café-bar decked out in cool blacks and greys, with an outdoor terrace that swarms with drinkers on warm evenings. With a pumping sound system, disco lights and a mirrorball, Bili Cvitak's back room is your best hope for a bop come the summer season. There's a temptingly-priced range of cocktails, and the list of bottled beers includes Leffe.
Read more
Located on a separate terrace to the Tramonto restaurant this is a good place in the Old Town to watch the sunset over a (strong) cocktail.
Read more
On the other side of the street from Bili cvitak, wicker-and-bamboo Dos Locos attracts partygoers with DJ beats and music vids as well as large-screen sport or fashion channels projected on the wall opposite. Scantily clad bar employees dance to the rhythm to keep the atmosphere playful. The music runs the gamut from live acoustic to raw hip hop.
Read more
Maksimilijan is a very pleasant 5-10 minute waterside wander from the Old Town and one of the very best spots in Korcula Town to enjoy the sunset. On arrival you'll find friendly, relaxed staff and (depending on the time of day and season) something resembling the fledgling signs of what could become Korcula Town's first true apres-beach bar. The cocktails are well-made, the setting superb and the garden restaurant is deservedly winning plaudits all of it's own. The Memorial Collection of Maksimilijan Vanka (a renowned 20th-century painter) also hosts temporary exhibitions by renowned Croatian artists and adds impressive gravitas. Recommended. 
Read more
Set under the turrets of the 15th-century Zakerjan Tower in the northern fortifications, Massimo is accessible by stairs, then ladder. Standard cocktails in lurid colours come to you by pulley as you take in the view as far as Pelješac. The problem may be getting down afterwards. One of the original destination bars to speak of in Korčula town Massimo faces now increasing competition from the likes of Maksimilijan Garden Lounge & Beach Bar.
Read more
Hidden from the bus station by a cute wedge of park, Servantes offers a decidedly eccentric interior of irregular-shaped mirrors and pebble-dash effects, and a shady, lawn-side outdoor terrace. As well as the usual beers and wines they have a decent list of spirits including kruškovac (pear brandy), orahovac (walnut) and medica (honey).
Read more
You know when you walk in that you've come to the right place for local wine and rakija grappa. The decor is simple: a bar; bar stools; a wall of wine, and a map indicating where the labels come from. Regulars, including the odd Moreška dancer, provide the atmosphere, catching up on gossip over a plate of sardines, pršut ham or cheese with the knowledgeable staff. All the wines are local, from Korčula and Pelješac.
Read more
A tiny local bar, Zi Zi generates a genuine year-round buzz whether tourists are in town or not. Beer from the Ožujsko stable (including Tomislav porter and Zagreb-brewed Staropramen) dominate the drinks list; an electronic darts board and a mural of a burning guitar dominate the decor.    
Read more