In 2022, with three platinum and 16 gold medals, Croatian wines achieved their greatest success so far at the prestigious Decanter World Awards, considered the gold standard for the global industry.
Croatia can consider itself a major force in the region as far as wine is concerned, although relatively little is exported. Istria remains the domestic leader, but the reds of the Pelješac peninsula, the golden dry whites of Korčula and the venerable cellars of Slavonia, particularly Ilok, are justifiably celebrated.
In Croatia, wine is either red (crno), white (bijelo) or rose (crveno), dry (suho) or sweet (slatko). In Dalmatia, the deep reds are mixed with water as a bevanda, the whites in the north with mineral water, a gemišt.
Here are ten main types of Croatian wine to look out for the next time you're ordering at a restaurant or browsing the shelves.
Babić
The terroir around Šibenik-Knin County in central Dalmatia produces the deep, dark Babić, particularly around the pretty village of Primošten. A photograph of its vineyards hangs in the UN Center in New York. Babić is a red native to Croatia, light and medium-bodied, the ideal accompaniment to grilled meat or stews. Suitable for long-term storage.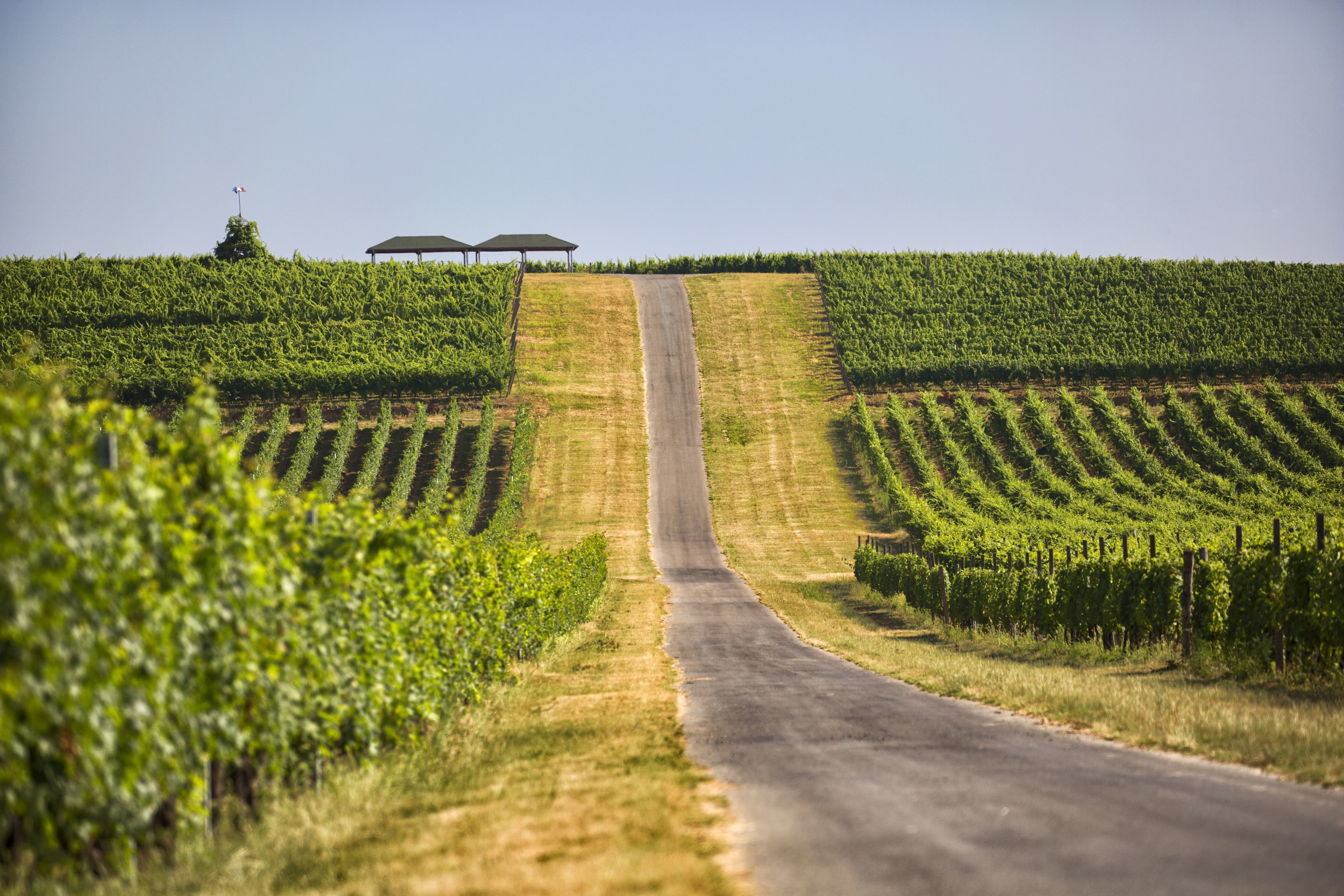 Graševina
Known by this name across Croatia, translated as Italian or Romanic Riesling across Central Europe where it is ubiquitous, this versatile white is not related to the Riesling of Rhineland lore. Thought to have been brought to Central Europe by the Romans, it has been enjoyed across the former Habsburg Empire and beyond for generations. Certainly, it's the main variety grown in Slavonia and Baranja County, where age-old vineyards around Kutjevo and Ilok are overseen by illustrious names in Croatia's wine industry such as Krauthaker and Enjingi.
Istarska malvazija
The primary wine of Istria is Malvasia. Possibly one of the oldest types in Europe, this white grape is grown in over two-thirds of Istria's vineyards. Malvasia is usually dry and it is best tasted young. Because Istria has two distinctive soil types, Malvasia produced near the coast tends to be more robust – grapes from the hinterland provide a more delicate bouquet. Many of Istria's best wines are being produced by a new generation of growers, who formed Vin Istra, dedicated to improving the quality of local production and to the promotion of Istrian wines. A Wine Roads trail makes it easy for visitors to find the best cellars and taste these wines first-hand.
Kujundžuša
A native Croatian white, an intense yellow in colour, Kujundžuša is cultivated around Imotski in the Dalmatian hinterland, close to the border with Bosnia-Herzegovina. A high-yield grape that ripens in September towards the end of summer, it is best consumed quickly when most refreshing. Its light character makes it suitable to be served alongside white fish and shellfish, particularly oysters.
Lasina
That rara avis, a light Dalmatian red, Lasina is only grown along the Krka river valley, particularly around Skradin in Šibenik-Knin County, and only by a handful of producers. Low in alcohol, it has often been blended with longer-established varieties such as Babić and it only came into its own relatively recently thanks to producers such as Ante Sladić. More and more of his distinctive labels, whose hand-drawn designs hark back to aspects of Croatian history, are now making their way to Dalmatian dining tables. As Sladić only produces a couple of thousand bottles per vintage, however, Lasina is best enjoyed in situ, close to the dramatic waterfalls of Krka National Park.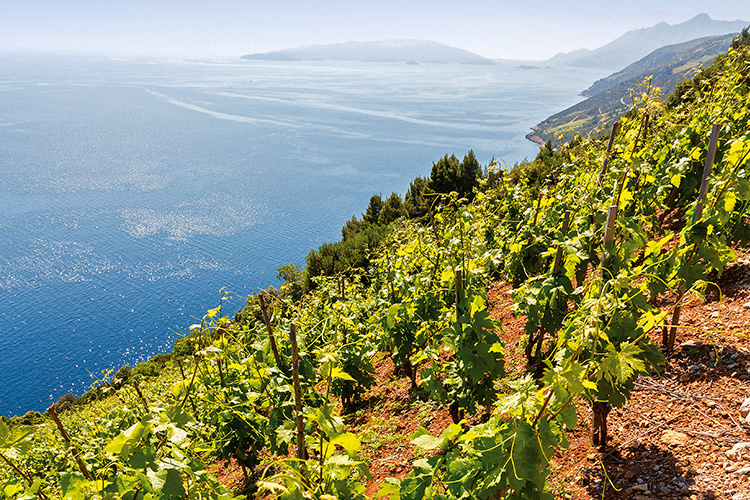 Plavac mali
The steep, south-facing slopes of the Pelješac peninsula produce this renowned Croatian grape variety, most notably around Dingač and Postup, whose main focus is its cultivation. A cousin of Zinfandel, deep ruby red in colour, and a superb accompaniment to grilled fish, the tradition in Dalmatia, Plavac mali has gained global fame. This was the first red wine in Croatia to receive PGI (Protected Geographical Indication) status way back in 1961. High in alcohol, these are hardy grapes that can grow in more difficult terrains, including the islands of Brač and Hvar. They can even be eaten as fruit – although most Dalmatians prefer their Plavac mali in a glass.
Pošip
Because of the rocky, limestone soil, southern white wines are mostly dry, such as the golden yellow Pošip, strong in alcohol, from the Čara and Smokvica vineyards of Korčula island. The first white grape in Croatia to receive PGI (Protected Geographical Indication) status in 1967, Pošip has a distinctive fruity fragrance, of apricots, say, or figs, that has accompanied many a holiday meal in Dalmatia. Quite high in alcohol content, it best complements classic dishes such as grilled fish and shellfish, and tends to age well in oak barrels.
Teran
Istria's indigenous red wine is Teran, a rich tipple with a strong, fruity flavour. Cultivated for generations across the region, also in Slovenia and north-eastern Italy, Teran is the main grape type you would have seen in the vineyards of western Istria 150 years ago. Deep ruby red and late-ripening, Teran produces a high-quality wine that has helped Istria first revive its industry and then lead the way in Croatia.
Traminac
Also known as Gewürztraminer, Traminac is most associated with the traditional wine cellars of Ilok in Slavonia. The most renowned, Iločki podrumi, dates back to 1450 and its Traminac was served at the celebrations for the coronation of Queen Elizabeth II in 1953. This is a sweet and semi-sweet white, moderately high in alcohol, known for its rose aroma. Wine cellars across Ilok, including Iločki podrumi, are happy to welcome visitors for tastings.
Žlahtina
Grown almost exclusively around Vrbnik on the island of Krk, Žlahtina is a dry, golden white best consumed during its first two years. Its name is thought to refer to its former noble status in ancient times rather than its striking colour, and certainly Žlahtina has been enjoyed with the classic specialities of the region – lamb, cheese from sheep's milk – for generations. A sparkling variety is also produced.
This article is sponsored by The Croatian National Tourism Board: 'Croatia Full of Life'.