Whether you're looking for challenge or panoramic views, light outdoor exercise or a strenuous workout, Croatia is a great place to hike. The key here is variety. Routes, tracks and trails can be tackled by almost all age groups and skill levels, and natural hazards are few – although fortune favours the prepared.
Decent hiking boots are a must, water, too, especially in summer. If you're hiking in high season, take a hat and sunscreen, and try to avoid the heat of the day in the early afternoon if you can avoid it. If you're heading out in winter, check the weather forecast and, yes, it does snow in Croatia. Slopes may not reach over 2,000 metres but you wouldn't want to leave yourself open to the elements if the temperature drops significantly.
Information boards and a safety infrastructure are in place. The ideal times to hike are in autumn and spring, when the temperature should be neither boiling nor freezing, and the views should be spectacular.
Marjan
To combine a fascinating city break with an enjoyable hike of under three hours, then a climb up and around Marjan, the hill overlooking Split, is a good suggestion.
There are steep sections in parts, but overall, this route of around eight kilometres should be pretty accessible for all. And the most calf-crunching section is right at the start, the 300 or so steps, the Marjanske skale, that lead up from setting-off point near Trumbićeva obala, were you'll also find a tourist information office.
The steps begin where Dražanac ulica meets Marasovića ulica, with an observation point at the top to keep in mind as your reward. There's also a local restaurant there with a panoramic terrace, though that's probably best left for the way back.
Carrying on, you pass the Old Jewish Cemetery, before heading around the southern side of the hill and all its lovely sea vistas, looping round to take the northern side to bring you back to where you started.
On the way, there are also scattered ruins and the odd church, as well as numerous picnic spots if you'd rather not patronise the panoramic restaurant. At several points, you can break off the trail and head down to a nearby beach, Kasuni a good option.
Some of the trail is surfaced with asphalt, to give your feet a rest after that long set of stairs going up.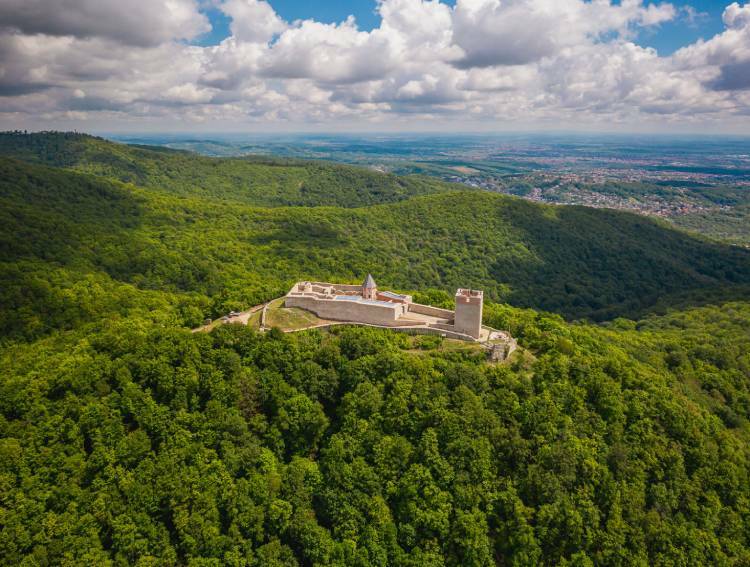 Medvednica
Within easy reach of Zagreb, even by public transport for most of the way, Medvednica is a nature park that attracts hikers all year round. Of the many hiking trails, all clearly marked, a particularly popular one leads from the little settlement of Mikulići to the mountain lodge of Risnjak over 700 metres up.
This is steepish, the challenge level a happy medium between moderately onerous and not too difficult. There and back, it's seven kilometres and an overall three hours or just under, but you should also count on spending quality time in the glade around the mountain hut.
This is dotted with benches for you to rest up, and break out the drinks and snacks as you take in the wonderful view of Zagreb stretching out below. Plenty of shade is offered elsewhere along the route, too, making this ideal on warmer days.
As this route, a mountain trail designated Planinarska staza 9, is so convivial, people often head here in groups, so it can get quite busy at weekends.
If an hour or so's hiking to the mountain lodge isn't quite enough, you can head north on trail 1 that leads towards the Grafičar mountain lodge. Further ahead is the Sljeme TV tower, not open to the public but a handy landmark to aim for. At 864 metres high, Grafičar is one of the prettiest of the traditional mountain lodges that typify Medvednica.
Plitvice
Many think of Plitvice, Croatia's most popular national park in the centre of the country, as just a series of amazing cascading waterfalls, but only a small percentage of the surface here is lakes. The rest is forests, cliffs and canyons, with hiking trails and tourist routes marked out from either Entrance 1 or 2.
The trails and the routes dovetail, and may be facilitated by a boat or a little train. With so many possibilities, and so many wonderful views to take in, a little planning is always good. Plitvice is open year-round and much cheaper (and less busy) in the winter months and shoulder season. The boats and shuttles are included in your entrance fee, just hop on. There's accommodation nearby if you're keen on starting out early – gates open from 7am in the warmer part of the year, 8am otherwise – that's the best idea.
While a sitting on a tourist train may not feel like everyone's idea of a strenuous hike, the key here is to see as much as possible. Everything is well signposted. The boardwalks around and near the lakes can be slippery, so watch your step and wear suitable footwear.
Many recommend Programme C from Entrance 1, marked in green, which allows you to take in the lower lakes, the upper lakes and the waterfalls, while enjoying little breaks on both the boat and the panoramic train. This is a good half day's outing – five hours, say – covering eight kilometres, but you'll see the park's main natural attractions.
Velebit
For what is considered Croatia's most scenic hike, no idle boast, head to Velebit, a mountain chain just in from the coast in central Croatia. The area is protected as both a national park and a nature park alongside each other.
The scenic hike in question is the Premužić Trail, named after the mountaineer who laid it out in 1933, a feat you realise was quite an achievement the more you follow it.
The whole route requires a certain amount of commitment as it's 58 kilometres long and takes three, possibly four days, staying over at mountain huts where hot food is provided, such as Zavižan. You may not camp wild, however.
The alternative, for those just looking for half a day's hike, is to take a section of it, say, from near Zavižan to the mountain refuge of Rossijeva koliba around three hours away, a route that offers spectacular changes of scenery and views of the Adriatic as you go. Croatia's diverse highland flora will also be on display.
Again, this is for quite experienced hikers, setting out fully equipped and fully prepared.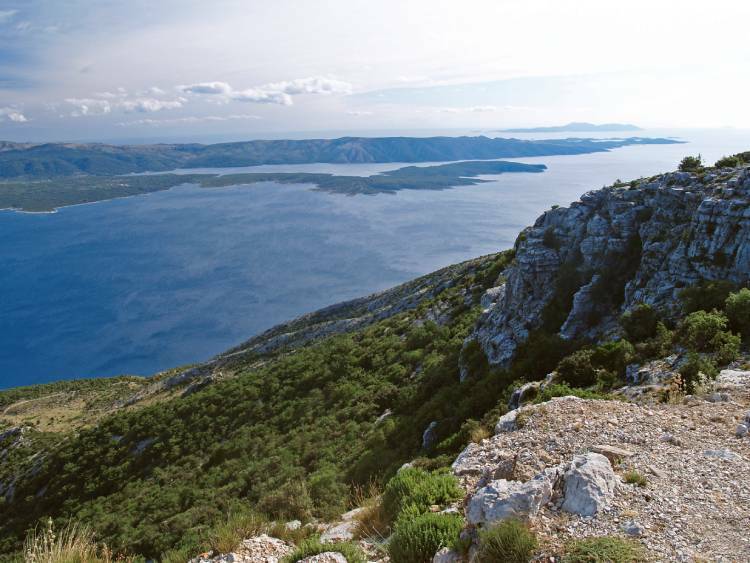 Vidova Gora, Brač
The good thing about scaling the highest peak on the Adriatic islands, an easy hop from Split, is that you start off from the centre of pretty town of Bol on the south coast of Brač. Head up towards the quarry, at the crossroads of Novi put, Bračka cesta and Gornje Podbarje, where a signpost points to a marked trail. This is pretty stony, so do have strong footwear, and lined with pines.
The incline is gradual but easily doable for casual hikers. Count on a trek of around four hours both ways, covering 10.5 kilometres there and back, and climbing to a height of 715 metres. The ascension here is the attraction – the view from the top of Vidova Gora is spectacular, taking in Hvar and the heights of Biokovo on the Dalmatian mainland.
They've even thought to provide a picnic table if you've bought a few snacks. Note that the trail is quite exposed, with little shade, so do think before you tackle it any time after midday in summer. You can also make out the island's iconic beach, Zlatni rat, immediately below, the perfect place to head to as a reward once you make your descent.
This article is sponsored by The Croatian National Tourist Board: 'Croatia Full of Life'.