Featuring dinosaur footprints off the Istrian coast, cascading waterfalls and an idyllic Ancient Greek retreat near Dubrovnik, Croatia's eight national parks are unique, varied and show a different aspect of this country's quite astounding beauty.
Brijuni
Brijuni comprises 14 islands off the west coast of Istria, a short hop from Fažana, near Pula. Most are off limits but the main one, Veliki ('Great') Brijun, not only welcomes the public but has hosted royalty, film stars and world leaders. Visitors can observe zebras, llamas and elephants as they tour the island by a little tourist train that runs in season. But wildlife isn't the only attraction on Veliki Brijun.
Lining the rocky coastline, and indicated on the map you'll see as your boat pulls into the harbour, are dinosaur footprints. Any hike of the island is also rewarded with Ancient Roman remains, even part of a settlement from the Bronze Age.A cycle route has also been set up to take in the main sights, starting out from the harbour where bikes can be rented.
Kornati
There is nothing quite like Kornati. An archipelago of 140 islands and islets, it has no permanent settlements, only the occasional house-cum-shelter used by fishermen and a votive chapel or two. Two-thirds of this dense cluster is a national park, created in 1980. This status has protected the rare marine life here, the coral and sponges, once trawled and hunted, now a visible attraction for those who go snorkelling. Kornati is best visited by excursion boat, usually arranged in the nearby town of Murter. Fishermen take tourists out to gaze at this bizarre, otherworldly environment, the dramatic karst limestone cliffs washed by angry waves.
Around Murter, the harbours at Jezera and Murter itself will be lined with signs advertising trips to Kornati. These usually last all day, starting out with a tour around the most impressive landscapes, stopping off for a bit of a dip and a snorkel in a quiet cove, with a fish barbecue and house wine thrown in as part of the tour.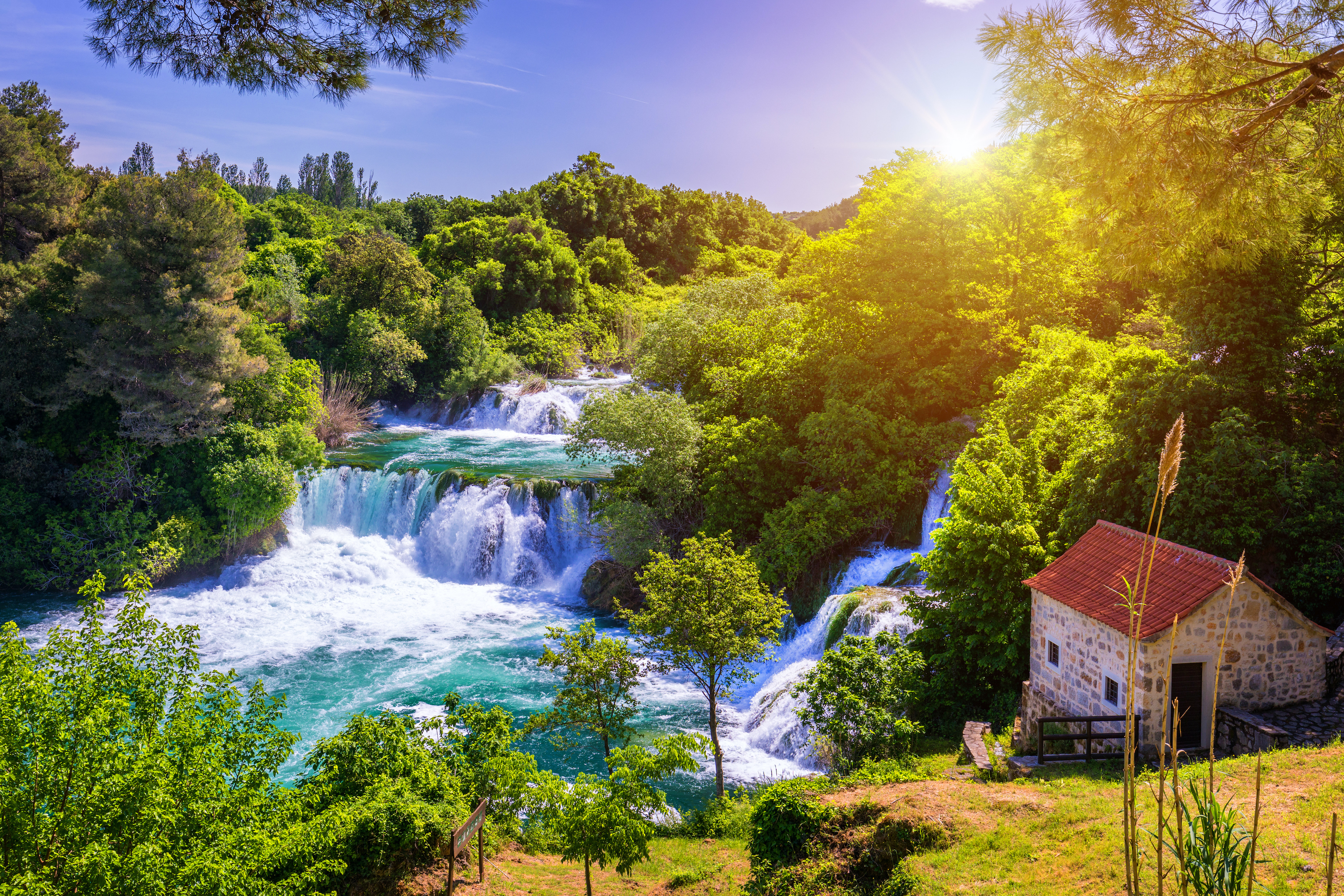 Krka
Krka is a water wonderland of cascades and waterfalls, often compared to Plitvice further north. Many visitors first head to Skradinski buk, a spectacular waterfall that feeds into a picture-postcard lagoon where swimming, forbidden at Plitvice, is allowed. The authorities are fully aware of the effects of tourism, however, and in 2017 began to limit visitor numbers at this particular spot. But Skradinski buk, and the 17 stepped cascades that precede it, are not the only attractions here.
Following its namesake river for much of its 75-kilometre journey, Krka is best admired on the boat tour that takes another spectacular waterfall in Roški slap, the man-made islet of Visovac and its Franciscan monastery, as well as the fortresses of Trošenj and Nečven. The national park has created a series of educational walks, with English explanations, to point out the unspoiled wonders of the wildlife here. More than 200 species of bird call Krka their home, including griffon vultures, golden eagles, ospreys and peregrine falcons. European otters, long-fingered bats and loggerhead sea turtles have also been seen.
Mljet
As is the way with remote, idyllic islands, Mljet is surrounded by myth and legend. Was Paul the Apostle shipwrecked here? Possibly, but it could also have been Malta. Did the goddess Calypsos keep Odysseus captive here for seven years? Well, there's certainly a cave named after the Homeric hero. Did Benedictine monks settle here in the 1100s? Yes, and you can even paddle across to their island monastery, set within one of two inland lakes. Mljet, its name a corruption of the Ancient Greek word for honey, lies deep in south Dalmatia, close to Dubrovnik, where water currents and lack of modern industry mean that the Adriatic here is a particularly perfect blue. In fact, the most industrious it gets on Mljet is the scurrying of the occasional mongoose, descendant of a colony introduced here a century ago.
More than 70 percent of this long, thin, one-road paradise is covered in pine forest. The western third of it is all national park. From the main entrance and ticket office at Goveđari, the nearby twin saltwater lakes of Veliko Jezero and Malo Jezero are connected by a channel of water. In the centre of Veliko Jezero, the tiny islet of St Mary contains a church of the same name and the monastery the Benedictines founded, long abandoned and more recently converted into a restaurant. To visit, you can either hop over by the regular boat or rent a canoe and get there by your own steam.
Northern Velebit
The Velebit mountain range, part of the Dinaric Alps running parallel to the coast from the south-eastern corner of Kvarner, is a nature park which contains two national parks: Northern Velebit and Paklenica. Northern Velebit earned its status partly thanks to the botanical reserve here, established in 1967. Near Zavižan, a short hike from the mountain hut, nearly 1,500 metres above sea level, the Velebit Botanical Garden contains some 300 plant types. These Alpine varieties include Velebit degenia and Croatian sibirea only found in these parts. The garden is also a convenient setting-off point for one of several hiking trails that lead up to the three main peaks, all above 1,600 metres. Alternatively, you can start at the North Velebit Information Centre at Krasno, where a multimedia exhibition centre gives you a taste of what's in store. Before attempting any of the mountain hikes, make sure you read the safety instructions concerning water, food and conduct.
Paklenica
Over towards the coast, near Starigrad and within easy reach of Zadar, Paklenica has more varied if less challenging hikes and climbs. It consists of two canyons, Velika and Mala Paklenica, 14km and 12km respectively, surrounded by dramatic rock formations and fringed by pine forest. The diverse range of plants, some 1,000 in all, and expanses of beech, oak and fern helped gain this area of southern Velebit its national park status. Birdwatchers might spot a golden eagle, a peregrine falcon or a rare type of woodpecker amid these southern slopes of the Velebit range.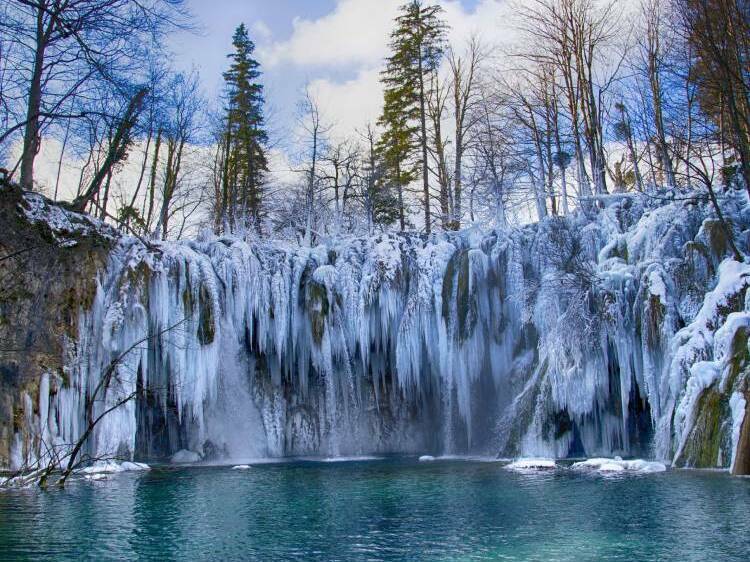 Plitvice Lakes
The Plitvice Lakes are Croatia's most popular national park, attracting more than one million visitors a year. Their cascades, waterfalls and lakes, 16 in all, change colour from turquoise to azure to grey according to the minerals in the water and the play of light. But these barely cover one per cent of Plitvice as a whole. The rest, Croatia's largest national park, is forest and grassland, criss-crossed by seven recommended walking tours to see the lakes, and four hiking trails. Each tour of the lakes takes anything from two hours to eight, and can also feature sections covered by panoramic tourist train or electric boat.
Everything here is done to protect the park's natural beauty and there are strict rules on litter and straying off marked trails. Designated a national park in 1949, later declared a UNESCO World Heritage site, Plitvice is handily located halfway between Zagreb and Zadar, and offered as an easy day trip from either.
Risnjak
The most northerly of Croatia's national parks, Risnjak is frequented by climbers, hikers, botanists and spelunkers. Lying just off the main road between Zagreb and Rijeka, it's also a popular weekend destination for daytrippers. Here you're in the heart of unspoiled Gorski kotar, an unspoiled region of wooded slopes buffering up to the border with Slovenia. There's lynx (ris in Croatian), wild boar, eagles, chamois, brown bears and even wild cats. Most visitors come here to hike or climb.
From the picturesque village of Crni Lug, where you find the main office and entrance to the park, a signposted educational trail runs through the forest for 4.5km. Regular instruction boards detail the fauna and flora to look out for – higher up you find Alpine snowbells, edelweiss and Alpine yellow violets. From Crni Lug, those with stronger calves and proper hiking boots can take a more challenging route up to Veliki Risnjak, the highest point in Risnjak. Most reach the top in around three hours, perhaps resting at some point at Šloserov dom, named after the 19th-century botanist and explorer who first detailed much of the nature and landscape here.
This article is sponsored by The Croatian National Tourist Board: 'Croatia Full of Life'.