Outlook Festival is one of the best music festivals that takes place in Croatia, concentrating on bass music from dub and reggae to garage, dubstep and drum n' bass. Held in Fort Punta Christo, just outside the city of Pula, it boasts a spectacular opening concert in the city's amphitheatre (this year featuring Bonobo, Wiley, David Rodigan & The Outlook Orchestra, Nadia Rose and Children of Zeus), beach side daytime parties, boat parties and several nighttime stages that blast out the music until sunrise.

On the eve of the eleventh edition of the festival, which takes place from September 5th to the 9th, seven of this year's headlining DJs who have visited the event before, pick their most memorable moments from previous editions.


Channel One Soundsystem
My top Outlook memory was last year's boat party where we had the legendary Michael Prophet and Horace Andy performing some classic songs that we've been playing on the Channel One Sound System for the last few decades. Was an honour to hear them live in such a small and intimate setting. They both didn't fail to to deliver.


Egoless
First one dates back to 2012, which was my first experience of Outlook Festival. I was playing guitar in a band which backed MC & vocalist YT from the UK on the main (Harbour) stage. It was great playing on such a big stage. I remember it was quite a rainy time during most of the festival that year, but it didn't spoil my first Outlook experience at all.

Second one is from 2016, when I was booked to play at the amazing Moat stage, which was always one of my favourite venues on the festival. I was playing second on the bill, so didn't expect many people to attend. But I was quite wrong and the place filled up right before my set, making me very nervous but also making it a very, very special experience.
Third experience is that each year, upon arrival, I first visit the beach stage. That feeling of approaching the beach and seeing so many people vibing to music under the sun is always a special feeling and puts a smile on my face…


Truth
Outlook Festival - so many amazing memories playing at this wonderful festival over the past decade. For me though, the highlight would have to be playing on the Deep, Dark & Dangerous boat last year. The vibes were something else! Everyone was in tune with the music and on a level like I've never seen before. We danced through the perfect picturesque sunset and watched the vibrations from the bass make perfect ripples in the water. It was deep!


Compa
My favourite Outlook Festival memory has to be from 2015 when I played a DJ set on N-Type's Wheel & Deal boat party; Goldie was on the boat and saw me playing vinyl and dub plates and couldn't believe someone still used them to DJ with. He had music with him and we ended up playing back-to-back for an hour. He's one of my heroes so it was a memory I'll never forget. Things like that only ever happen at Outlook!


DBridge
Probably the year me and Jubei did a back to back and, if I do say so myself, we destroyed it. Teebee and Calyx were doing a six deck set after us and, being somewhat drunk, I got on the mic and told the crowd, "Me and Paul just smashed it with 2 decks. These guys have got six, they better be good." Mic drop, exit stage right. Think there's a video of it floating about somewhere, lol. Also never did apologise. Sorry guys! Love ya x


Spooky

Not a moment I was there for but 'Spartan' in The Clearing at Outlook 2013. Crazy batshit scenes!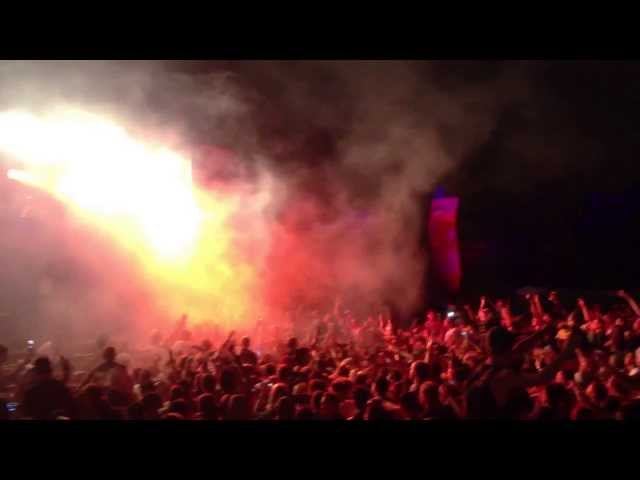 DJ Marky

I think my highlight moment was last year, when I played on the beach with LTJ Bukem and Fabio and MC's GQ and Lowqui. Was a DJ Marky & Friends stage. Was absolutely packed and the vibe was amazing.