Daniel 'DC' Cormier and Stipe Miocic have tremendously concluded their heavyweight trilogy.
After five on-the-edge-of-your-seat rounds of brutal back-and-forth blows being dealt and survived, the fight went to decision. Miocic won unanimously.
UFC President Dana White echoed the thoughts of many UFC commentators and fans at the post-fight press conference, though, saying, "I had them two to two until the last round".
Miocic and DC were already going down in history as two of the best heavyweight fighters of all time - and UFC 252 has only further solidified that for both men.
The trilogy
The men
41-year-old Daniel Cormier was born in Lafayette, Louisiana. He made his octagon debut on May 20, 2012.
DC's arm reach is 72.50". His leg reach is 41.50".
Prior to UFC 252, DC held 22 wins, two losses, and one no-contest. He is a former Olympic wrestler, Strikeforce heavyweight champion, UFC light heavyweight champion, and UFC heavyweight champion.
DC has a 54% striking accuracy, 46% grappling accuracy, and 10 wins by knockout.
37-year-old Stipe Miocic was born in Euclid, Ohio (to Croatian immigrant parents). He made his octagon debut on October 9, 2011.
Miocic's arm reach is 80". His leg reach is 39".
Prior to UFC 252, Miocic held 19 wins and three losses. He is the reigning UFC heavyweight champion, works as a firefighter-paramedic, and is a former Golden Gloves boxing champion.
Miocic has a 52% striking accuracy, 38% grappling accuracy, and 15 wins by knockout.
Trilogy Chapter One: UFC 226
UFC 226 was held on July 7, 2018 in Las Vegas, Nevada.
Referee: Marc Goddard.
Arena: T-Mobile Center.
Outcome: DC knocked Miocic out in the first round.
Trilogy Chapter Two: UFC 241
UFC 241 was held on August 17, 2019 in Anaheim, California.
Referee: Herb Dean.
Arena: Honda Center.
Outcome: A TKO by Miocic ended the fight in the fourth round.
Breaking down the UFC 252 fight
Miocic stands 6'4" and made weight for the trilogy's third chapter at 233 lbs. DC stands 5'11" and made weight at 236 lbs.
The opponents battled it out on August 15, 2020 in a smaller, 25-foot octagon - unlike the 30-foot arenas used during the first two chapters of the trilogy.
The fight went down in the UFC Apex in Las Vegas. It was a no-crowd fight due to the ongoing COVID-19 pandemic.
UFC veteran ref Marc Goddard refereed the fight.
Derek Cleary, Sal D'Amato, and Junichiro Kamijo judged.
Joe Rogan, Jon Anik, and Dominick Cruz commentated.
Round one
Miocic starts off strong while taking an eye poke to his left eye, which causes Goddard to temporarily stop the fight. Rogan comments "I firmly believe Stipe would fight if he was blind."
Eye pokes result in deducted points for fighters, and it was likely an accident on DC's part.
We see a takedown and the former Olympic wrestler DC causes Miocic to briefly hit the ground.
In my opinion, DC closes the round on top with a could've-been-a-knockout right hand to his opponent's face - "the exact same punch that won him the title", to echo Rogan.
Round two
DC and Miocic exchange power shots throughout this round.
In the last few seconds, DC is brought to the ground by a series of right hooks from Miocic.
Had there been more time, the fight might have ended here.
Round three
After a minute of recovery time, DC enters the round a bit shaken, but he's still a force.
Punches are exchanged on both sides, with Miocic holding a clinch on DC for around a minute.
Shortly after, with under 60 seconds left in the round, Miocic badly pokes DC in the eye - but it's not seen/called by Goddard.
Prior to the poke, though, DC's eye appeared to be damaged already.
Round four
DC's eye is clearly in bad shape (during the break, he's heard saying "I can't see").
Both fighters land strong hits. There continues to be a noticeable lack of attempts to bring wrestling to the fight by DC.
DC seems to be staying strong regardless of his eye. He throws a series of legs kicks; which show he has balance and isn't dizzy.
At the end of round four, it still appears to be anyone's fight.
Round five
Miocic and DC both continue to land strong punches.
Midway, Miocic holds another long clinch on DC.
Right through the end of the match, it's clear both Miocic and DC gave UFC 252 their all.
A unanimous decision in favor of Miocic (49-46, 49-46, 48-47) is brought.
Miocic landed 70% (171/244) of his strikes and 62% (115/187) of significant strikes.
DC landed 65% (145/223) of his strikes and 57% (105/183) of significant strikes.
Find full fight stats here.
Our take
DC was a force to be reckoned with throughout the fight. He did the most damage to Miocic with some gnarly right overhands. He was careful about body shots, as was evident from his lower guard which differed from UFC 241 - when DC held a high guard and Miocic achieved a technical knockout largely through body shots. During UFC 252, DC took a different approach and protected his body more. DC brought the heat with his right overhands and mighty uppercuts - but he didn't use his wrestling skills when Miocic did get close.
Miocic was more active than the last time he fought DC during UFC 241. He used more agility and movement to hit and avoid being hit. He showed off his boxing talent and landed strong jabs on DC's head. Miocic attacked with body shots, boxing skills, and clinches and used front jabs to keep distance from DC.
Both men got rocked multiple times and ate some nasty punches like the pros that they are.
The fight potentially could've gone in different directions - DC knocking Stipe out with one of his right hits - especially the banger from round one, Miocic finishing DC in the second round...
But, all in all, with the fight lasting five full rounds, the volume of shots and quality of fighting were overall higher on Miocic's side.
I have them at DC winning rounds one and four, and Miocic taking two, three, and five.
The fighters showed respect for each other before, during, and after the fight.
Some are calling Miocic's not-called eye poke controversial. This isn't the first time fights between the two had eye pokes (with chapter two of their trilogy ending with Miocic getting eye surgery - and Cormier going to the hospital now after chapter three).
Dana White commented during the post-fight press conference that "they both got poked in the eye. That eye was hurt before the poke. We got a big group text that goes out and I was like 'There's something wrong with Cormier's eye.' And then he got poked after that. That didn't help. But they both got poked. You can't use that as an excuse."
Eye pokes are detrimental to both fighters - obviously to the one on the receiving end, but also to the other fighter who loses points for it.
I think that DC and Miocic are two of the greatest athletes in the history of the sport - and that they're both good guys outside of the ring, too.
A huge congratulations to both of these kings of the ring.
What's next?
What's next for DC?
DC has claimed this would be his last fight, but not everyone believes - or wants to believe - that we won't be seeing him kill it in the ring again.
Dana White is among DC retirement non-believers: "The competitor that he is, he's not going out like that. I don't know, that's just, that's my prediction."
Following the fight, DC commented, "I'm not interested in fighting for anything but titles and I don't imagine there's gonna be a title in the future, so that'll be it for me", continuing, "I've had a long run, it's been great, I just fought my last fight for a heavyweight championship and it was a pretty good fight."
Miocic paid tribute to his opponent post fight, too.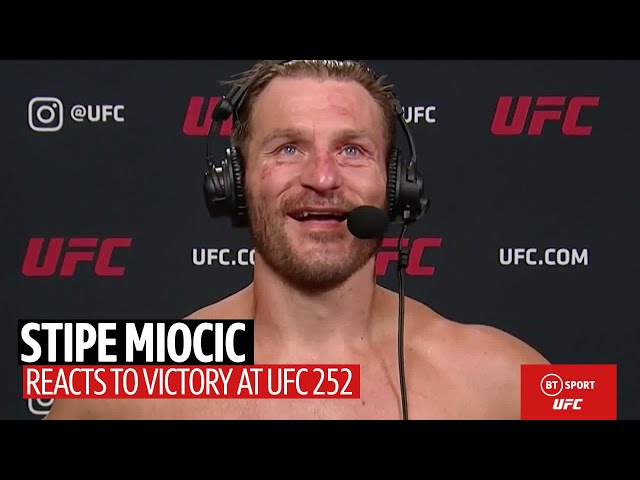 What's next for Miocic?
Among contenders who hope to face the champion next are Francis 'The Predator' Ngannou and Jon 'Bones' Jones.
However, Dana White holds - for now - that "Francis is definitely next. You can't jump over Francis. Francis has been out there destroying everybody", continuing, "It belongs to Francis Ngannou. But yeah, Jon Jones going to heavyweight is very interesting."
I think most of us would agree that Bones going to heavyweight would be interesting indeed - especially following the potential Ngannou-Miocic matchup.
With the three of these guys in the mix, the future of UFC's heavyweight division looks (as usual) epic.
Miocic might take his time getting back in the ring, though. He closed out his win by saying what he's focusing on in the near future: "I'm gonna go home, hang out with my wife, especially my daughter, go swim in the pool, and just go enjoy life."
Any opinions expressed in this piece are solely those of the writer and not necessarily shared by Time Out Croatia