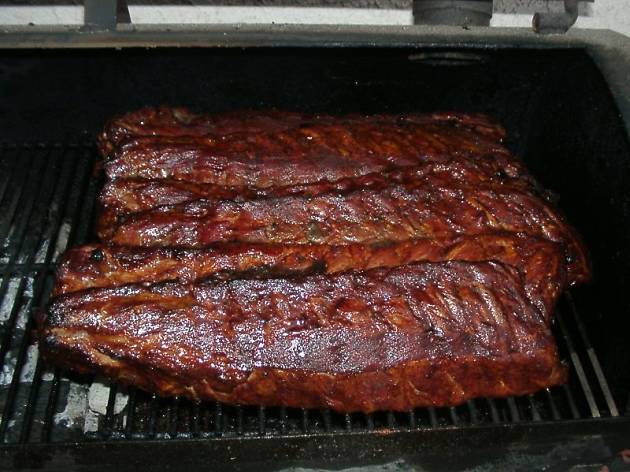 Time Out says
Zagreb's first all smoked barbeque restaurant fails to set our taste buds alight
Barbequed meat is so popular in Croatia that its cooking process could be considered a national pastime. So, it is an ingenious idea of incredibly likeable Smokeraj proprietor Mojimir Žuvela to introduce a new angle to this much-loved local favourite. Smokeraj is the first all smoked barbeque restaurant in Croatia, offering the classic American-style barbeque process over the flame grilled variety ubiquitous in the Balkans. Meats such as pork and beef are slow smoked over many hours in a simple seasoning, leaving cuts such as pork ribs, hock and pulled shoulder completely rendered of their fat and infused with a truly wonderful, full flavour. Žuvela has this process exactly right, but visiting Smokeraj just after its October 2018 opening there remain several stumbling blocks preventing this great idea reaching its full potential.
The subterranean restaurant is simply decorated, with wooden tables, chairs and furnishings of logs hanging from the ceiling which give a rustic feel that reflects well the easily affordable, everyday prices of the menu. Menu recommendations are well chosen, highlighting the bbq pork ribs, pork hock and the salad and burger which both use smoked, pulled pork burger (all around 50 kuna). The restaurant is lit a bit too brightly. As a result, it doesn't feel like the kind of place you'd want to stay for an extended period and splash out on a good bottle of wine. Just as well, because wine doesn't appear to be Smokeraj's strong point, but they have wisely invested in several brilliant domestic craft beer options including several from Crafter's. Service was excellent, the waiter Saša is very friendly. The main problems, however, came with the food itself.
Homemade fries were splendid, but needed salt, which is not on the tables. The coleslaw was stringy and fresh, but was woefully underseasoned, lacking any bite of flavour provided by lemon juice or even mustard or horseradish. It was so bland that it went unfinished. The bbq ribs were cooked to perfection but were presented extremely poorly; they came glazed with what tasted suspiciously like shop bought barbeque sauce. It was horribly sweet and sugary and looked like congealed tomato ketchup smeared thinly across the ribs. Žuvela's smoked ribs are so tasty they require little addition; the choices here would be to glaze them or serve a barbeque sauce as a side option. The current choice is neither and ruins the four hours of effort put into the smoking process. Such tragedies ruined the experience, but hopefully, they are early teething problems. A homecooked glaze or bbq sauce and a few extra tweaks are all that's needed to make this a winning eatery.
Details
Best selling Time Out Offers