The best breakfast in Zagreb
Start your day with one of the tastiest breakfasts in town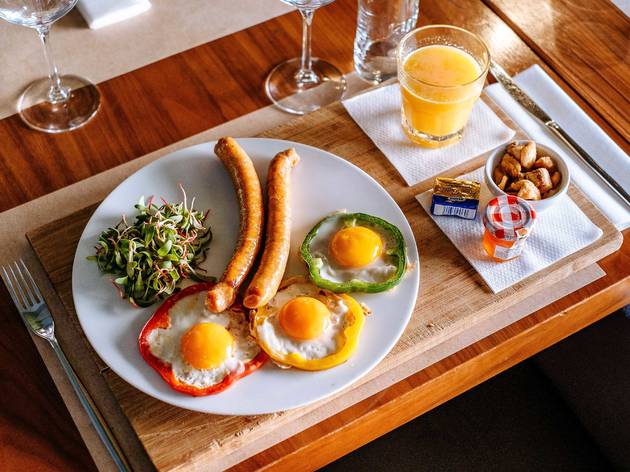 Nothing illustrates Zagreb's gastronomic revolution more than breakfast. In a city driven by coffee, you can find all kinds of morning boosters, from carnivorous feasts to delicate snacks. We've travelled around the city's best restaurants, hotels, bars and cafés to bring you this list of the tastiest breakfasts in town.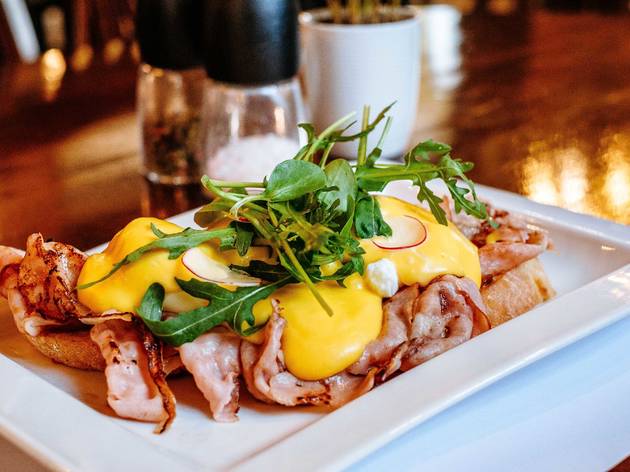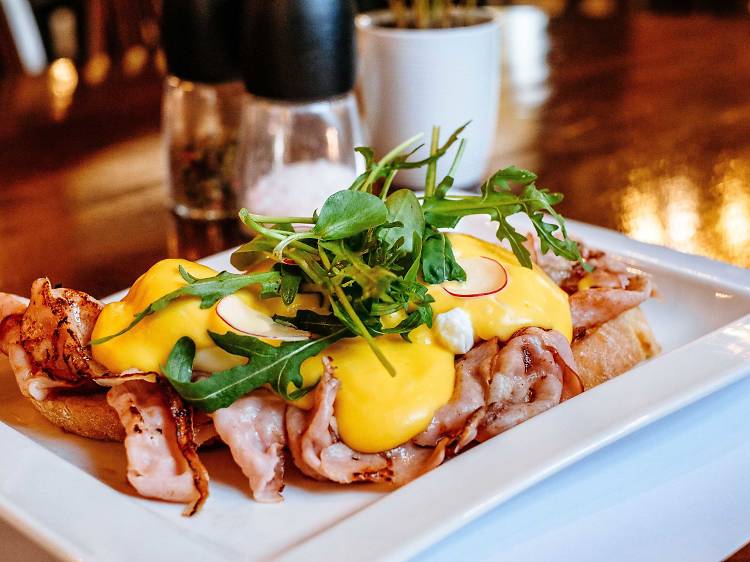 © Mirna Pibernik/ Time Out Croatia
Eggs Benedict at Eggspress
Croatia's first and so far only omeletterie is the obvious place to head for should you be in urgent need of eggs in the morning. Exquisitely presented on fine white plates of distinct shapes and sizes, the fried, scrambled and poached varieties here wouldn't look out of place in a five-star hotel – which would charge something in the same price range for the privilege. But, if you're splashing out, then you may as well breakfast as if you were in Manhattan – Eggs Benedict (59kn) it is, here done with divine hollandaise sauce atop three poached eggs and grilled home-made boiled ham. A fresh orange juice may accompany – hell, why not go the whole hog and make it a mimosa? A cosmopolitan urban interior of bare brick complements the whole experience.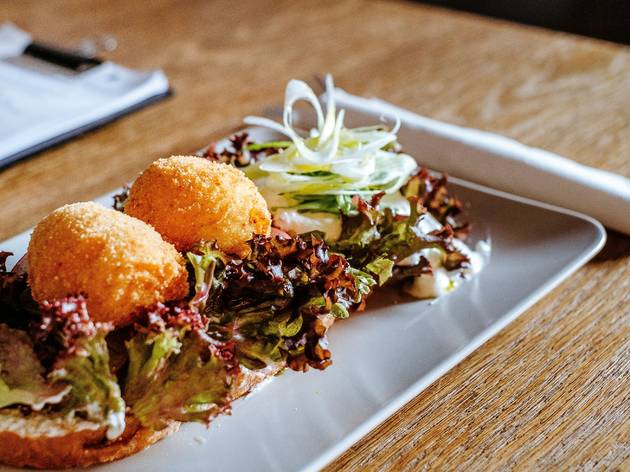 © Mirna Pibernik/ Time Out Croatia
Zagreb breakfast at Otto & Frank
Right amid the bustle of café-lined Tkalčićeva, behind the main square and Dolac market, Otto & Frank serves signature breakfasts all day long so you needn't worry about having to disturb your weekend lie-in to make it happen. You can always opt for one of the phenomenal burgers here, the gourmet version with truffles, say, but when in Zagreb, one should have a Zagreb breakfast. Costing a very reasonable 43kn, this consists of crispy poached eggs, grilled ham, spinach or lollo rosso lettuce depending on season, cottage cheese and sour cream, with slices of radish and spring onions for good measure and a portion of toast. If hunger or hangover demands, you can always add a bucket of homemade wedge fries (15kn). Your espresso may come with whipped cream, your latte with soya milk, there's 100% apple juice or two types of Croatia's very own pick-me-up, a Cedevita vitamin drink in orange or lemon flavours.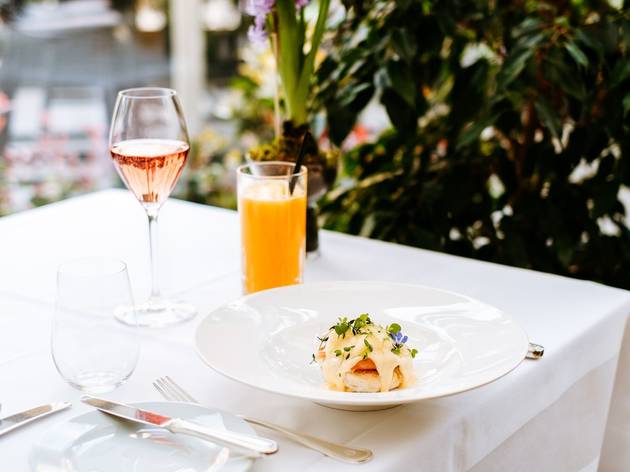 Mirna Pibernik/ Time Out Croatia
Eggs Royal at the Esplanade
If you're going to do breakfast in style, perhaps before or after a long journey by train, Le Bistro at the elegant Orient-Express era Esplanade pulls out all the stops to create poached eggs fit for a film star. Other egg-based breakfasts – fried, poached, boiled or scrambled – come with smoked and fried bacon, veal sausages and baked ham but the Eggs Royal are complemented with regal accompaniments of rösti potatoes, smoked salmon and Hollandaise sauce. All to the tune of 70kn but you won't regret it. If you are nipping over the road for a train, they can serve it to go. If you've got more time, relax – breakfast is served between 9am and 10.30am, in warmer months on the terrace. A selection of the world's press is laid out before you and service is fit for a queen – such as the current one who stayed here in 1972.
© Mirna Pibernik/ Time Out Croatia
Johann Franck Breakfast at Johann Franck
If you're going to have a Zagreb breakfast, what could be more Zagreb than its main square, Trg bana Josipa Jelačića, Jelačić plac to all, with its centrepiece statue of the major-general in full charging mode. Sitting on the expansive terrace of the Johann Franck café, bistro and club, the sleek, contemporary version of the Gradska Kavana that stood here for generations, you can order up a Zagreb breakfast (90kn) of fried eggs with home-made bacon, grilled sausages, home-made cottage cheese and sour cream, grilled mushrooms, accompanied by a croissant and a freshly squeezed juice. All kinds of omelettes also come in the 35kn range, toasts around 30kn. Coffee is by Johann Franck, of course, a trusted name throughout Central Europe.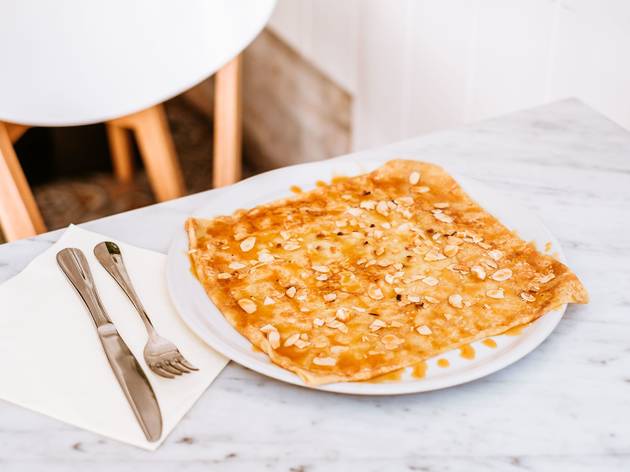 © Mirna Pibernik/ Time Out Croatia
Crêpes Suzette at Le Mika
Being a bistro and crêperie run by an authentic Parisian chef, Mika Alix, it stands to reason that Le Mika should offer the best pancakes in town. Sure enough, from a selection of buckwheat galettes and crêpes nearly four-dozen strong, his signature tangy, caramelised marvels are a treat, indeed. Although Le Mika doesn't open until noon, it's worth the wait, as a plate of crêpes Suzette on one of the terrace tables here is the perfect way to start a long lazy day, or interrupt a relaxed morning of shopping and sightseeing. If orange zest doesn't float your boat, then salmon, apple or ham just might.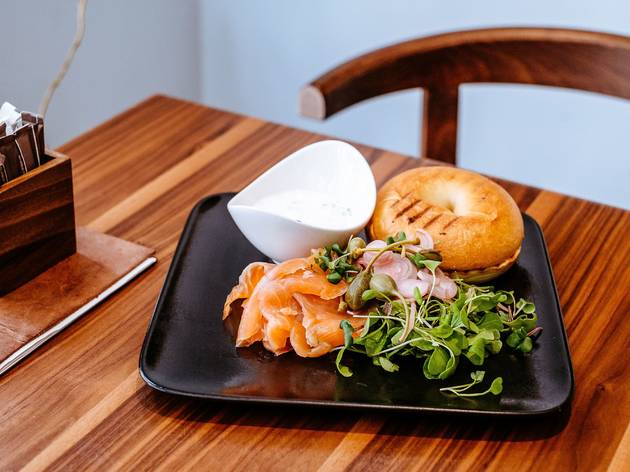 Mirna Pibernik/ Time Out Croatia
Bagels with salmon gravlax, cream cheese and capers
For classy yet affordable, Dežman is the place. Open from 8am (closed Sundays), the café branch of this stylish drinkerie-cum-diner offers a full range of imaginative sandwiches, including the classic salmon and cream cheese bagel. Coffee is provided by renowned local roasters Cogito, or there's matcha tea, as well as fresh grapefruit juice and smoothies. All takes place in a cool interior of easy-on-the-eye white space and light wood.
It's one of those wonderful mornings in Zagreb. The sun's shining, you're enjoying a browse around the Dolac market in the fresh air when suddenly it hits you – that gorgeous smell of breakfast. On a terrace overlooking the stalls, locals are devouring delicious Balkan grilled meat and you want in. Find a table, head to the friendly ladies at the serving counter and order up a thick, juicy, honest pljeskavica, loosely translated as a meat patty but in truth a doorstop of 100% ground beef sourced from trusted local producers. Served in the classic way (45kn), with diced onions, a side of ajvar tomato-and- pepper condiment and a blanket of flatbread, it may also come with spicy meat (45kn) or stuffed with cheese (49kn). The other grilled classics here – ćevapčići, shish ćevapi – may come in small portions but not the hulking great pljeskavica, no sir. To complete the experience, beers include Sarajevsko, Velebitsko and Zlatni Medo.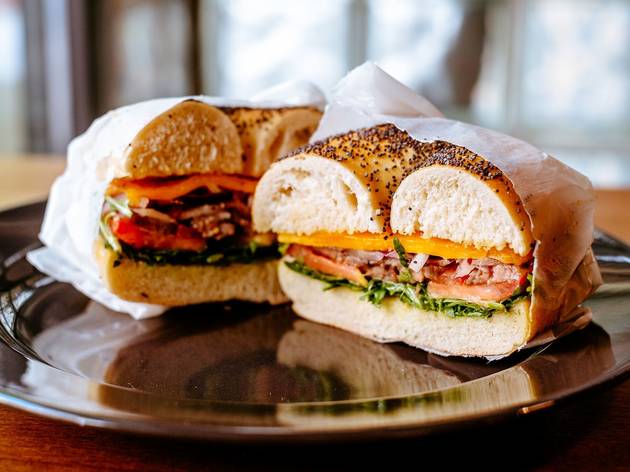 © Mirna Pibernik/ Time Out Croatia
Grilled roast beef bagel sandwich at Bagel and Lobster Barr
'Against the rules' runs the motto of the Bagel and Lobster Barr and when God gave us lobsters he didn't think that we would be trying to cram the damn things into a bagel. Bagel and Lobster Barr does, indeed, break a few rules, but the lobster here is really a red herring. It's also 95kn and no bagel. What B&LR does is offer inventive bagels in the 40kn range, the most substantial one of which comes with grilled roast beef, Cheddar cheese, rocket, red onions, cherry tomatoes, and a soupcon of Dijon mustard and black pepper – all for 38kn. Other choices run from a humble bagel with Parmesan and butter (6.50kn) to a salmon & crème fraîche combination (56kn) of gravlax, cream cheese and capers.
© Mirna Pibernik/ Time Out Croatia
It may sound like something out of a Dickens novel but a cruffin is not only a real thing, but a Croatian invention – and one that attracts queues outside the door here at this prominent location on Preradovićeva near Zagreb's ever bustling Flower Market. A cross between a croissant and a muffin, the cruffin is the signature cake dreamed up by economics graduate Ivana Urem Marohnić, who conceived of this contemporary, artisanal bakery whose stock in trade is additive-free bread baked by traditional methods. The brioches and banana bread also fly off the shelves. A modest scattering of tables allows you to devour your cruffin in relative comfort during the week – on Saturdays, find a suitable spot outside on pedestrianised Preradovićeva.