Zagreb's local cuisine
Take a peek at the city's rich dishes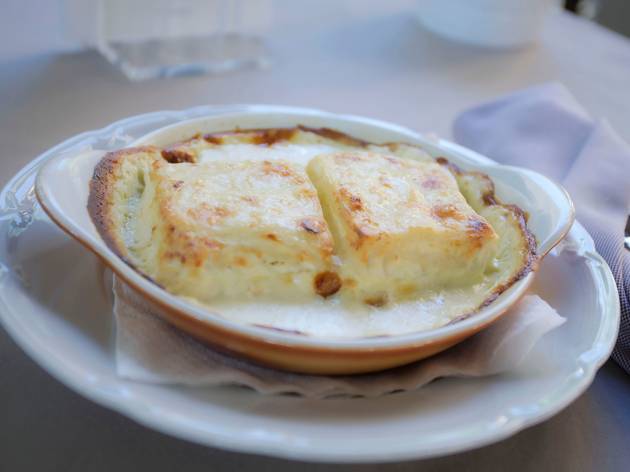 Zagreb and its surrounding areas proudly boast centuries-long traditions, culture, and incomparable cuisine. The region offers everything from hearty stews to sweet plum dumplings. This is food that will nourish you completely, both body and soul.
Take a peek at the city's rich dishes.
Zagrebački odrezak

- Zagreb cutlet
Zagrebački odrezak, roughly translated as Zagreb cutlet, is a regional classic consisting of cheese and ham sandwiched between slices of veal, which is rolled, breaded, and fried to perfection.
Some cooks opt for pork, chicken, or turkey, instead of veal, so you'll be able to choose as you please.
Try it for yourself at Gostionica Ficlek, a newly opened, exciting restaurant serving up only the most authentic Zagreb cuisine. Ficlek uses house-cooked ham, bought fresh from the nearby Dolac Marketplace (also known as "the stomach of Zagreb") for their delicious cutlets.
The dish is usually topped with a lemon wedge or two, and a pinch of fresh parsley.
Faširanci

- meat patties
Faširanci are mini meat patties spiced to perfection.
These ground beef and/or pork patties are most often served with čušpajz, a cabbage stew made with carrots, onion, potatoes, slab bacon, and whatever else you see fit. Either way - you're in for quite the nutrient and protein kick.
Whether you wish to eat them individually or together, aptly named restaurant Čušpajz i Faširanac specializes in both.
While the central eatery (located in the Lower Town) has additional soup specialties too, these two dishes are their most popular. For good reason!
Štrukli

- cheese-filled dough dish
Ask a group of Zagrebians what one of their favorite local meals is, and you just might hear a resounding "štrukli".
Štrukli are a traditional cheese-filled dough dish - and they're the quintessential Zagreb comfort food.
Stretchy dough (preferably homemade) is filled with cottage cheese, sour cream, and sometimes eggs. The dish culminates in a perfectly crunchy crust, balanced out with a gooey and warm filling.
Located in the heart of Zagreb's cobblestoned Old Town is restaurant La Štruk.
This hotspot is notable for serving only štrukli, and cooking them up in all sorts of fantastic flavours. They can come in either cooked or boiled form, and adorned with salty cheese or sweet cheese.
The restaurant's takes on the classic dish also include unique flavours such as blueberry and truffle.
Ajngemahtec

- veggie stew
While the name sounds Germanesque, this dish is a staple across northern Croatia.
Ajngemahtec is derived from the German word "eingemacht", meaning "all in one". This hearty stew is totally true to its name, mixing up a little bit of everything: vegetables, chicken, dough balls, and more, all bathed in a yummy broth.
With most Zagreb locales using farm-to-table veggies from the surrounding countryside, this is the perfect dish to replenish all your vitamins.
Nestled amongst architectural beauties just steps from the Zagreb Funicular, Vallis Aurea restaurant fuses history and tradition. The restaurant's expert chefs use the same main ingredients that have maintained ajngemahtec's popularity for hundreds of years.
Its historic location in the Old Town doesn't hurt, either - reach the restaurant via funicular (the world's shortest, with a 66-metre track) for the ultimate experience!
Knedle sa šljivama

- plum dumplings
Plum dumplings are a total treat. They're usually served as a dessert, but are so decadent that they could debut as the main meal themselves.
The dumpling dough is usually made from potatoes, flour, butter, and eggs. Once rolled out, dough balls are filled with plums (sometimes cinnamon and sugar are added as well) and cooked.
The finished product can be topped with a mixture of sugar and breadcrumbs, sour cream, or both.
Sir i vrhnje

- cheese and sour cream
This Zagrebian pairing of fresh cheese and sour cream was made in heaven.
It has humble origins as a simple peasant dish, but it packs a serious punch.
The best part is, you can make it yourself!
Head to one of Zagreb's many open-air marketplaces (if you're in the centre, your best bet is Dolac), and find cheese and sour cream. Local producers offer oodles of these treats, and they couldn't be more fresh. Next, find a jar of smoked paprika; sprinkling some across the top of the dish is a must.
Then, all you have to do is locate a green space (which won't be hard, as Zagreb abounds with parks) and enjoy a picnic. Feel free to add on some of the classic side dishes; which are usually cold cuts such as sausage and ham.
Bonus points if you pair it all with a bottle of local wine.
Purica s mlincima
- turkey with pasta tatters

The Zagorje region (located north of Zagreb's Mount Medvednica) does turkey like no one else. This is a popular dish often reserved as the choice meal for a Sunday roast.

Locally raised turkeys are roasted to perfection, melting in your mouth from the juiciness and tastiness of added spices.

No turkey in Zagorje is complete without mlinci, a classic Croatian side dish. Mlinci is a type of pasta, made by hand, dried, and then cracked into small square-sized tatters. Next, the pasta tatters are cooked to perfection. They can also be baked after for added taste, with flavourful oil from the turkey poured on top.

One of Zagreb's crowning restaurants, Vinodol, offers an abundance of high-quality local dishes, including turkey with pasta tatters. Before digging into the main meal, wet your whistle with one of Vinodol's Croatian-style starter platters, which can include everything from Adriatic tuna tartare and Dalmatian prosciutto, to Slavonian sausage and aged Istrian cheese.
Dobar tek
- enjoy your meal!