Heads up! We're working hard to be accurate – but these are unusual times, so please always check before heading out.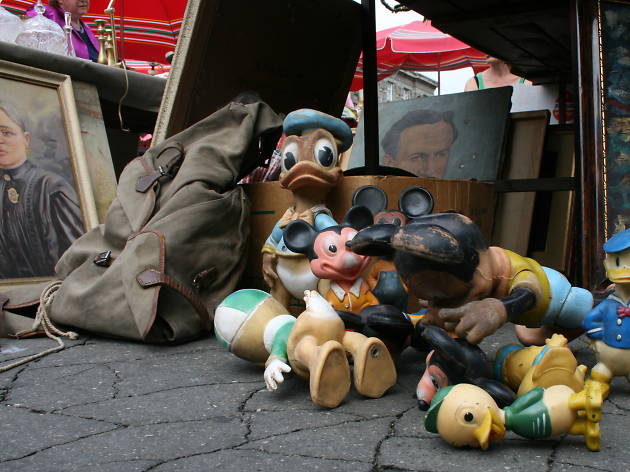 Vintage Zagreb
Snag yourself a bargain with our guide to flea markets, record stores and vintage shops in Zagreb
Cross Mladost Bridge southbound on a Sunday morning and the first thing you see will be an ant-like procession of human forms moving purposefully along the River Sava embankment. It's the weekly pilgrimage to Hrelić, a vast outdoor market that spreads itself across a gravelly lot, some 2km east of the bridge.
Here a grid-plan mini-city of stalls sells everything from cheap jeans and T-shirts to footwear, no-longer-fashionable toys, second-hand sunglasses, and spare parts for machines you never knew existed. Some sellers only deal in specialised items (one offers fishing rods, another accordions); others simply set their junk out on the gravel in a disorderly pile. If you enjoy rummaging for used clothes, or dream of finding that offbeat fashion accessory that you never even knew you wanted until you saw it gleaming up at you from a dusty car-park floor, then Hrelić is most definitely for you.
For a rather more genteel take on the same experience, the Sunday antiques and bric-a-brac market on Britanski trg provides the chance to browse the kind of junk that has been elevated to collectable status – old postcards, vintage magazines, second-hand books, and the kind of kitchenware your parents threw out years ago and now wish they hadn't. Prints, militaria, old coins, folk costumes, retro furniture and genuine antiques also turn up, making Britanski trg a crucial stop-off for the determined curiosity hunter. It's also an important Sunday social ritual, with the square's café terraces all a-twitter with look-what-I-bought chat.
Once you've scoured the stalls of Hrelić and cast a beady eye over Britanski trg, trophy-hunting in Zagreb can be a bit of a let-down: most of the antique shops in town sell the same kind of items as the markets, but at a considerable mark up. If it's vintage clothing you are after, then there is at least one dedicated shop in the shape of Küül, its hangers brimming with the kind of haven't-seen-that-since-the-seventies creations that simply cry out to be given a twirl. There are also leather jackets and Levi 501s aplenty.
If there is one collectable item Zagreb is full of then it's vinyl records. The former Yugoslavia was home to a thriving music industry, releasing albums by local acts as well as the big international names. A veritable torrent of vinyl was produced during the 1970s and 80s, and much of it has ended up in Zagreb's second-hand shops. There is a lot of local music well worth collecting: the Zagreb New Wave acts of the 1980s (Film, Azra, Haustor) are particularly worth discovering. World-Music fans should note that the former Yugoslavia also released more records by ethnic Roma pop acts than any other country, and Zagreb's second-hand record racks are yet to be picked clean by the collectors.
Vinyl-hunting expeditions should start at Roxy, a place where the level of service is in inverse proportion to the miniscule size of the premises. However obscure your tastes, the agreeable owner will dig out at least something that you'll regret leaving the shop without buying. Offering the most in terms of browser-friendly pleasure is Karma, a sunny shop so full of cacti that at least one customer assumed that it was a garden centre that sold records on the side. The sheer profusion of neatly filed discs in all genres will have you flicking through the racks for hours. European prog-rock is a speciality, while the huge catalogue of 7-inch singles, movie posters and popular-culture magazines will soon start you fretting about your home-bound baggage allowance.