Zagreb shopping guide
Croatian design is on the up – with downtown Zagreb its showcase. Our local experts take their pick in Time Out's essential Zagreb shopping guide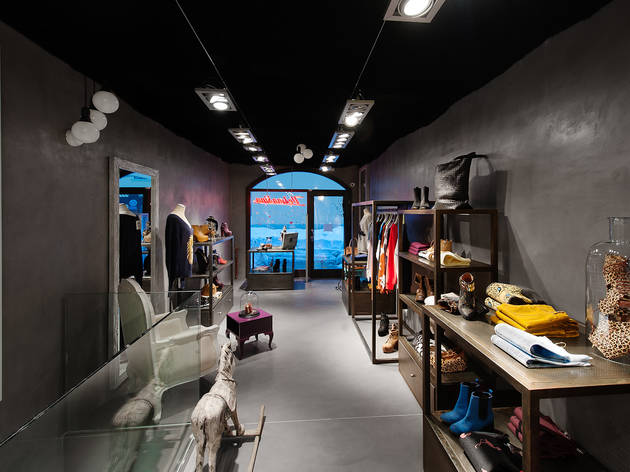 In Zagreb, shopping has undergone a makeover. From being a staid and rather quaint shopping backwater, the Croatian capital can now justifiably claim to be a hub of contemporary design. But for all these recent developments, Zagreb has not lost its traditional charm. The Dolac market behind the main square is still everyone's first port of call for fresh fruit and vegetables, and second-hand record stores abound. Read on to find out where to go shopping in Zagreb.
The best shopping in Zagreb
The flagship store of local designers Martina Vrdoljak Ranilović and Nataša Mihaljčišin offers striking designs for women and custom ones for men. Their looks represent Croatia's evolution from looking to more comfortable. Their fashions combine relaxed functionality and elegance with evocative colour combinations. The I-GLE label enjoys cult status in Zagreb, where they have made clothes for several theatre productions, and have gained a foothold at designer stores in the UK and Hong Kong.
Read more
The aim of this exemplary little shop near the lower station of Zagreb's funicular is to stock all those quality products made by Croatian designers that also work well as souvenirs – in the sense that they're small enough to fit in your luggage and might also be useful once you actually get them home. There's a lot to choose from here, from Ana Horvat's eccentric-but-loveable animal soft toys to SexyPlexy's wear-with-care coloured-shard necklaces. Playful present ideas include Žvig's one-shot rakija mugs carved from walnut wood (they only stay upright when empty), and Hidden Garden pendants with real herbs inside. For those prepared to splash out on something for the home, Lidia Bosevski's ceramics convey arty elegance; while Filip Gordon Frank's Mini Me desk lamp is already something of a Croatian design icon. 
Read more
Selected by Italian 'Vanity Fair' in March 2011 as one of their top ten new design talents to watch, Roba was founded by Branka Šćepanović in 2007, quickly developing a reputation for elegant but sensual items fashioned from soft supple leather. Roba's garments artfully bridge the gap between high fashion and edgy, almost fetishy clubwear, the labels inside the collar carrying ambiguous messages such as 'This deluxe piece of clothing is a humble answer to the mysteries of mankind'. Roba's superbly tailored and highly individual leather jackets start at around 3,000kn. Also feast your eyes on Roba's plisse leather tops, and stunning leather dresses. Bags and rucksacks by LongWayBack, and sunglasses by Sheriff&Cherry are in stock too.
Read more
Croatia is widely regarded as the original home of the necktie, and this smart store in the Oktogon arcade (just west of the main square) is a successful attempt to turn this heritage into contemporary style. Many know the story of how the necktie was born: while fighting alongside their Croat allies in the 17th century, the French were struck by the Croatian soldiers' scarves. The look became fashionable and the French named the accessory the cravat (the Français-isation of the word Hrvat, or Croat). Croata plays this story hard and has blossomed into Croatia's tie-selling leader with shops all over the country. This location is beautiful with marble and wooden inlay floors, dark wooden display cases and everything awash in manly brass. Besides silk ties – ranging in price from 249kn to 2,000kn, some with Croatian Glagolithic letters and patterns absorbed from local traditions – shelves are stocked with wallets, shoes by Lloyd of Germany, belts, tie clasps, briefcases, fountain pens, tuxedoes, and women's accessories like scarves, handbags, gloves and belts.
Read more
If you're looking for unique non-highstreet fashions then Vešmašina or 'Washing Machine' is a real find: a tiny oblong of a shop packed with groovy, alternative-but-glam tops, shoes, hats and accessories that you don't find anywhere else. As well as summery clothes by the LA-based, retro-inspired label Wildfox, Vešmašina stock brightly-coloured rubber purses by P&G, some wonderfully eccentric-but-chic sunglasses, and neat souvenirs (mugs, notebooks, shopping bags) by local design duo Safari Sisters.
Read more
This huge shopping centre in south-west Zagreb is home to 200 shops and kiosks, and includes several of the big brands present in Croatia, including fashion retailers Inditex/Zara, H&M and LPP/Reserved as well as Mohito, Sinsay, Cropp and House. The large hypermarket, the international food court and various cafés are your options if you're hungry; if you're looking for entertainment, there's the Game World Casino and the Cinestar Multiplex Cinema offers 3D, IMAX, and Samsung 4DX screenings. There are allocated play areas for children, and around three thousand parking spaces; the centre also runs its own free bus service and is easily accessible by public transport. In summer time a green patio area with water fountain provides the opportunity to relax.
Read more
Now run by an enthusiastic and friendly young couple, Bornstein is the best wine boutique in Zagreb and potentially in all of Croatia. It opened in 1990 on Pantovcak, the first private enoteca in all of former Yugoslavia, selling only wines from private producers. Some 24 years later, the store is filled with labels from every region of Croatia, and clear advice on their qualities is offered willingly. The shop also stocks truffles, honey and olive oils, making it a handy one-stop shop for quality souvenirs. Bornstein, the original location, can be found just above Britanski trg at Pantovčak 9 (+385 1 48 23 435, same website).
Read more
Natura Croatica specialises in olive oils, jams, soaps, pâtés, vinegars, fruit brandies, liqueurs, sweets, honeys and truffle-based preserves. This is the most central branch of a mini-chain.
Read more
A bright conservatory full of cacti provides a rather welcoming environment in which to browse one of Zagreb's biggest and best-arranged collections of collectable vinyl, with sections devoted to just about every genre imaginable. Sideboard drawers are packed with 7-inch singles, and there's a growing collection of second-hand films on DVD. Karma also have a huge collection of vintage film posters, and piles of pop-culture magazines.
Read more
Show more