11 spectacular things to do in Šibenik-Knin County
From ancient fortresses to uninhabited islands, Šibenik-Knin County is brimming with spectacular things to do and see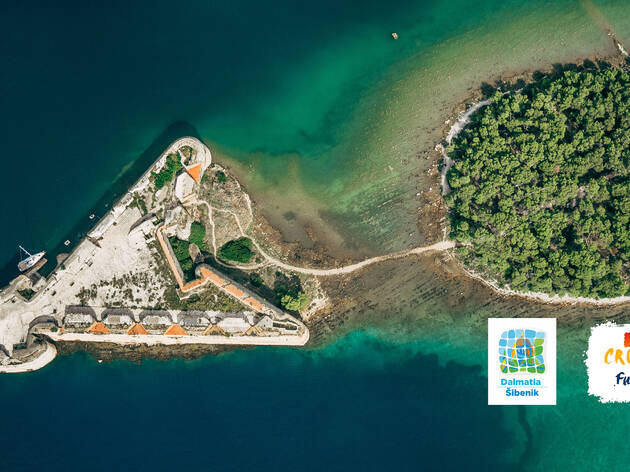 Two of Croatia's eight national parks are near Šibenik, Krka and Kornati. At Krka, you can stroll along well-maintained trails and marvel at the historic fortresses near the Krka river, archaeological sites Burnum and Bribirska Glavica, as well as the Danilo site with prehistoric remains. Kornati is simply unique, an archipelago of mainly uninhabited islands left open to nature.
The Šibenik archipelago has its own attractions, where an age-old way of life is still preserved. One of them is sea sponge harvesting and processing, which has its origins on the island of Krapanj and dates back to the Middle Ages. The neighbouring island of Zlarin is known for corals, and the island of Prvić contains an exhibition of handmade replicas of the inventions conceived by the brilliant Fausto Veranzio, designer of the world's first parachute. Head out, too, to Žirje and Kaprije, where time stands still and unspoiled beaches await.
Back on the mainland, you can visit Sokolarski Centar, where falcons are cared for and trained. Further inland, the village of Otavice contains the family mausoleum of Ivan Meštrović, considered Croatia's greatest sculptor.
This article is sponsored by Šibenik and The Croatian National Tourism Board: 'Croatia Full of Life.
Ten amazing things to do in Šibenik-Knin County
Communities around the Šibenik hinterland – Drniš, Knin and Skradin – are known for their gastronomic specialities. You can look forward to prosciutto from Drniš, Babić wine, a special kind of artisanal cheese known sir iz mišine, aromatic local brandy (rakija), as well as dessert wine prošek, plus maraština wine, both made according to recipes handed down from generation to generation. The Šibenik hinterland also prides itself on a long tradition of preparing succulent meat dishes, such as savoury lamb or tender pork roasted under a so-called cooking bell. To round everything off, you should try the delicious dried figs, which go into the soparnik pie with figs, olive oil and olives.
A ten-minute drive from Šibenik in the modest village of Dubrava, the Sokolarski Centar is a visitor attraction and place of education. Most of all, though, Sokolarski is a rescue centre, set up by Emilio Mendjušić, who has also tapped into the centuries-old tradition of falconry. Here hundreds of injured birds of prey are treated each year. By throwing this sanctuary open to the public, and gathering a team of some two-dozen falconers, Mendjušić both funds his healing mission and allows visitors to observe first-hand the tricks and training needed to master the noble art of falconry. The centre is open right up to November and then from March, usually welcoming groups of schoolchildren during the autumn and early spring, and tourists during the summer season. Visitors may spend the day here or sign up for a course to learn more about ornithology and bird protection.
Vodice is a lively and long-established tourist centre. The town derived its name from the abundance of freshwater wells in the area and exported drinking water up to the end of the 19th century. Architecturally, there are a few remains from the Turkish and Venetian days, as well as the Coric Tower, built from Brač stone by a rich Šibenik family, dating back to 1646, and the tiny Gothic Church of St Cross, built in 1402, used for summer exhibitions. Beaches line the four-kilometre coastal path to Tribunj, fringed by bars, cafés and ice-cream shops. Vodice is also a major nightlife hub, with prominent DJ clubs on or just off the main coast road, the Magistrala. The world's top spinners have all appeared at the key venues here.
Tribunj used to be a quiet fishing village with a few bobbing fishing boats. Now, although it contains an extremely smart marina filled with posh yachts, it still hasn't lost its charm. The Old Town is on a tiny oval island, connected to the mainland by a small stone bridge. Restaurants are scattered all around the area, both on and off the island. The tourist town of Vodice is a lovely 40-minute walk away, linked by a blue-flag beach. The tranquil area of Sovlje, with its secluded beach is also nearby.
The Kornati National Park has qualities that make it unique. It consists of 140 islands and islets in an area only 35 kilometres long and 14 kilometres wide. Between the long, thin island of Kornat, which faces the mainland, and the chain of islands on the other side, there is a stretch of water naturally protected from the open sea, with dozens of safe bays. Once you pass through one of the two narrow entrances to the north and south, you enter a strange, otherworldly environment, a meditative and minimal landscape, unlike any other island chain in the Adriatic. When you enter Kornati, you know you've arrived somewhere completely different. Whether you have your own yacht, or come on one of the many tour boats, you will also get to experience the outer side of the archipelago. The contrast between the calm inner space of Kornati and the wild world of the open sea is unmistakable, not least in the geomorphology of the exposed rocks. Sheer cliffs offer spectacular scenes and dramatic sounds, from crashing waves to the echo of the human voice. The wildest part of the park is in the far south, where an exclusion zone has been declared around the islet of Purara, to allow the development of natural life. One hopeful sign is a colony of dolphins that lives between Kornati and the mainland and manages to co-exist with the fishermen, thrilling lucky visitors who get a leaping dolphin escort across the straits. The nearest departure points for an excursion to Kornati are on the island of Murter. This is ideal for a relaxing seaside vacation during which you can explore the island's numerous hidden coves.
6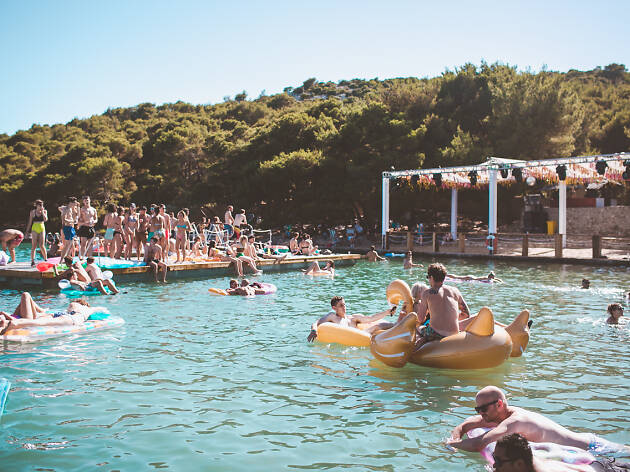 © Khris Cowley
Attend a music festival in Tisno
Tisno appeals to festivalgoers, who descend on this little Dalmatian resort for events such as Soundwave and Suncebeat, and families, who enjoy swimming, fishing, cycling and diving. The younger ones usually enjoy watching Tisno's annual donkey race. Newly built holiday homes are surrounded by scenic nature close to a crystal-clear sea, where fresh seafood is served in Dalmatian-style taverns.
Some 2500 km of well-maintained cycling and hiking trails wend their way through the Šibenik area, passing through Zaton, the island of Žirje, Vodice, Pirovac, Tribunj, the Krka National Park, the Kornati National Park, Skradin, Tisno, Grebaštica and Primošten. Depending on which route you choose, you might discover historic sites such as Bribirska Glavica near Skradin, known for its partly preserved city walls from the Illyrian period. Burnum contains remains of a Roman military camp, while Danilo is a prehistoric settlement. This will also take you to one of the most important sites around Šibenik: the Church of Holy Salvation, from the 9th century, the oldest one of its kind in Croatia with a preserved bell tower.
Whether cycling or hiking, don't miss the chance to marvel at the spectacular view of the Dinara mountains, with its highest peak at 1,831 metres, that gracefully sweep down to the sea. The karst river Krčić is a natural phenomenon that flows into the Krka, while paths also follow Vrana Lake.
Šibenik-Knin County has invested substantially in nautical tourism. This archipelago here, abundant in natural beauty, contains 249 islands, islets, cliffs and reefs, the Kornati National Park the most famous among them. In addition, the Šibenik area has 14 marinas, 18 moorings, 25 ports, 3671 sea and 950 dry berths. The modern marinas can receive almost all types of vessels and operate all year round. ACI – Adriatic Croatia International Club includes Jezera, Žut, Piškera, Skradin and Vodice, Frapa in Rogoznica, Kremik in Primošten and Danuvius in Tribunj. In addition, there are three marinas in Šibenik, Mandalina, Solaris and Zaton in DOBRI Dolac cove; two marinas on Murter, Betina and Hramina, plus the new marina in Pirovac. The sea is kept clean, the coast pristine and the beaches and marinas are well equipped. Four have been awarded a blue flag, Frapa in Rogoznica, Danuvius in Tribunj, and the ACI marinas in Vodice and Jezera. More than 40 charter companies also operate here, a sizeable fleet offering vessels to suit everyone's requirements.
As an elite anchorage, Skradin is captivating in its beauty, and ideally located for the Krka National Park. Skradin Marina also allows you to explore the town's various cultural attractions and numerous restaurants.
The 800-metre-long waterfall of Skradinski buk, the picture-postcard main draw of the Krka National Park, leaves onlookers in awe with its 17-step series of cascades. Holidaymakers dip in its pure pools beneath waters crashing down from 45 metres over their heads. But this key attraction, surrounded by boardwalks for easy access, is only one of many in this most versatile and surprising of Croatia's eight National Parks.