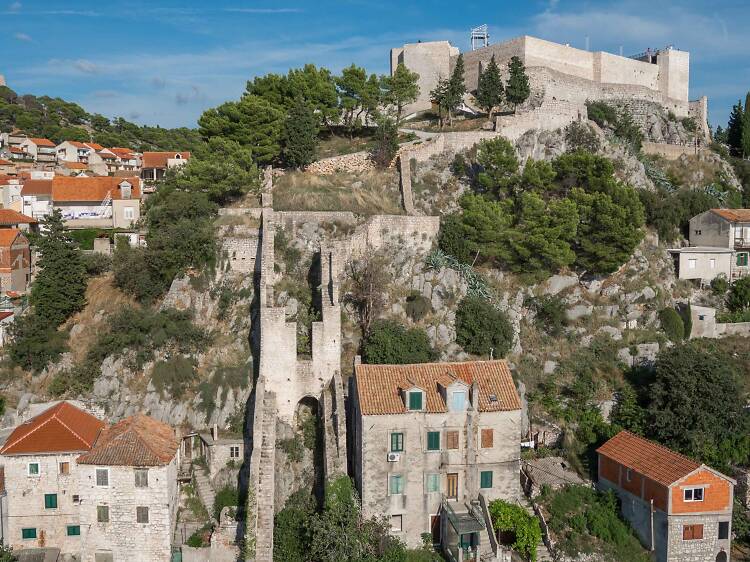 1.

Explore Šibenik's great fortresses
For centuries, Croatians up and down the coast, and over on the islands, lived in fear of invasion from the Ottomans, who dominated the Balkan hinterland. Šibenik was defended by four fortresses, the most formidable being St Nicholas, Tvrđava Sv Nikole, which guards the narrow channel into the city from its vantage point on the islet of Ljuljevac. It was here, about half a century before the decisive sea battle of Lepanto of 1571, that locals begged their Venetian rulers to construct a fortification so impregnable no Turk would dream of coming near it. Having to clear a whole monastery, St Nicholas, to do so, the Venetians carried out the request to the letter, creating a citadel across the whole island. Never tested from that day to this, St Nicholas is a prime example of defensive architecture, one of six built by Venice recently designated as a collective UNESCO World Heritage Site.

At the top of a steeply stepped street emerges at St Michael's Fortress, connected to the patron saint of Šibenik. No-one can fail to be impressed by the view here, across the estuary to the surrounding islands. Its summer stage is the atmospheric setting for acts as diverse as Bryan Ferry, Róisín Murphy, Mario Gus Gus, Morcheeba, The National, Nouvelle Vague and Thievery Corporation - winning it the title of Croatian cultural attraction of the year in 2016.
Renovated and reopened with a spectacular light show in 2016, Fort Barone was originally built in double-quick time during fears of Turkish invasion in the mid 1600s. The era is now captured and dramatised as part of the augmented reality system that walks visitors through the design, military planning and architecture of the day. Hiring AR glasses from the ticket office, you can let a local historian and an eye-witness account reveal what life was like under Ottoman siege, as was the case in 1646. The fortress now also features the Barone Bistro, a panoramic café-eaterie that puts local fare and wines to the fore, inventive seafood and meaty nibbles complemented by the lesser-known labels of regional wine producers.