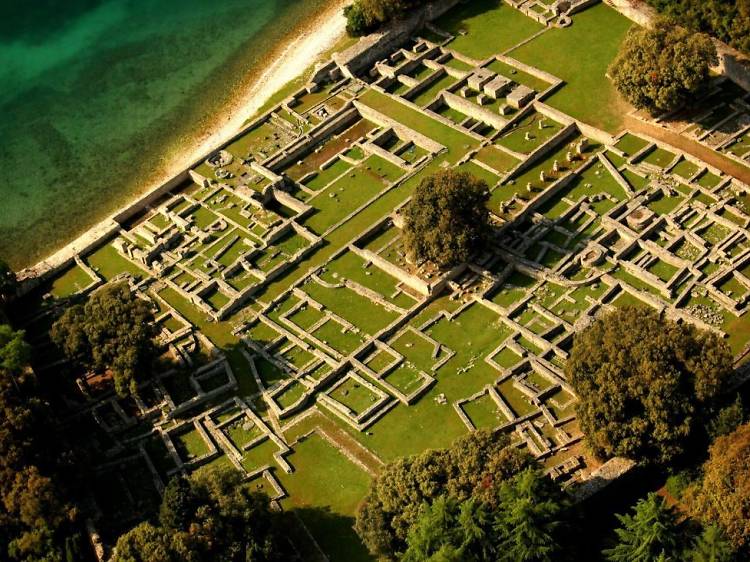 National park Brijuni
Brijuni comprises 14 islands off the west coast of Istria, a short hop from Fažana, near Pula. Most are off limits but the main one, Veliki ('Great') Brijun, not only welcomes the public but has hosted royalty, film stars and world leaders. It was here that Tito, head of Yugoslavia after World War II and a leading figure of the non-aligned nations, had his island fiefdom.
Inviting fellow non-alignees from India, Africa and South America, Tito was bestowed with gifts, most notably in the form of the exotic animals that still form a safari park here. Visitors can observe zebras, llamas and elephants as they tour the island by a little tourist train that runs in season.
But wildlife isn't the only attraction on Veliki Brijun. Lining the rocky coastline, and indicated on the map you'll see as the boat pulls into the harbour here, are hundreds of dinosaur footprints. Any hike of the island is also rewarded with Ancient Roman remains, even part of a settlement from the Bronze Age.
A cycle route of 13km has also been set up to take in the main sights, starting out from the harbour where bikes can be rented. The first port of call is three exhibitions, one detailing Tito's activities here – you might recognise some of the personalities in the photographs. The route then takes another surprising turn, past an 18-hole golf course, the first one set up on continental Europe and revamped in recent times.
Deer, first introduced a century ago, are another feature in the surrounding parkland as you approach Tito's bizarre menagerie and, nearby, an ethno park populated by Istrian fauna such as sheep, goats and the recently revived boškarin ox.
The trail then cuts through forest before passing the early Christian church of St Mary, dating back to the 1200s and built by the Knights Templar during the time of the Crusades.
Once you see the pillars still standing from a Roman villa rustica, you've almost finished the tour. You can reward yourself with a swim at the beach in Saluga Bay.
If you feel you haven't seen enough of the island, accommodation options lie close to the harbour, including the Hotel Karmen, the Istra-Neptun and several villas. All can be booked through the Brijuni National Park website.