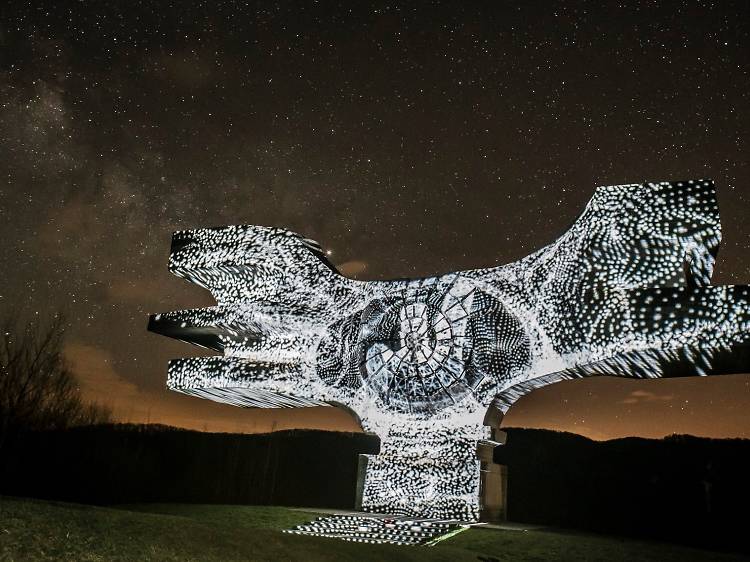 © Secret Mapping Experiment
The Monument to the Revolution of the people of Moslavina
The Monument to the Revolution of the people of Moslavina looks otherworldly, its uncompromising design all the more startling because of its backdrop of the simple Slavonian countryside. But, an alien structure it is not. This memorial, like all of the monuments of the Yugoslavian era, is very much of this earth and holds a very specific meaning.

The communist regime commissioned many famous sculptors and architects, such as Bogdan Bogdanović, Gradimir Medaković, Vojin Bakić, Miodrag Živković, Jordan and Iskra Grabul to design similar modernist structures following the Second World War, honouring victims and heroes who were in opposition to the fascist forces. During the Second World War, Podgarić became a camp for the Partizan army and a large field hospital was built in the village. Local people assisted in the care of the many wounded there and the monument pays tribute to their efforts.

Elsewhere, victims of fascism are commemorated at similar monuments, but The Monument to the Revolution of the people of Moslavina arguably stands as the most distinct-looking of them all.

The monument was designed by Dušan Džamonja, a graduate of the Academy of Fine Arts in Zagreb, who also designed very famous war memorials 'Monument to the Revolution', which sits on Mrakovica mountain in Kozara National Park, Republika Srpska and 'The Memorial Ossuary to the Fallen Yugoslav Soldiers of the First and Second World Wars' which can be found in Barletta, southern Italy. His monument in Podgarić stands 10 metres tall and 20 metres wide and is the main draw for tourist visits to the village, a benefit sadly not enjoyed in other locations where some similar monuments were destroyed following the fall of communism.

The pictures of The Monument to the Revolution of the people of Moslavina used here were taken when Hungarian art collective Secret Mapping Experiment visited the site at night during 2019 and projected a video mapping intervention on the structure.